LeBron James and Lakers can't pull off Crypto Christmas miracle in loss to Nets
LeBron James sprinted up the court, streaking down the left wing. He caught a pass from an ex-UCLA guard and slashed past Blake Griffin, fighting off contact to score while drawing a foul.
While the fans roared, James flexed his arms and stared at his teammates, slapping their hands. First, he celebrated with Stanley Johnson. Then Mason Jones. Then Jemmerio Jones. The assist? It came from Darren Collison.
Only James was on the Lakers' roster last week.
The NBA's premier problem-solver is struggling with the challenge in front of him — keeping track of who is even on his team, not to mention trying to win with these basketball strangers. And despite his continued excellence, it just hasn't mattered.
On a night when he became the NBA's all-time leading scorer on Christmas Day, James couldn't deliver a victory with a roster and a rotation being slapped together on an almost nightly basis.
The geriatric Lakers are counting on LeBron James for too much, and it's going to cost them big if Russell Westbrook and crew can't do more.
"I'm kicking myself in the head because he's giving me incredible effort," interim coach David Fizdale said. "Trying to figure out ways to get him over the hump with that effort, and I hate that it's wasted on losses. Just spectacular. And I hate that it's wasted on losses."
The Lakers lost to Brooklyn 122-115 Saturday at Crypto.com Arena, squandering 39 points in 40 minutes from James, court time where the Lakers were nine points better than the Nets. In the eight minutes he was out of the game, Brooklyn was 16 points better.
Since the Lakers learned they'd be without Anthony Davis for at least the next four weeks after he sprained his knee in Minnesota, James has scored at least 30 points each time the Lakers have played, upping his scoring total each time.
It has resulted in zero wins.
"I don't really care about the way I play if it comes in a loss," James said.
There's unquestionably frustration. You can see it on the court when the Lakers blow a coverage or miss an easy basket, the team unable to play to his level. And you know it's there considering the Lakers' roster mess.
When Johnson and Collison checked into Friday's game, they became the 21st and 22nd different players to compete in a Lakers' uniform this season.
The chaos has made the Lakers alter their plans on the fly, and on Saturday, that meant starting — and then quickly sitting — Dwight Howard.
They went to James at center early in the first half, going small to come back from being down big. They erased a 17-point deficit early in the third quarter, injecting life back into their home building. That life quickly escaped, like a punctured balloon, after the Nets went on a 39-14 run.
With some boos and a lot of murmurs, the Lakers seemed doomed. Challenged by Carmelo Anthony to show some pride, the Lakers again surged. Johnson, the former Santa Ana Mater Dei High star who signed on Christmas Eve, played with great length and energy, helping slow James Harden,.
Thanks, certainly in part to his presence, Harden went just two of 10 from the field in the second half, opening the door for the Lakers. James found a cutting Malik Monk, playing in his first game after a week in the COVID-19 protocols, for a basket to tie the score at 115.
Brooklyn, though, quickly got a three-point play from center Nic Claxton, who caught a lob and dunked on James. And on the other end, Russell Westbrook missed another point-blank shot — this one a dunk — sealing the Lakers' fate.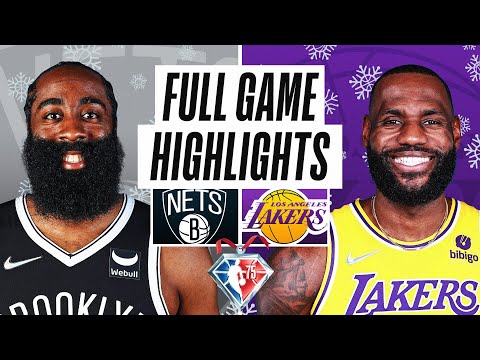 "A big part of it is he just wants it so bad," Fizadale said of Westbrook.
"I mean you can just see it in him. Everybody does. He wants it so bad. And I know that's just hard for him when it doesn't work out. And I know he cares like crazy."
When asked by a team official to speak postgame, Westbrook declined.
Everyone internally has begged off any serious questions about where this Lakers team is headed citing a complete lack of information. Assessing the roster, the coaching job, all of it, rendered impossible by early season injuries and a COVID-19 outbreak that has had the Lakers scouring for healthy players just to fill out a rotation.
"We were just trying to figure out what's the best way for us to win, how do we win and what's the best lineup to put on the floor. Let's log these minutes so we can get better and better and better," James said after they lost to the Spurs on Thursday.
"We literally haven't had an opportunity to log in anything. We don't know. I just said it after last game. We have no chemistry with any lineup for the simple fact that we literally haven't logged enough minutes."
Here are the top 10 Staples Center moments for the Lakers, Clippers, Sparks and Kings ahead of the Crypto.com Arena name change.
James' 39 points moved him 27 past Kobe Bryant for the most on Christmas in league history. Westbrook's triple-double was also his second on the league's marquee day — he's just the second player ever on Christmas to record multiple triple-doubles. Oscar Robertson did it four times.
The numbers are impressive, but they're disconnected from results. But the Lakers have lost the last four of James' 30-point games and they're 2-4 in Westbrook's six triple-doubles.
Saturday, it was disastrous performances in the first and third quarters, stretches that forced the Lakers to play too close to perfect. And in what's becoming entirely too familiar for them, they left the floor losers even with James playing big minutes and delivering big games.
"He a robot, man. He can do whatever he want to," Monk said while shaking his head. "... And not winning, man, and not helping, man. We just as mad as everybody else."
All things Lakers, all the time.
Get all the Lakers news you need in Dan Woike's weekly newsletter.
You may occasionally receive promotional content from the Los Angeles Times.