Anthony Davis helps Lakers rekindle potential as LeBron leads way over Nets
NEW YORK —
Anthony Davis spread his arms wide, his brow focused directly on James Harden as the Nets guard bounced from left to right.
Without overreacting to Harden's fakes, Davis stayed engaged, extending an arm to force Harden into a miss. Russell Westbrook went high for the rebound, pounding it off the Barclays Center court as he accelerated up the floor.
With a single motion, Westbrook whipped a one-handed bounce pass to LeBron James, who glided through the paint against the helpless Brooklyn defense for two points.
"It was great to see that sequence," James said.
LeBron James finishes with 33 points and helps the Lakers put together a late scoring surge before turnovers seal the team's 113-107 loss to Miami.
This was the plan all along. And the Lakers, for the first time in more than a month, finally got to see it somewhere other than their hopeful imaginations.
Davis was back, Westbrook was pushing the pace and James, well, no one was better than he was — the Lakers' three stars together for just the 16th time this season in a 106-96 win.
"We haven't seen them enough this year," coach Frank Vogel said.
James, who scored at least 25 points in each of the games Davis missed because of his injured knee, made good on his promise to keep going even when the Lakers got their big man back.
"I'm in one of the best zones offensively I've been in in my career," James said after Sunday's loss to the Heat. "And I don't plan on stopping. That's just how I feel. I feel fantastic."
Tuesday, he stepped into passing lanes on back-to-back plays in the fourth quarter for breakaway highlight dunks, the showiest moments of another efficient 14-for-21 shooting night.
"I was able to pick-six two of them in a row," James said, comparing himself to NFL Hall of Fame safety Ed Reed.
And while Brooklyn, missing the injured Kevin Durant and the unvaccinated Kyrie Irving, got 33 points from Harden, James equaled him.
"LeBron feels good," Vogel said pregame. "… I don't feel like there's a need for him to exhale now and change what he's been doing."
He didn't, especially in the rare tense moments against the Nets. With the lead cut to two after four free throws from Harden (three from a missed triple plus one from a technical), James hit back-to-back jumpers to give the Lakers enough room to get back to .500.
It was far from perfect, that first-quarter fast break just a sliver of the game where the Lakers were flawless.
Davis scored on his first two shots (including a lob dunk on the game's opening possession), but foul trouble quickly knocked him out of rhythm and limited him to eight points in 25 minutes. Westbrook rallied after a slow first half — his turnovers were almost always met with points on the other end — but he was still too uneven.
Some L.A. Times readers believe that firing coach Frank Vogel will not cure what ails the Lakers. Others are critical of Magic Johnson and Vogel.
The dunk from Davis, though, was a signal that his sprained knee wasn't going to be a problem.
"For the most part I felt fine, felt great out there and the first couple minutes the adrenaline took and after that, the wind caught up to me. When I caught my second wind, I was fine for the rest of the game," Davis said. "So, see how it reacts tomorrow. First live action, and go from there."
And while he pushed the pace, Westbrook still was a little sloppy. He committed the first five Lakers turnovers — including all four in the first half — before settling in with 15 points, six rebounds, and four assists.
"We know what our capabilities are," Westbrook said. "But honestly, we still have to figure out, you know, spacing on the floor, what sets to call, our rotations — figuring out what that looks like."
With Davis back on the court, the margins for error greatly expanded. Defenders could count on his rim protection — in his first game back, Davis swatted four shots. Eight Lakers had at least one steal.
And with him back on the other end occupying defensive attention, the Lakers' supporting players were able to shake loose and impact the win.
With the New York crowd buzzing as soon as he entered the game, Carmelo Anthony pressed his fingers to the side of his head after each of his three three-point shots just like he used to do on the other side of the Brooklyn Bridge.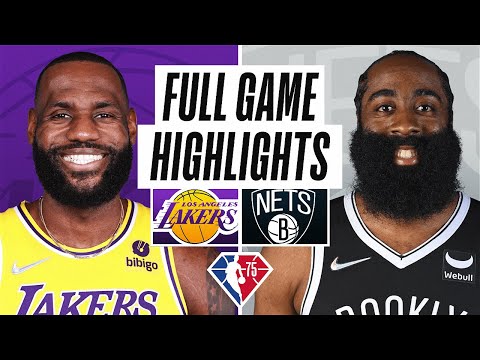 Malik Monk, playing nearly 28 minutes off the bench, scored 22 by attacking above the rim and beyond the three-point stripe where he was six for 12.
And Austin Reaves, a part of Vogel's nine-man rotation with Trevor Ariza and Dwight Howard pushed to the bench, didn't score until late in the fourth quarter, but the undrafted rookie made all kinds of winning plays — locking up Harden, drawing offensive fouls, grabbing five rebounds and handing out a career-best six assists.
Against this version of the Nets, the Lakers didn't need to be that close to perfect. But the flashes? They're important evidence of what the team hopes its future can hold.
"I think we'll go as far as we push ourselves to go," Westbrook said. "At this point of the season, we know we're trying to figure out what we're capable of. And once we're able to do that, we'll be able to see how we can judge where we are as a team. But tonight was a big start for us in playing the right way, winning games we're supposed to win."

All things Lakers, all the time.
Get all the Lakers news you need in Dan Woike's weekly newsletter.
You may occasionally receive promotional content from the Los Angeles Times.