Christian Yelich's outfielder talents could lift Brewers while Dodgers miss out
Reporting from phoenix —
The summer afternoons were the best ones.
Play ball — in a tournament, perhaps, or in a youth all-star game. Then pile into a car with your friends to go see the big leaguers play. Find a parking spot, change out of your uniform and into a clean sweatshirt or T-shirt.
"And into Dodger Stadium we went," Christian Yelich said.
Before Yelich grew into one of the finest outfielders in the major leagues, he grew up in Thousand Oaks, rooting for the Dodgers teams that featured Eric Gagne, Shawn Green, Eric Karros and Paul Lo Duca. The player he rooted hardest for, however, did not play for the Dodgers.
"My favorite player growing up was actually Jeter," Yelich said.
He paused, just long enough to count as a dramatic effect.
"Believe it or not," Yelich said, letting out a chuckle.
To the casual fan, Derek Jeter is a Hall of Famer in waiting, the "Captain Clutch" who won five World Series rings with the New York Yankees. But, as the new chief executive of the Miami Marlins, Jeter hit the button on a detonation of the team last winter.
Giancarlo Stanton, the National League most valuable player, was traded to the Yankees. Marcell Ozuna was traded to the St. Louis Cardinals, Dee Gordon to the Seattle Mariners, and Yelich to the Milwaukee Brewers. There went the top four batters in the lineup, jettisoned from a team that scored more runs than the Dodgers, the league champions.
The Dodgers were Stanton's hometown team too, but the team determined the complications of assuming the largest contract in North American sports history were too daunting.
Yelich would have been an incredibly valuable — and affordable — player for the Dodgers.
He is 26, entering what should be the prime of his career. He is under contractual control for five years, at no more than $58 million. He would have been a long-term solution in a Dodgers outfield in which the only player signed beyond this season is the one they did not intend to keep, Matt Kemp.
And Yelich is one of the elite outfielders in the majors, even if America has not realized it.
He hit .282 with 18 home runs last season, which does not scream elite. However, he ranked among the NL top 10 in runs, hits, doubles, walks and stolen base percentage. The only NL players on base more times are household names: Joey Votto, Charlie Blackmon, Kris Bryant, Anthony Rizzo, Paul Goldschmidt and Stanton.
Yelich ranks fifth among major league outfielders in WAR over the last two seasons, according to Fangraphs. The players ahead of him: Mike Trout, Mookie Betts, Blackmon and George Springer. The players immediately behind him: Stanton and Bryce Harper.
Of the other six, all started the All-Star game, aside from the injured Trout. Yelich has yet to make an All-Star roster.
"I think it's always natural for players on the coasts, generally in the bigger markets, to get a little more attention," Brewers general manager David Stearns said.
"That can be mitigated somewhat when you've got a really good team, you're playing in the playoffs, and you're on national TV. Christian hasn't had that. It's certainly possible that the national fan doesn't know him quite as well as the more avid fan, or the front office executives. I think most people inside baseball recognize how valuable this player can be."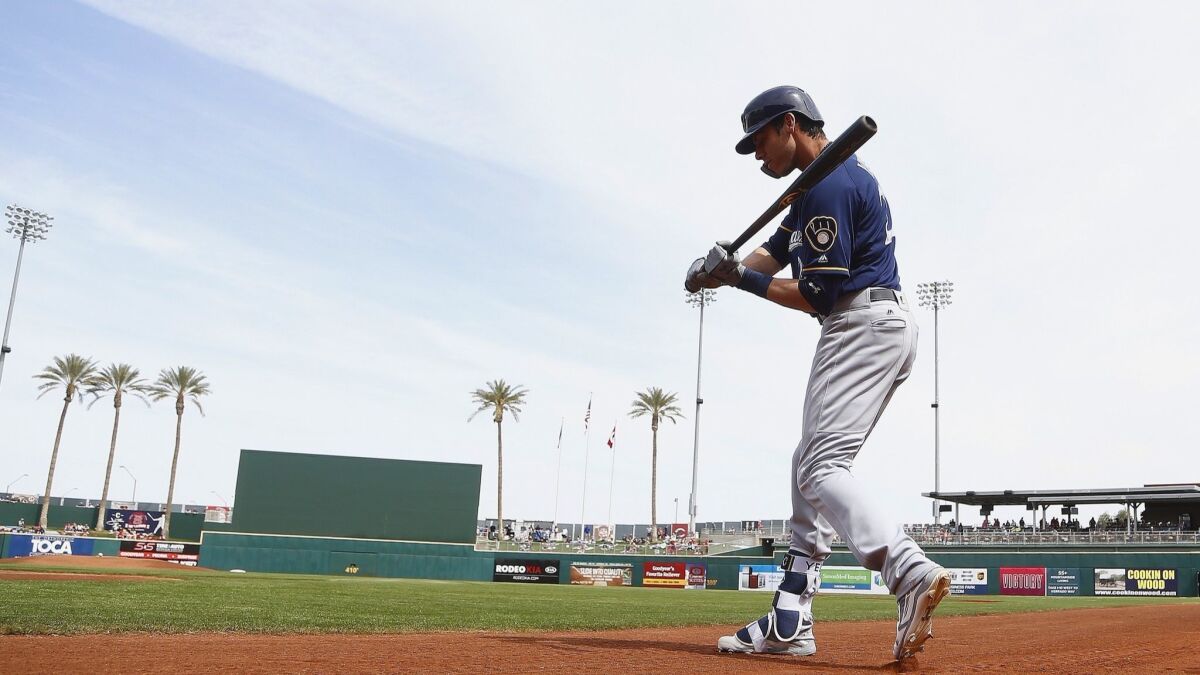 The Marlins certainly did, which is why they insisted any team interested in trading for Yelich include its top prospect in the deal. The Dodgers do not trade their best prospects, citing in part the emergence of Cody Bellinger and Corey Seager. They have won the NL West for five consecutive seasons.
The Brewers play in the smallest market in the major leagues, but they play to win. They signed outfielder Lorenzo Cain for $80 million. And, in a sport that increasingly prioritizes how long you can control a player over how good the player is, the Brewers traded four prospects – including their top prospect, outfielder Lewis Brinson — to get Yelich.
The prospect mavens can anguish over a small-market team trading 24 years of control for five. The Brewers finished one game out of a playoff spot last season. Their next postseason appearance will be their first since 2011.
"We gave up real talent. We're very aware of that," Stearns said. "A lot of those players were targeted by other teams in other trade discussions over the past couple of years.
"In this case, to be able to get a player like Christian in this portion of his career, given the level of competitiveness we think we're going to have over the next five years, we thought it was the right fit."
The Marlins projected a similar level of competitiveness in the winter of 2014-15, when they signed Stanton for 10 years and Yelich for seven. They lost 91 games in 2015, then 82 in 2016, but the improvement was lost amid the death of All-Star pitcher Jose Fernandez that September.
"I remember, when he pitched, thinking I was going to tell people I played with this guy," Yelich said. "That's how good he was. He would just dominate other major league players."
The Marlins lost 85 games last season. If one player made a successful team, Trout would not be entering the eighth season of his career with zero playoff victories.
The way Yelich sees it, though, the untimely death of one of the few true aces in the sport damaged the Marlins beyond wins and losses, and ultimately beyond repair.
"The loss was tremendous, not only for how sad it was and how sad it still is, but, baseball-wise it's tough to overcome that as an organization, especially a small-market organization," Yelich said. "You can't really go out and buy another guy.
"I feel like that changed everything, for everyone there. No one could see that coming. Nobody — no player, no front office — can prepare for something like that. You just don't foresee that happening."
Stanton has said he thought the Marlins did not need to blow up the team, that they could have won by adding pitching to a formidable lineup. Jeter has countered that the Marlins have not had a winning season in nine years and a postseason appearance in 15 years.
Yelich said he has not spoken with Jeter, his boyhood idol, since he took over the Marlins last fall. Nonetheless, Yelich said, he endorsed Jeter's plan to revive the Marlins.
"I think what they did was right," Yelich said. "They probably needed to do that. At the end of the day, it's about winning games. We just weren't doing it as a group. We had a lot of talent. We just weren't able to get over that hump and get to where we needed to be.
"You have a certain amount of time together and, if you don't capitalize on it in that amount of time, the team has to make changes. That's the reality. It happens everywhere, not just in Miami. You can't fault them for that. That's just the business we're in, and that's how things work in this game. There's no hard feelings on my end."
Follow Bill Shaikin on Twitter @BillShaikin
---
Get our high school sports newsletter
Prep Rally is devoted to the SoCal high school sports experience, bringing you scores, stories and a behind-the-scenes look at what makes prep sports so popular.
You may occasionally receive promotional content from the Los Angeles Times.