MLB notes: Umpires wear white wristbands to protest 'abusive player behavior'
Major League Baseball umpires wore white wristbands during games Saturday, protesting "abusive player behavior" after Detroit second baseman Ian Kinsler was fined but not suspended for his recent verbal tirade against ump Angel Hernandez.
The World Umpires Association announced the action, saying the union strongly objected to the response by the commissioner's office. Kinsler said this week that Hernandez was a bad umpire and "just needs to go away."
"The Office of the Commissioner's lenient treatment to abusive player behavior sends the wrong message to players and managers. It's open season on umpires, and that's bad for the game," the WUA said.
"Enough is enough. Umpires will wear the wristbands until our concerns are taken seriously," the union said.
MLB said it had no comment on the union's statement.
Crew chiefs Joe West, Gerry Davis and Bill Miller wore the wristbands in the first games of the day. Hernandez wore one for the Arizona-Twins game.
Miller worked at second base during the Dodgers-Tigers game at Comerica Park, right near Kinsler.
"He's not the focus of the situation. That's just part of the puzzle," Miller said. "We've have had several instances where umpires have been called out or challenged. Ejections seem to be up, and we just feel like we need to band together and let people know that we are human beings."
Most every full-time MLB umpire wore a wristband. Triple-A call-up umps didn't in the early games.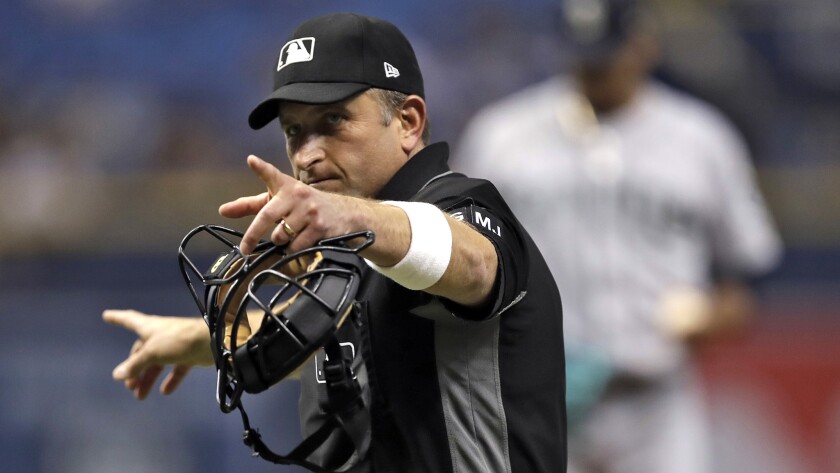 "That's certainly their right to do that. I think the country's in a mood to protest right now. That's pretty clear," Milwaukee manager Craig Counsell said before the Brewers played at Colorado.
"The umpires do get the brunt of it sometimes. But I also think they're kind of trained to understand that," he said.
West, the president of the umpires' union, declined comment after working home plate at Wrigley Field in the Cubs' 4-3 win over Toronto. In the fourth inning, West called strike three on Chicago's Jon Jay — Jay yelled in frustration as he walked away from the plate.
West is the most senior umpire in the majors. Earlier this month, he was suspended three games by MLB for comments he made in a newspaper story about Texas star Adrian Beltre being the biggest complainer in the game. West said he was joking, and Beltre said he knew the umpire was kidding.
On Thursday, at the owners' meeting in Chicago, Commissioner Rob Manfred drew a distinction on remarks by players and umpires.
"It is not unusual after a very competitive event for a player to say something that we don't think is helpful over the long term. We have always dealt with those by player discipline, fines. That's the ordinary course," Manfred said.
"I see the umpire thing differently. Umpires have to be beyond reproach on the topic of impartiality. That's why there are really specific rules in the umpire basic agreement about public comment," he said.
Etc.
Aroldis Chapman is out as the New York Yankees closer. Yankees manager Joe Girardi said before Saturday night's game with the Boston Red Sox that the hard throwing lefty, who gave up two runs in a non-save appearance in Friday's 9-6 loss to Boston, is being taken out of that role to work through some location issues. Chapman, who will be used "at any point" for now, has given up at least two runs in each of his last three outings. Girardi stopped short of naming his replacement. Instead, Dellin Betances and David Robertson will be used based on the situation, to allow flexibility. …
The New York Mets have recalled catcher Kevin Plawecki from triple-A Las Vegas and activated left-hander Tommy Milone from the disabled list. Plawecki replaces catcher Rene Rivera, who was awarded to the Chicago Cubs on a waiver claim. Milone takes the roster spot of outfielder Curtis Granderson, who was traded to the Los Angeles Dodgers. The 26-year-old Plawecki is 3 for 24 in 10 games with New York this season. He hit .328 with nine homers and 45 RBIs in 64 games for Las Vegas. Milone had been sidelined by a sprained left knee. He is 1-2 with a 7.91 ERA in nine games, six starts, with the Mets and Brewers this year. …
Right-handed pitcher Aaron Brooks was designated for assignment by the Chicago Cubs after they claimed Rivera off waivers from the Mets. The 34-year-old Rivera is known for his defensive skills. He has thrown out 10 of 31 runners attempting to steal this season. He is batting .230 with eight homers and 23 RBIs in 54 games. … Atlanta Braves left fielder Matt Kemp is the lineup batting cleanup after getting reinstated from the disabled list. Kemp missed 19 games with a right hamstring strain and was sidelined for nine games with the same injury in April. Kemp is hitting .290 with 14 homers and 48 RBIs in 88 games. …
The Miami Marlins have traded pitcher Tom Koehler and cash the Toronto Blue Jays for minor league pitcher Osman Gutierrez. Koehler was 36-53 over his six-year career. The 31-year-old righty was 1-5 with a 7.92 ERA in 12 starts for Miami this season. Koehler was sent to triple-A New Orleans for the second time this season after allowing three home runs in 5 2/3 innings against Cincinnati on July 23. Gutierrez was 4-11 with 68 strikeouts in 78 innings with Class A Lansing. The right-hander will report to Miami's Greensboro, N.C., affiliate.
---
UPDATES:
5:15 p.m.: This article has been updated with news of the umpires protest against what its union says is escalating abusive player behavior.
This article was originally published at 3:20 p.m.
---
Get our high school sports newsletter
Prep Rally is devoted to the SoCal high school sports experience, bringing you scores, stories and a behind-the-scenes look at what makes prep sports so popular.
You may occasionally receive promotional content from the Los Angeles Times.