Bryce Harper, Manny Machado set for spotlight as winter meetings hit Las Vegas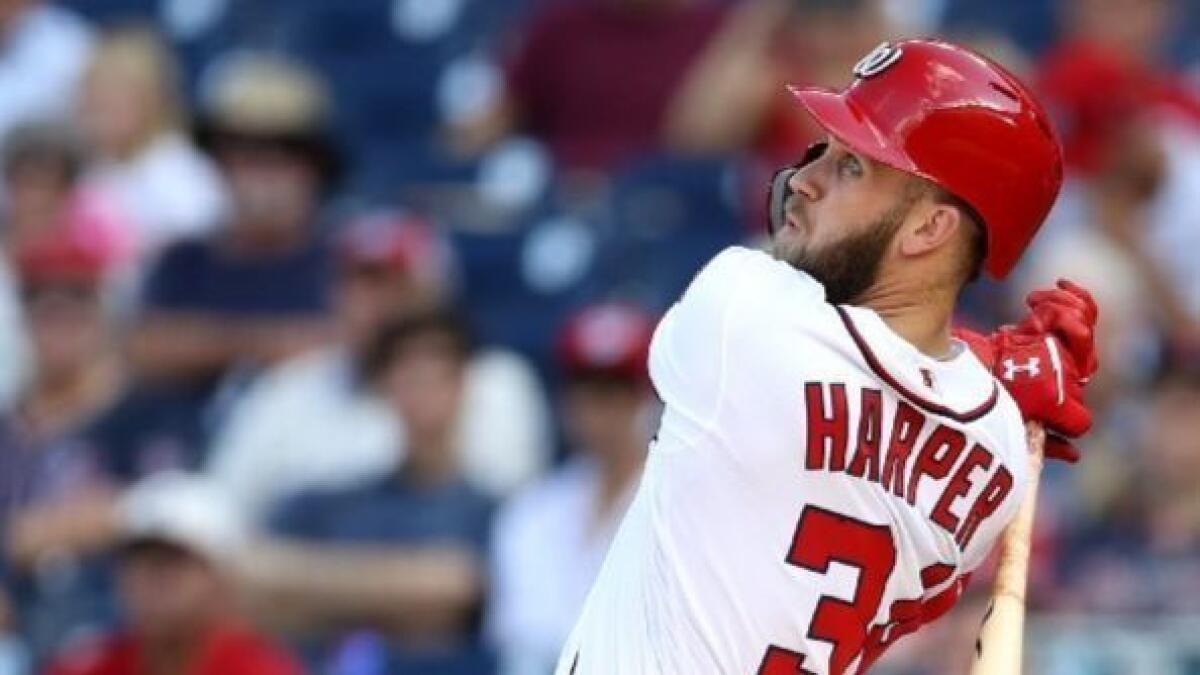 Reporting from las vegas —
In the months after the 2015 season, Major League Baseball teams doled out nine-figure free-agent contracts like they were bats and balls, essential items needed to field a team, rather than time bombs which ticked closer to detonation with each passing day.
The deals only look astounding in retrospect. At the time, they seemed reasonable. Arizona lured Dodgers ace Zack Greinke with a $206.5-million package. Boston topped that by investing $217 million in pitcher David Price. The Cubs landed outfielder Jason Heyward for $184 million. Baltimore paid $161 million to re-sign first baseman Chris Davis. The list of $100-million men included Giants pitcher Johnny Cueto, Tigers outfielder Justin Upton and Tigers pitcher Jordan Zimmerman.
The eight-figure spending was just as exorbitant: The pitching quartet of Jeff Samardzija, Wei-Yin Chen, Mike Leake and Ian Kennedy made a combined $320 million. Even the small-market Kansas City Royals completed a franchise-record $72-million deal to retain outfielder Alex Gordon.
The final tally of free-agent money was $2.4 billion, which dwarfed the $1.4 billion given out the previous winter, according to Spotrac. As the dollars piled up, the consensus of the executives, agents and analysts throughout the industry was this: Just wait until the winter of 2018.
From a distance, the class of free agents glittered, a group which figured to fetch billions of dollars on the open market: The youthful duo of Bryce Harper and Manny Machado led the way, but the supporting cast was riveting. Clayton Kershaw could opt into free agency. So could Price. Former MVPs like Josh Donaldson and Andrew McCutchen would be available, as would pitchers like Dallas Keuchel, Matt Harvey and Garrett Richards.
And get this: The industry would convene for the 2018 winter meetings in Las Vegas, a fittingly glamorous locale for the baseball bazaar. The metaphors wrote themselves.
The long-awaited moment arrived Sunday as the industry gathered at the Mandalay Bay resort to kick off the meetings this week. But the once-expected market of riches is not expected to materialize. The expectation is only Harper and Machado, a pair of 26-year-olds with a combined 10 All-Star appearances, are guaranteed to cash in.
Harper and Machado figure to steal the show this week. Both could fetch contracts in excess of $300 million. Harper has already rejected a 10-year, $300-million offer from the Nationals. The Yankees and the Phillies are considered the primary suitors for Machado, with the White Sox lurking. Even if neither man signs this week, their paydays should be lucrative.
The rest of the labor force is not expected to be so lucky. It is the middle class of players who are being squeezed under the current alignment. Not every deal is rational — pitcher Patrick Corbin signed a six-year, $140-million contract with Washington last week, while Nathan Eovaldi re-signed with Boston on a four-year, $68 million. But these men are the exception, rather than the rule.
The prestige of this year's free-agent class faded for reasons both understandable and unforeseen. Beset by injuries, indebted by loyalty to Los Angeles, Kershaw signed a three-year, $93-million deal in November. Price declined to opt out of his own deal. Donaldson settled for a one-year, $23-million opportunity with Atlanta last month. As he recovered from Tommy John surgery, Richards took a $15-million deal with San Diego. Harvey battled thoracic outlet syndrome. McCutchen faded from a superstar into a savvy vet — the sort of players squeezed by the market last winter.
In only three years, the philosophies of front offices have mutated from extravagance to austerity. The success of the Cubs and Astros has spawned a fleet of tanking imitators. The luxury-tax ceiling has suppressed the spending of teams like the Dodgers and Yankees. A risk-averse generation of executives has shied away from lengthy commitments. Executives prefer flexibility above all, and long-term contracts often lock teams into place.
Consider the players who fetched those princely sums after the 2015 season:
Davis posted a .168 batting average in 2018, the lowest of any major-leaguer who ever qualified for the batting title; the Orioles still owe him $93 million.
Cueto underwent Tommy John surgery in August, while Samardzija made only 10 starts in 2018. In November, the team hired former Dodgers general manager Farhan Zaidi after firing general manager Bobby Evans.
Heyward has posted a .688 on-base plus slugging percentage as a Cub. Gordon has produced a .665 OPS during the last three seasons.
Zimmerman has a 5.24 earned-run average since signing his contract. Chen has a 4.75 ERA. Leake has a 4.32 ERA. Kennedy has a 4.49 ERA.
Not every story features a sad ending. Price sparred with the press in Boston and dealt with elbow issues before redeeming himself as a stalwart among the 2018 World Series champions. Upton has hit 96 homers since 2016, and remains a steady hitter after being traded to the Angels. Greinke rebounded from a rocky 2016 campaign to make the All-Star team these last two seasons.
Yet the case of Greinke is still instructive. As Arizona contemplates an organizational rebuild, the team has made clear they are willing to part with Greinke if a suitor is willing to accept the bulk of his remaining salary, according to people familiar with the situation. He turned 35 in October and will earn $34.6 million a season through 2021.
Any team could employ Greinke — a former Cy Young award winner and five-time All-Star. All it takes is paying him what one team decided he was worth three years ago.
Twitter: @McCulloughTimes
Get our high school sports newsletter
Prep Rally is devoted to the SoCal high school sports experience, bringing you scores, stories and a behind-the-scenes look at what makes prep sports so popular.
You may occasionally receive promotional content from the Los Angeles Times.