Cy Young winner Max Scherzer says college baseball helped him prosper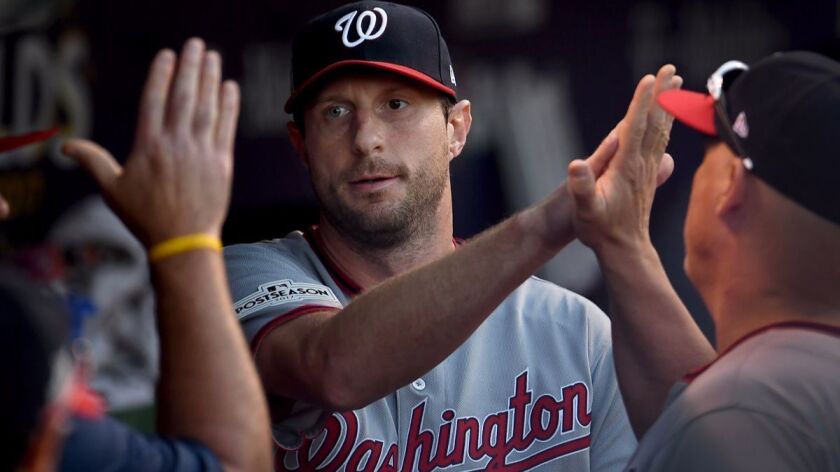 In the modern era, the nurture of young pitchers involves strict limits on pitches. Julio Urias, the Dodgers' 21-year-old prodigy, has started 89 professional games without ever throwing more than 100 pitches, according to online game logs.
Talented high school pitchers can be scared away from college baseball, where coaches can risk overworking pitchers in the interest of winning. Sign with a major league team, or so the pitch to teenagers goes, where protective development is the priority.
Max Scherzer of the Washington Nationals won the National League Cy Young Award on Wednesday, then endorsed college baseball as the foundation of his development as an elite pitcher. He played at the University of Missouri.
Scherzer and Corey Kluber of the Cleveland Indians, the American League Cy Young winner, each won for the second consecutive year. Scherzer and Kluber, who played at Stetson (Fla.) University, were two of the 15 pitchers to throw 200 innings this year.
Kluber was one of two pitchers to throw more than two complete games. Scherzer threw two; only six major league teams threw more.
So long as college coaches limit starting pitchers to one game every seven days, Scherzer said, pitchers can develop in ways they cannot working every fifth day in the minor leagues.
"When you pitch once every seven days, you're more apt to take on a 120-pitch count, a 130-pitch count," Scherzer said.
"That really helps develop pitchers at a young age, when you're 19, 20, 21. When you're exposed to those types of pitch counts and you're facing a lineup three or four times and pitching deep into a game, I really feel like that's a benefit to pitchers in general."
Scherzer said he is a big believer in analytics, and one of its rapidly evolving tenets is that pitchers are much less effective on their third turn through the lineup. At the same time, pitch limits in the minor leagues and hurried arrivals in the major leagues complicate the efforts of pitchers to develop the multiple off-speed pitches necessary to navigate a lineup for the third time.
"I've always been a big believer that, even if it's only once a month, you do need to really tap your pitch count to an extreme level, to 120, to really push it," Scherzer said. "Sometimes, you learn more about yourself as a pitcher on the pitches after 100 than you do the first 100."
In describing how data reveal when a pitcher's effectiveness starts to decline, Scherzer did not mention a third time through the lineup.
"It's a range, usually, from 100 pitches to 120," Scherzer said. "No one knows for an exact science when that mark is, but it's usually around that range."
Scherzer said he did not believe 200-inning pitchers would become an endangered species in the near future. A pitcher that makes every start and averages six innings would finish around 200 innings, he noted. However, the Dodgers emphasized rest breaks for their starters with liberal use of the new 10-day disabled list, and other teams could follow.
Pitch efficiency is important as well. Kluber ranked sixth and Scherzer 14th in innings pitched this year, but Scherzer ranked 20th and Kluber 34th in pitches thrown.
Scherzer said there is no one model for success. It is up to each team to assess which pitchers can handle a heavier workload, then hope for the best.
"I feel like it's on a case-to-case basis," he said. "It's hard for me to give a macro paintbrush and say teams aren't doing it the right way."
Urias underwent shoulder surgery this year, despite the Dodgers' efforts to protect him. Scherzer had biceps tendinitis in college and a sore shoulder two years into his professional career, but this year marked his fifth consecutive season of 200 innings.
This year also marked his third Cy Young Award, tied with Dodgers ace Clayton Kershaw. Scherzer declined to compare himself with Kershaw.
"If I want to be an MLB analyst," he said, "I'll go work for MLB Network."
Follow Bill Shaikin on Twitter @BillShaikin
---
Get our high school sports newsletter
Prep Rally is devoted to the SoCal high school sports experience, bringing you scores, stories and a behind-the-scenes look at what makes prep sports so popular.
You may occasionally receive promotional content from the Los Angeles Times.