Former Westlake star Christian Yelich helps provide Thanksgiving dinner for fire victims at most valuable time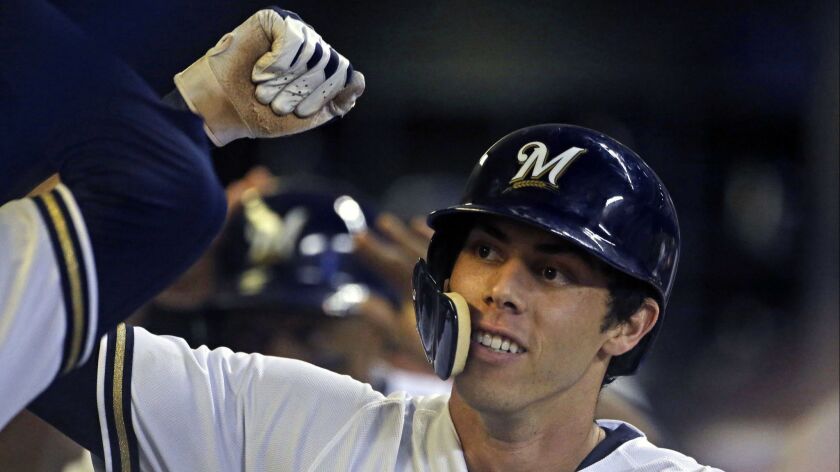 Maybe he could make someone smile. Maybe for a few seconds, maybe for a minute, maybe even five.
"There hasn't been a whole lot to smile about lately," Christian Yelich said.
It was Friday night at the Proactive Sports Performance Lab in Westlake Village, and about 24 hours earlier the 26-year-old Milwaukee Brewers outfielder had been named the National League's most valuable player for the 2018 season.
He wasn't there to celebrate the achievement. He was there to offer support to a region devastated by recent events.
Yelich was raised in Thousand Oaks. With properties in Westlake Village and Malibu, he continues to make his home in the area during the baseball offseason.
"Everyone either has a friend who lost their house or knows someone who lost their house," Yelich said.
Yelich did what he could to spread the word about the early Thanksgiving dinner hosted by the training facility where he has worked out since he was a freshman at nearby Westlake High. Hundreds attended the event Friday night, many of whom lost their houses in the Woolsey fire. Some were related to victims of the recent mass shooting at the Borderline Bar and Grill in Thousand Oaks. Others were first responders.
Yelich's presence was appreciated.
"Very awesome," said Shannon Taylor, who was renting a house in Malibu that burned down.
She is now living with her husband and dog in a 200-square-foot trailer stationed in the parking lot of her church.
"We're lucky we have a trailer," Taylor said, tearfully. "Some people don't even have that."
When she evacuated from Malibu, she brought only three days' worth of clothes. The gathering on Friday offered her a chance to restock. A parking lot across the street from the training facility was transformed into something of an open-air department store. Hair products on one table, toys on another. Racks of clothes. A stack of diaper boxes in the far corner.
"I have a new little wardrobe," Taylor said, forcing a smile.
The meal was catered by the Stonefire Grill, which was prepared to feed as many as 500 people. The training center's parking lot, lined with six rows of tables, served as an outdoor dining room. Yelich posed for a photograph with one off-duty firefighter, then another.
Massages were offered inside the facility, which also had an arts-and-crafts station for children. A photo booth was in the back of the room.
All of the food and items were provided by local businesses. With the help of the local YMCA, Proactive also collected monetary donations that owner Emily Capretta said would go entirely to families affected by the tragedies. Yelich contributed a pair of autographed shoes that are being auctioned off over the @proactivesp Instagram account.
When Yelich was announced as MVP on Thursday afternoon, Capretta made sure the MLB Network broadcast was on the television mounted on one of the walls. The 30 or so volunteers who were there screamed in delight.
"I don't follow any sports, but now that I've become friends with him this week, I was excited, I was thrilled, just because he's so nice," said Jessica Lopez, whose husband is one of the owners of the Stonefire Grill.
The excitement was quickly tempered, however. A couple of minutes later, Capretta learned a fire victim who had previously RSVP'd for the dinner wouldn't be able attend because of a chemotherapy session.
"That's what this week's been like," she said.
On the other side of town, Yelich's mother debated whether it was appropriate to celebrate her son's honor.
The parents and grandmother of Ryan Sorensen, a performance coach at Proactive who had worked with Yelich from the time he was a teenager, lost their homes in the fire.
The Yeliches had also been patrons of the Borderline Bar and Grill, where on Nov. 7 12 people were killed by a gunman who also died.
"We felt uneasy about celebrating, but he deserves to have the moment because it's so hard to do and you never know if he'll be MVP again," Alecia Yelich said.
She ultimately decided to host a small gathering at the family's lakeside home. Sorensen was among those invited.
Christian Yelich recruited Brewers teammate Ryan Braun to join him at Friday night's dinner. A former MVP himself, Braun has a home in Malibu that sustained some damage in the fire.
"We grew up here," said Braun, who graduated from Granada Hills High. "We still consider this place home. Without a doubt, this place is a significant part of the reason all of us end up having success as we go on our careers. Part of it is the talent level here, but also just the community and the love you feel when you come back to this place."
Braun and Yelich are thinking of ways to raise money for fire and shooting victims. They have tentative plans to host a charity softball game that would feature current and past major league players from the area, including Brewers third baseman Mike Moustakas, Philadelphia Phillies manager Gabe Kapler, former all-star shortstop Jack Wilson and former first-round pick Joe Borchard.
"We all have a ton of fond memories in a lot of these places that were affected," Yelich said. "We know people from these areas who had huge impacts on our lives."
On Friday, he had an impact on theirs.
---
Get our high school sports newsletter
Prep Rally is devoted to the SoCal high school sports experience, bringing you scores, stories and a behind-the-scenes look at what makes prep sports so popular.
You may occasionally receive promotional content from the Los Angeles Times.