'Ball Four' author Jim Bouton smoked baseball inside until the very end
If you ever had the chance to have Jim Bouton sign a copy of "Ball Four," his autograph often came with the quip, "Smoke 'em inside."
That was an oft-quoted phrase in the book, from Seattle Pilots teammate and fellow pitcher Gary Bell, for the ridiculously simplistic way he wrote scouting reports on any batter he ever faced.
Bouton smoked baseball's insider establishment by telling the truth in documenting his mess of a 1969 major league baseball season, split between the expansion Seattle Pilots and the Houston Astros with a trip to Triple A.
The game's push-back only made people all the more curious about its content. If Bouton wasn't a true believer in antidisestablishmentarianism, it's at least a word he could fully appreciate for its length and launch angle.
Over the last five decades, I hoarded seven copies of "Ball Four," including four updates after the original release in 1970. Two are very worn-out soft cover editions with pages dog-eared and passages underlined, as one might do with a copy of a "Caddyshack" movie script.
One of the obituaries written last week about Bouton, who died July 10 after an extended battle with strokes and vascular dementia at 80, mentioned he had been trying to update the book again for 2020. That he won't now live to see it is a bittersweet compromise.
It is with profound reflection that we also come to realize each of those "Ball Four" reissues offers a chance to review our own journalistic journey.
The first edition set a foundation of entertaining the idea of becoming a sportswriter. I tried to do a book report on it, but my fifth-grade teacher discouraged it.
The second edition in 1981 landed during my blur of academic training and understanding of the profession in college. Much of it recalled his comeback attempt with Ted Turner's Atlanta Braves, and a memorable televised September game against the Dodgers, who, on that day, smoked him and his knuckleball pretty good.
The 20th anniversary edition in 1990 had a David Halberstam endorsement on the cover: "A book deep in the American vein, so deep in fact that it is by no means a sports book." Now we had distance and perspective. Enough so that five years later, the New York Public Library named it as one of its Books of the Century — the only sports-genre title included among the "Popular Culture and Mass Entertainment" subset. With Dale Carnegie's "How to Win Friends and Influence People," Joseph Heller's "Catch-22" and Tom Wolfe's "The Bonfire of the Vanities," it was in excellent company.
The "Final Pitch" edition in 2000 allowed Bouton to acknowledge in the new intro: " 'Ball Four' changed sports reporting at least to the extent that, after the book, it was no longer possible to sell the milk and cookies image again. It was not my purpose to do this, but on reflection, it's probably not a bad idea.… Besides, you can get sick on too much milk and cookies."
Pitch after pitch, revision after revision, "Ball Four" was about more than exposing the juvenile manner in which the game existed. That became tame after time. Deeper moments resonated: Bouton made timely observations about racism, unequal pay, hero worship and outdated traditions.
"You spend a good piece of your life gripping a baseball, and in the end it turns out it was the other way around all the time," was Bouton's most famous excerpt.
My first pitch in tracking Bouton down was in 2003 when his new book, "Foul Ball: My Life and Hard Times Trying to Save an Old Ballpark," told about his attempt against the local establishment to preserve Wahconah Park in Pittsfield, Mass., one of the oldest ballparks in America.
Even the only daily newspaper in town, the Berkshire Eagle, endorsed the facility's demolition. Turned out, the person who owned that publication also owned the one I was working for at the time.
After talking to Bouton and comparing notes, the story I wrote in July 2004 somehow ended up reprinted in the Eagle, followed by a disclaimer: "The story in Friday's Eagle by Tom Hoffarth of the Los Angeles Daily News, a story marred by a number of factual errors, did at least reveal clearly that Jim Bouton's instinct for self-pity and tendency to fictionalize history is still intact."
When Bouton got around to signing that book for me, he changed up and included the line, "Keep your eyes open for bulldozers." I felt as if I was now an accomplice in helping Bouton smoke someone inside again.
In 2010, for a 40-year anniversary celebration of "Ball Four" by the non-profit, Pasadena-based Baseball Reliquary, Bouton flew out for a panel discussion, joined with former Seattle Pilots teammates and L.A. residents Greg Goossen and Tommy Davis.
During that visit, I showed Bouton an eBay purchase I'd made years earlier — a one-sheet New York Yankees questionnaire he'd filled out in pencil and dated Dec. 4, 1963.
He squinted at the yellowed sheet and cracked a wise smile. He had listed his preferred bat weight as "50 lbs" and length at "6 ft." Then he pointed to the line that asked if he had relatives in organized baseball.
"Look, I made that name up — Clyde Farquard," Bouton admitted with a laugh, telling the team his "cousin" had played in a rookie league for two days in 1960.
Here was more proof that, years before he messed with baseball's ruling class, he was already zinging the Yankees' public relations department. The book he wrote in response to "Ball Four," called "I'm Glad You Didn't Take It Personally" in 1971, could have applied here as well.
The Library of Congress announced last week, just a day before his passing, that it purchased the collection of scribbled notes and tape recordings Bouton used to compile "Ball Four." There were 37,000 items and more than 5,000 digitized files filling about 100 containers.
Wouldn't it be something if this Yankees questionnaire could be added? Maybe. But this one-of-a-kind piece of history will stay in my own personal library. Securely smoked inside the cover of one of my "Ball Four" copies.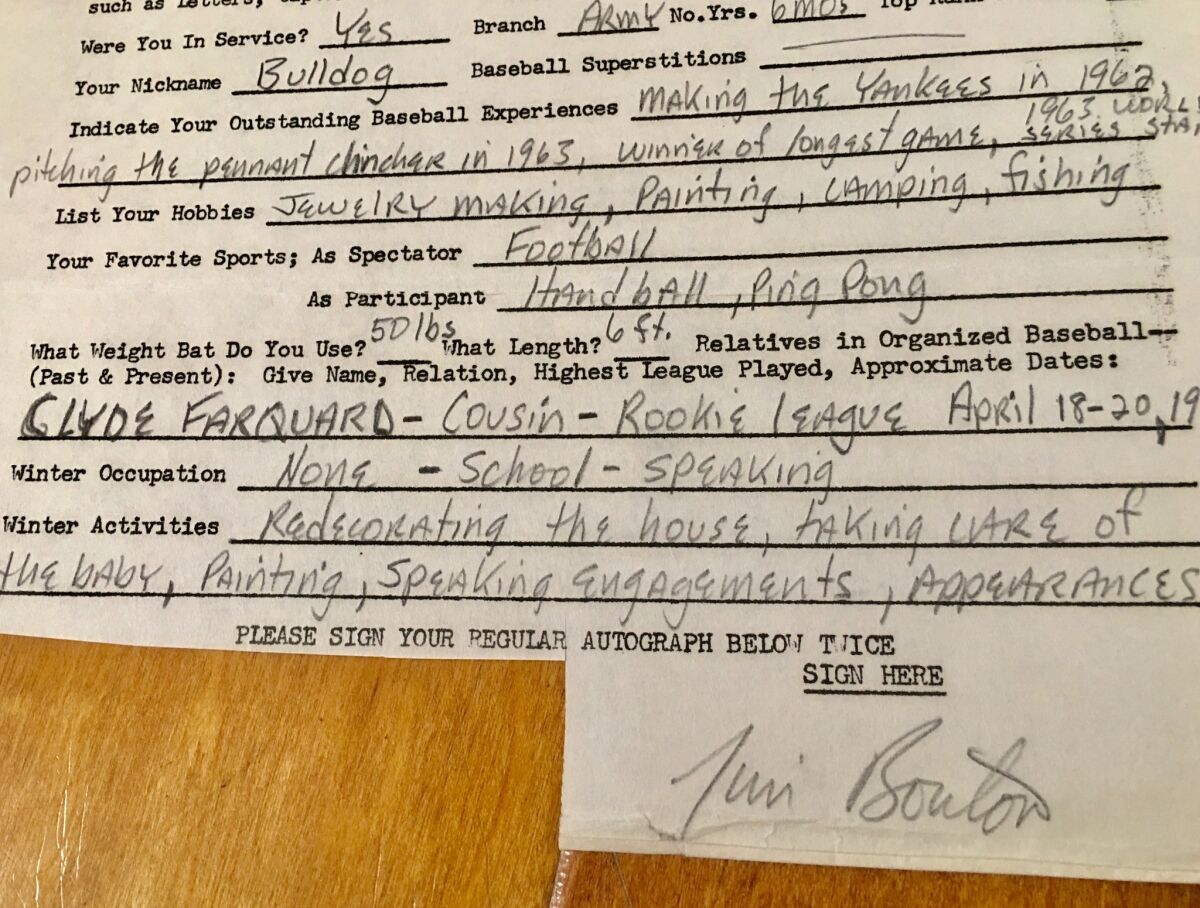 Get our high school sports newsletter
Prep Rally is devoted to the SoCal high school sports experience, bringing you scores, stories and a behind-the-scenes look at what makes prep sports so popular.
You may occasionally receive promotional content from the Los Angeles Times.