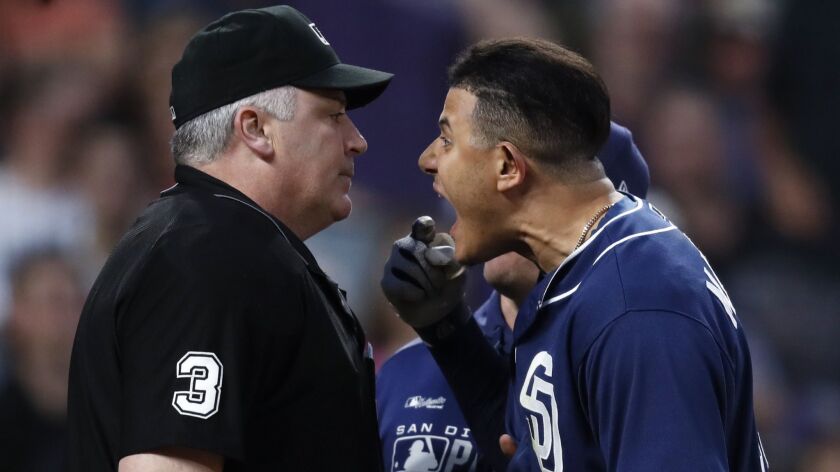 Here's a message to the Major League Baseball Umpires Assn., carefully phrased in a way sure to get the organization's attention:
#letscoolitwiththehashtags
San Diego Padres star Manny Machado received a one-game suspension Monday from the MLB for "aggressively arguing and making contact" with umpire Bill Welke during a game against the Colorado Rockies on Saturday night. Machado, who also threw his bat against the backstop during his meltdown, denies making contact with Welke and is appealing the suspension.
The umpire's union took to social media Tuesday, issuing scathing statements that accused the league of going easy on Machado.
"What kind of precedent is that setting?" the MLBUA said on Facebook. "It is NOT okay to throw a temper tantrum and physically touch someone of authority, just because you don't agree. Violence in all workplaces is not tolerated. Period."
Another statement from the organization's Twitter account featured wording that was just as strong, with the word "VIOLENTLY" in all caps to describe the bat-throwing part of the incident. So it was probably not necessary to also include a full dozen hashtags — including #Violence, #TemperTantrum, #NotTolerated, #MakeanExampleof and #RepeatOffender — as part of the tweet.
Possibly (but probably not) prompted by the excessive usage of hashtags, the MLB issued a statement of its own Tuesday regarding the union's posts from earlier in the day.
Sign up for our daily sports newsletter »
"We do not believe it is appropriate for the union representing Major League Umpires to comment on the discipline of players represented by the Players Association, just as it would not be appropriate for the Players Association to comment on disciplinary decisions made with respect to umpires," the league stated. "We also believe it is inappropriate to compare this incident to the extraordinarily serious issue of workplace violence."
---