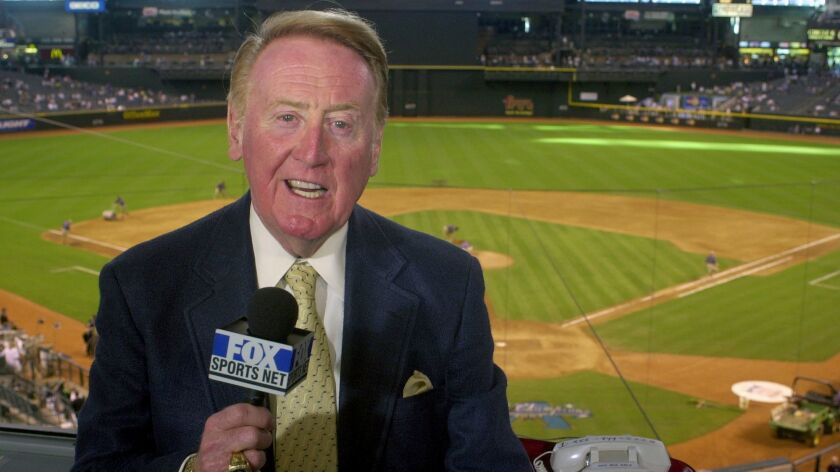 The opening words are an upbeat, "Oh, My!" followed by the familiar, warm voice of Dick Enberg. The chance to hear Enberg, who was part of sports fans' summers (and winters) for six decades, would be enough to promise an enjoyable few minutes. But in this week's episode of his new podcast, "Sound of Success," Enberg is joined by former Dodgers play-by-play announcer Vin Scully, making for a pleasant and all-too-brief conversation in which a couple of Hall of Fame baseball broadcasters chat amiably about their splendid careers and their sports memories.
Both retired from their broadcast jobs after the 2016 baseball season but Enberg — who said he's working on a book about Ted Williams — has recently begun recording podcasts that are scheduled to feature prominent figures from the world of sports and those outside sports too. His first podcast, last week, featured Billie Jean King.
Enberg's conversation with Scully will be available Thursday at Podcastone.
Scully said he's "very, very content" in retirement because it has allowed him to spend more time with his wife and his 16 grandchildren, and he tells a few stories that are well-known to his long-time listeners. But any opportunity to hear Scully is welcome, especially his reminiscences of how he "fell in love with the roar of the crowd" as he crawled beneath his family's massive radio as a child and listened to college football games. Enberg guides him through some easy questions, and Scully happily recovers some old ground, including his barbershop quartet singing days, with admirable energy and vigor. It just seems right to hear these two men talking baseball this time of year, while the playoffs proceed and the World Series approaches.
At the end, Enberg says he has "only" 38 more questions to ask Scully and invites Scully back for another appearance. Let's hope they do this again and again and again.
---