Three up, three down: Won-loss record shouldn't keep deGrom from Cy Young award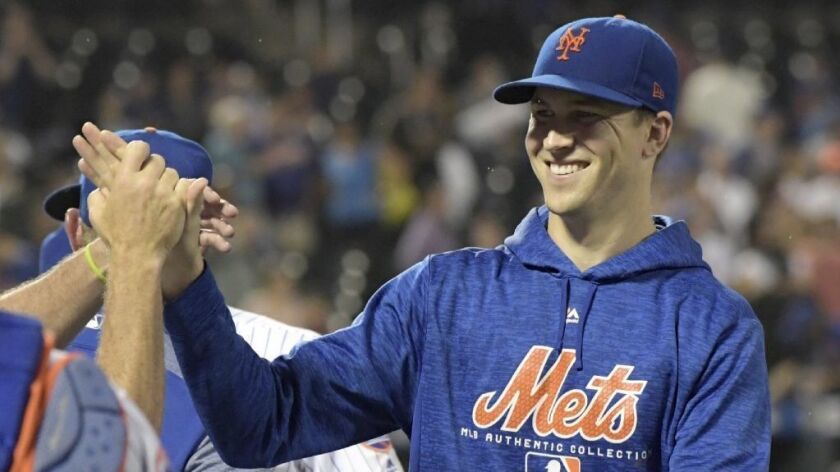 A look at who's hot and who's not in MLB this week:
THREE UP
Cy and sigh: Jacob deGrom of the New York Mets is expected to win the National League Cy Young award, with a 10-9 record that reflects the further devaluation of pitcher wins, and of the starting pitcher itself. In 2010, Felix Hernandez of the Seattle Mariners won the American League Cy Young award with a 13-12 record. Each pitcher led the major leagues in earned-run average (deGrom 1.70, Hernandez 2.27). Hernandez pitched 250 innings, deGrom 217. In 2010, Hernandez was one of 44 pitchers to throw 200 innings. In 2018, deGrom is one of 12. Shed a tear for Hernandez: The Mariners' 2018 fade extended baseball's longest playoff drought to 17 years, and he became the first pitcher in the wild-card era with 400 starts in the regular season but none in the postseason.
Not-so-dark knight: Matt Harvey is about to hit free agency, five months after his exile from the Mets. "There's only one team out there I would not sign with," Harvey said. The feeling is mutual; the Mets have a bright top three returning in deGrom, Noah Syndergaard and Zack Wheeler. But, after the Cincinnati Reds extended him a fresh start, Harvey pitched regularly, and decently. For the first time in three years, he completed a season free of injury. He went 7-7 with a 4.50 ERA for the Reds, giving up three or fewer runs in 14 of his last 18 starts. He threw 155 innings this year and should be good for more next year, and that could fit well on an Angels team on which no pitcher besides Andrew Heaney threw even 130 innings this year. In 2007, the Angels offered Harvey a $1-million bonus to sign out of high school. He wanted $2 million and passed.
Get me rewrite: The Oakland Athletics became the first team in at least 30 years to start a season with the lowest payroll in the major leagues and end the season in the playoffs. The A's have 97 victories; no Oakland team has won more since the 2002 A's won 103, including a 20-game winning streak. That team was the inspiration for "Moneyball," the book-turned-movie that popularized analytics, in part by playing up sabermetrics and playing down ace pitchers Tim Hudson, Mark Mulder and Barry Zito. Are these A's "Moneyball 2.0"? Tweeted Mulder: "Let's hope the sequel is better for once!" The Angels, not the A's, won the 2002 World Series. The Angels' opening payroll that year? $62 million. Oakland's opening payroll this year? $66 million.
THREE DOWN
Giant scapegoat: As the San Francisco Giants finish back-to-back losing seasons for the first time in 10 years, the team fired general manager Bobby Evans. The results speak for themselves, not only in wins and losses, but also in the lowest attendance since 2010, when the Giants won the first of three World Series championships this decade and started an NL-record sellout streak of 530 games that extended to 2017. It is that fan support — and the revenue that came with it — that led Giants ownership to reject the notion of rebuilding. The Giants doubled down on an old team last winter, adding infielder Evan Longoria and outfielders Andrew McCutchen and Austin Jackson to a team that already had signed free-agent pitchers Johnny Cueto, Jeff Samardzija and Mark Melancon to long-term contracts. The issue is not what Evans did but whether ownership will give a new general manager free rein in rebuilding, particularly if it might mean trading franchise icon Madison Bumgarner.
Passed ball: Can the New York Yankees afford to start slugger Gary Sanchez at catcher in the AL wild-card game against the A's? Maybe, since the A's have stolen the fewest bases in the majors. But Dodgers fans fretting about catcher Yasmani Grandal's struggles to catch the ball should note that Grandal has nine passed balls, in 136 games. Sanchez leads the majors with 18 passed balls, in 75 games. His backup, Austin Romine, has five passed balls in 75 games. Mitigating factor: Sanchez's bat … wait, not so fast. Romine is batting .244 with 10 home runs and a .712 OPS. Sanchez is batting .186 with 18 home runs and a .695 OPS. Players with a better OPS include light-hitting shortstops Nick Ahmed (Arizona Diamondbacks), Jose Iglesias (Detroit Tigers) and Jordy Mercer (Pittsburgh Pirates).
Quality control: Gabe Kapler, the runner-up to Dave Roberts for the Dodgers' managerial job, had an eventful first year as manager of the Philadelphia Phillies. Kapler was booed at the home opener, after a first week in which he summoned a reliever who had not warmed up, and later had to use an infielder on the mound because he ran out of pitchers. The Phillies led the NL East as late as Aug. 12, but plummeted below .500 by losing 20 of 26 games in September, including a four-game sweep this week in which the Rockies outscored them 39-7. The Phillies said Kapler would be back next year, despite some reported clubhouse sniping. Kapler said he had asked coaches and team staffers to critique his performance by sending them what he termed an "anonymous survey."
Follow Bill Shaikin on Twitter @BillShaikin
---
Get the latest on L.A.'s teams in the daily Sports Report newsletter.
You may occasionally receive promotional content from the Los Angeles Times.