Column: Mike Trout's MVP campaign will be about WAR and Angels' competitiveness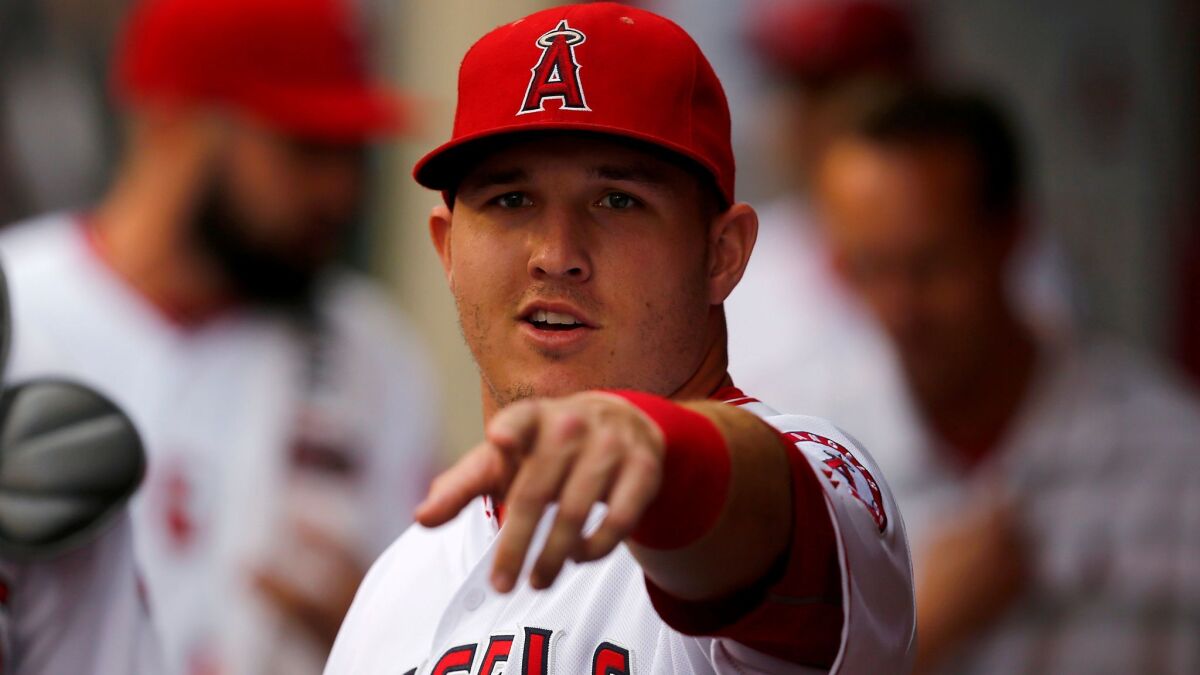 We thought a rite of summer had been exhausted and retired. Little did we know.
We thought Mike Trout's rousing victory in the American League most-valuable-player race last year had put an emphatic end to the increasingly tedious annual debate over whether a player from an inferior team should win.
Yes, if he were decidedly better than the candidates from contending teams.
Brace yourself for the mother of all MVP debates. Could Trout be the most valuable player if he does not actually play for a third of the season?
Trout, the Angels' center fielder and the best player in baseball, is expected to sit out six to eight weeks after thumb surgery last Wednesday. Let's assume he returns in seven weeks and plays every game the rest of the season.
That would give him 113 games. No position player has won an MVP award with so few games, with the exception of seasons interrupted by strike.
The Trout-driven arguments in previous summers have revolved around how best to define value, and which statistics best support your definition. The MVP ballot instructs voters that "there is no clear-cut definition of what most valuable means" and does not mandate or even mention any particular statistics for voters to consider.
Except one: "number of games played."
Trout is atop all the WAR (wins above replacement) charts this season, and his backers commonly cite that statistic — a purported catch-all number that values offense, defense and baserunning — in proclaiming his dominance. So we asked Mike Petriello, so skilled at translating analytics into English for MLB Network, if Trout could possibly end the season atop the WAR charts despite such a lengthy absence.
"Will he lead the AL in WAR this year? Doubt it," Petriello said. "Will he still rank insanely high for a guy who missed two months? Assuming he comes back at full Trout, hell yeah."
That would make it easy for the Trout partisans to argue that he is the best player in baseball yet again. And that would again trigger the question of whether the best player is the most valuable, this year in the context of games played.
"There's something behind that guy who is playing 158 games a year, grinding it, hot and cold, dead tired," said Tim Salmon, the former Angels star and current television analyst.
"To me, that's a huge difference. That might be the case with Mike if he misses 50 games."
Said Angels reliever Huston Street: "Games played does absolutely matter. It's how many games you have an influence on the outcome."
But Trout was putting up a career year, in a career in which he already has won two MVP awards and could have won five. He was on pace to bat .337 with 49 home runs, each of which would be a career high, and lead the league in on-base percentage and slugging percentage.
"He was on his way to a truly historic year," Street said. "There's a certain level of dominance that always merits discussion, but it's got to be that level of dominance. If he keeps up that pace, he's definitely in the discussion."
In 1980, George Brett carried a .403 average into September and finished at .390. He won the MVP award despite playing in 117 games. His Kansas City Royals went to the World Series.
In 1962, Mickey Mantle led the league in on-base percentage and slugging percentage. He won the MVP award despite playing in 123 games. His New York Yankees went to the World Series.
Trout overcame the hurdle of playing for a fourth-place team last year. Could he overcome twin hurdles this year: his team's record and close to two months on the disabled list?
"It can still happen," said Hall of Famer Paul Molitor, the Minnesota Twins' manager. "My vote would not be overly biased by the fact that a guy played 40 less games if his impact was that great, which he has the potential to be.
"If the Angels find a way to hang on the periphery in his absence, and all of a sudden they have a tremendous last two months with a healthy Mike Trout pushing them over the top, that's going to have a lot of value."
The issue ought to remain dormant now, until the Angels get a sense of whether Trout can return on schedule and how he looks when he does.
"Hopefully, he'll pick up exactly where we left off," Angels manager Mike Scioscia said. "If that happens, we'll see some numbers that are still going to be pretty incredible."
That would be half the battle. The other half: beating back the competition.
"I think it comes down to who the other players are in that conversation, and what kind of years they had," Salmon said. "You would have to have a class, I think, that is kind of mediocre."
Can the Yankees' Aaron Judge keep hitting a home run every other night? Can the Tampa Bay Rays' Corey Dickerson keep recording two hits every other night?
Does another contender deliver a viable alternative to Trout from a more likely group of candidates that includes Jose Altuve and Carlos Correa of the Houston Astros, Mookie Betts of the Boston Red Sox, Francisco Lindor of the Cleveland Indians, and Miguel Sano of the Minnesota Twins?
Those answers will come in time. For now, let us appreciate how improbable it is that Trout still can be considered an MVP contender when a third of the season will go on without him.
Street, searching for a comparison of dominance, threw out the name of Sandy Koufax, who was elected to the Hall of Fame based on his performance over five seasons — five of the most spectacular seasons anyone ever will see — before his elbow could tolerate no more and he retired at 30.
"Sandy Koufax makes the Hall of Fame right after the bare minimum of time," Street said, "but it was so dominant and so beautiful and awe-inspiring that you can't deny that."
Trout's career arc has ascended to that rarefied level. It sounds crazy to say an MVP could play barely more than 100 games.
"He's still Mike Trout," Street said. "I'm not going to doubt him."
Follow Bill Shaikin on Twitter @BillShaikin
Get our high school sports newsletter
Prep Rally is devoted to the SoCal high school sports experience, bringing you scores, stories and a behind-the-scenes look at what makes prep sports so popular.
You may occasionally receive promotional content from the Los Angeles Times.