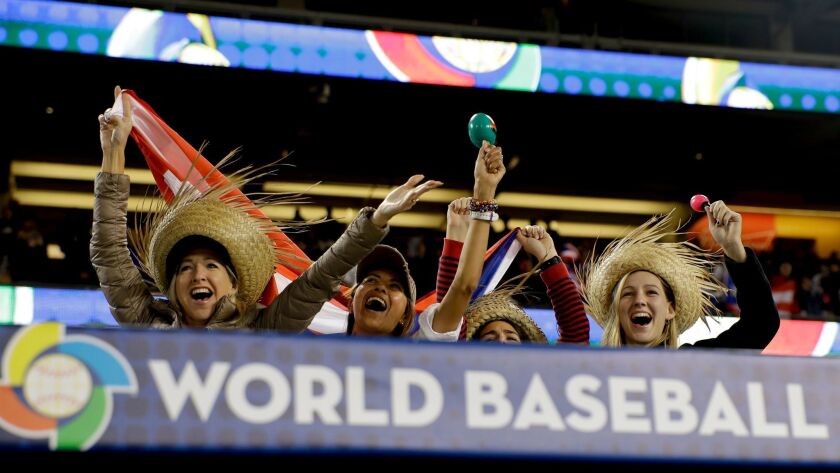 Dodger Stadium was not even half full Monday, but you would never have suspected that with your eyes closed and your ears open.
This was a concert, a festival, the joyous soundtrack of the World Baseball Classic. It will only get louder over the next two days, as the WBC crowns a champion, and then the Latin and Asian traditions of fan participation figures to recede.
On Monday, the historic ballpark shook to the rhythm of whistles, cowbells, tambourines, maracas and drums, and the syncopated sound of two sticks banging against one another. Rather than ban those items from the ballpark during the season, the Dodgers ought to give them away to fans.
After all, if everyone is having such a good time, why turn down the volume?
Jose Molina, older brother of Puerto Rico catcher Yadier Molina, caught for the Angels' 2002 World Series championship team, when Angel Stadium came alive with the relentless pounding of thunder sticks. He said fans should have the chance to make noise with objects beyond their voices at every game.
"I wish," Jose Molina said. "That would be awesome."
For the WBC, the Dodgers are allowing flags, noisemakers and "small hand-held string instruments" into the stadium.
In Oakland, the Athletics' games are enlivened by fans pounding on drums in the bleachers. The Dodgers tend to prefer noise generated by scoreboard commands and high-decibel recordings, but they could blend organic noise and manufactured noise.
"We're very comfortable with the fan experience at Dodger Stadium," Dodgers spokesman Joe Jareck said. "That said, we're always open to new ideas. Maybe that is something we'll look at in the future."
Dodgers utilityman Enrique Hernandez, who plays for Puerto Rico, said he was delighted that the Dodgers are allowing noisemakers for the WBC and said he hoped they would do so during the season. It might even give the Dodgers an edge.
"Everybody says how much fun it is to play in that environment," he said. "It makes the game a lot of fun for us. If you don't like it, it can get annoying. But we want that. We want the other team to feel annoyed by that. We love playing with that in the background."
The U.S. players have raved about the Latin-infused atmosphere at games in Miami and San Diego in the first two rounds of the WBC. U.S. outfielder Adam Jones said fans should make the call on the sounds from the stands, not players.
"We can hear it," he said, "but it's not directly in our ears, blowing in our eardrums."
U.S. outfielder Andrew McCutchen said he enjoyed the WBC atmosphere but did not believe major league teams needed to replicate the Latin template.
"We're a little more laid-back," McCutchen said. "We get loud when great things happen. It's all fun in different ways. It's cool. Every culture is different.
"I'm not a guy that says, 'Yeah, we need that.' It's our national pastime. Fans are still going to come, regardless of bringing in noisemakers or not. They're still going to pack the parks. They're still going to scream. They're still going to yell. It's always a great atmosphere."
Whether fans could sustain the intensity of the WBC over a 162-game season is subject to debate. But if they could?
"I'd have to take a few more days off," Jones said, laughing, "and just stay under the tunnel and not come out.
"You feed off the crowd. You see how the Latin players — the Dominican, Puerto Rico, Venezuela, Colombia — you see how they feed off that crowd. That's how they play. It's passionate. It's intense. When there's a bunch of people in the stadium cheering, the players go, 'OK, let me do something special.' "
Follow Bill Shaikin on Twitter @BillShaikin
---