College basketball: Keldon Johnson and Reid Travis lead No. 19 Kentucky over No. 9 North Carolina, 80-72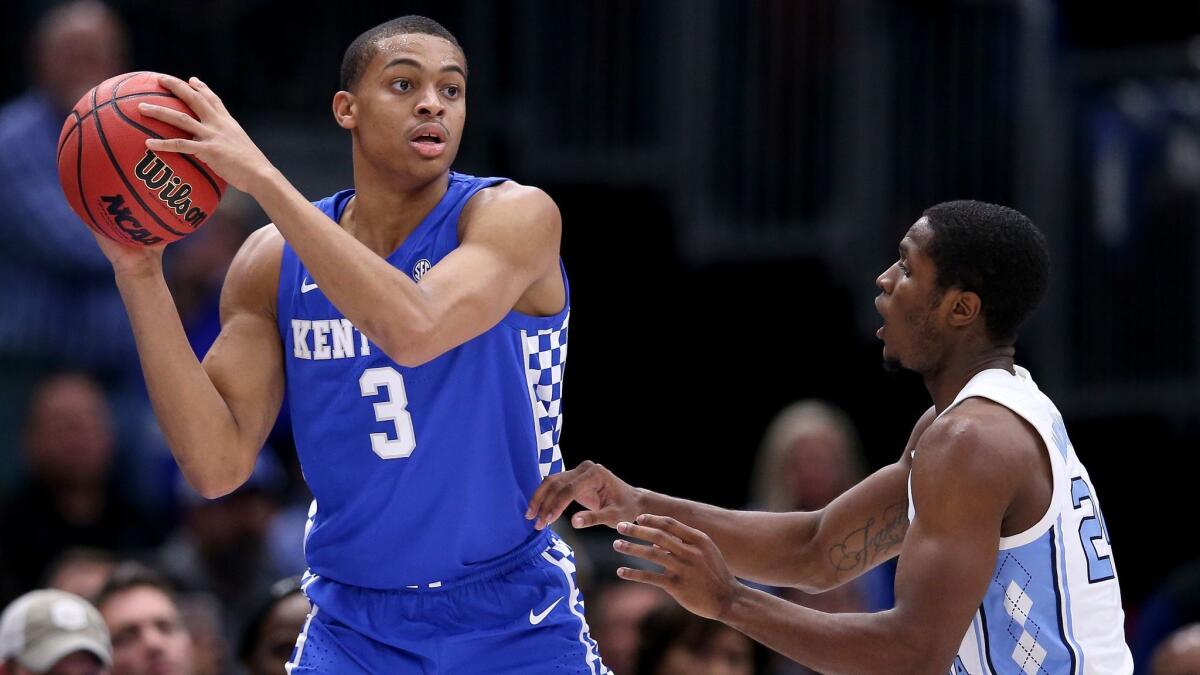 Keldon Johnson scored 23 points, Reid Travis added 20, and Kentucky beat North Carolina in a matchup between two of college basketball's winningest programs.
Johnson scored 16 in the second half, helping the Wildcats (9-2) hold off the Tar Heels (8-3) in their first meeting since the 2017 NCAA South Regional final. Kentucky won its second in a row since an overtime loss to Seton Hall at Madison Square Garden.
Cameron Johnson led North Carolina with 17 points.
at No. 3 Tennessee 83, Wake Forest 64: Grant Williams had 22 points and 10 rebounds as No. 3 Tennessee trounced Wake Forest on Saturday for its sixth consecutive victory.
Kyle Alexander scored a career-high 19 points and had 8 rebounds to help Tennessee (10-1) extend its home winning streak to 15 games. The Volunteers haven't lost at Thompson-Boling Arena since last season, falling 94-84 to Auburn on Jan. 2.
The Vols improved to 3-0 against Atlantic Coast Conference schools. Tennessee beat Georgia Tech 66-53 on Nov. 13 and defeated Louisville 92-81 on Nov. 21.
Chaundee Brown scored 19 points and Brandon Childress added 14 for Wake Forest (6-4). Jordan Bone had 18 points and Admiral Schofield scored 12 for Tennessee.
at No. 4 Michigan 71, Air Force 50: Iggy Brazdeikis scored 19 points and Charles Matthews added 17 to lead Michigan past Air Force.
The Wolverines (12-0) went on a 19-3 run in the first half and never looked back. Michigan is 12-0 for only the third time in school history. The Wolverines also did it in 1985-86 and 2012-13.
Jordan Poole and Isaiah Livers scored 11 points each for Michigan. Lavelle Scottie led the Falcons (4-7) with 16.
at No. 5 Virginia 72, William & Mary 40: De'Andre Hunter scored 18 points, Kyle Guy had 16 and Virginia pulled away after halftime and beat William & Mary.
The Tribe (4-8) used a 14-3 run spanning halftime to trim a 17-point deficit to 34-28 early in the second half, but Mamadi Diakite's basket sparked a 17-2 run that put Virginia (11-0) in command again. Guy had nine points in the run, including the last six.
Nathan Knight scored 22 points for William & Mary before fouling out.
at No. 6 Nevada 68, Akron 62: Caleb Martin and Jordan Caroline scored 19 points apiece, and Martin hit a 3-pointer with 45 seconds left to help No. 6 Nevada fend off Akron on Saturday.
Martin's big shot helped bail out the Wolf Pack (12-0) after another poor performance from beyond the arc. Nevada missed its first nine 3-point attempts, capping a 19-for-88 stretch going back three games — including Martin's airball with 5:47 left in the first half and Akron leading 20-11.
Nevada made its next four 3-pointers, quickly erasing Akron's largest lead of the game and went into halftime ahead 28-25. The Wolf Pack finished 8 of 24 from long range.
at No. 7 Auburn 93, Murray State 88: Samir Doughty scored 20 points, Austin Wiley had 17 points and 10 rebounds and Auburn held off Murray State.
Doughty and Wiley were two of five players to score in double figures for Auburn (10-2). Chuma Okeke had 17 points, Harper finished with 12 and Bryce Brown added 11.
Ja Morant led Murray State (8-2) with 25 points and eight rebounds.
Murray State trailed by only three points at halftime and took the lead early in the second half before Auburn went ahead for good with 13:11 to play.
at No. 11 Florida State 81, Saint Louis 59: David Nichols scored a season-high 19 points off the bench and Florida State shot a season-best 55 percent to beat Saint Louis in the one-day Orange Bowl Classic.
The Billikens shot only 30 percent — their season low, and the best effort yet for Florida State's defense.
The Seminoles (11-1) won their sixth game in a row and matched the best 12-game record in school history. Saint Louis (8-4) suffered its most lopsided loss of the season.
Javon Bess had 16 points and Carte'Are Gordon scored 14 for the Billikens.
at No. 16 Wisconsin 84, Grambling State 53: Ethan Happ scored 19 points and grabbed his 1,000th career rebound Saturday, sending No. 16 Wisconsin past Grambling State 84-53.
Happ finished with eight rebounds for Wisconsin (10-2). He is the 15th player in Big Ten history to reach 1,000 rebounds.
Grambling State (6-7) tested the Badgers early. But with just more than seven minutes to go in the first half, Lasani Johnson's 3-pointer tied it at 22. The Badgers finished the half on a 17-5 run, opened the second half with an 8-0 spurt and weren't challenged the rest of the way.
The Tigers scored just seven points over a nearly 15-minute period that spanned both halves. The Badgers pushed their lead to more than 30 for the first time at 62-31.
No. 17 Mississippi State 67, Wright State 63: Quinndary Weatherspoon scored 14 points and went 5 of 6 from the free-throw line in the final minute as No. 17 Mississippi State held off Wright State on Saturday night for its eighth straight victory.
Aric Holman had 12 points, nine rebounds, four blocks and four assists for the Bulldogs (11-1), while Lamar Peters chipped in 11 points and Tyson Carter scored 10.
Bill Wampler had 19 points for the Raiders (6-7), who went on a 13-2 run starting midway through the second half and tied the game at 55-all on Parker Ernsthausen's 3-pointer from the top of the key with 5:57 remaining.
at No. 22 Indiana 94, Jacksonville 64: Juwan Morgan recorded the second triple-double in Indiana history and the 22nd-ranked Hoosiers won their sixth straight over Jacksonville on Saturday night.
Morgan finished with 10 points, 10 rebounds and 10 assists, joining Steve Downing against Michigan in 1971 as the only Indiana player to accomplish the feat. Downing did it with points, rebounds and blocks. Morgan went 5-for-5 from the field and added three blocks and two steals.
Indiana (11-2) went 6-0 in December, the first time the Hoosiers have gone undefeated in a calendar month since November 2012.
at No. 23 Iowa 110, Savannah State 64: Joe Wieskamp scored a career-high 24 points, Jordan Bohannon had 18 on six 3s and No. 23 Iowa blew past Savannah State 110-64 on Saturday for its fourth straight victory.
Tyler Cook scored 16 points in 17 minutes for the Hawkeyes (10-2). They played without center Luka Garza, who recently tweaked his ankle, an injury that isn't expected to be serious.
Iowa also was without backup point guard Connor McCaffery (concussion protocol), but none of that mattered against the overwhelmed Tigers (3-11).
at No. 25 Nebraska 86, Cal State Fullerton 62: James Palmer Jr. scored 23 points and No. 25 Nebraska took control midway through the first half to defeat Cal State Fullerton 86-62 Saturday.
Nebraska (10-2) won its 18th straight home game, a streak dating to last season.
Isaiah Roby had 20 points for Nebraska, with Isaac Copeland adding 12 and Glynn Watson Jr. 10.
Kyle Allman Jr. had 14 of his 16 points in the second half to lead Cal State Fullerton. Khalil Ahmad had 12 points and Austen Awosika had 10 points.
The Cornhuskers used a 10-2 run to go up 27-16 on Palmer's turnaround in the lane with 5:57 left in the first half. Cal State Fullerton (3-9) never got closer than seven in the final 25 minutes.
Other games of note:
- Eric Paschall scored 21 points, Phil Booth had 18 and the national champion Villanova Wildcats avoided their first three-game losing streak in nearly six years with an 81-58 win over Connecticut at Madison Square Garden. The Wildcats went on a 19-0 run in the second half to take over for the needed victory.
- Wesley Harris scored a career-high 20 points and had eight rebounds to lead West Virginia over Jacksonville State, 74-72. Despite a sloppy shooting performance in the first half (13 of 34 from the field), the Mountaineers got out to as much as a nine-point lead over the Gamecocks.
- Nicolas Claxton had 13 points and 13 rebounds, Teshaun Hightower added 12 points, and Georgia beat Georgia Tech, 70-59. The Bulldogs never trailed as they won for the fourth time in five games. Rayshaun Hammonds, Georgia's leading scorer, played just a few seconds of final 15 minutes because of foul trouble and an apparent knee injury sustained in the game.
SOUTHLAND
MEN
Cal State Northridge 85, Southern Illinois Edwardsville 79: Lamine Diane had 21 points to go with 11 rebounds and three blocks as the Matadors (4-8) held off the Cougars (2-8) in the Las Vegas Classic. Terrell Gomez made five of nine three-pointers to total 22 points for the Matadors.
at UC Riverside 60, Loyola Marymount 53: Dikymbe Martin had 11 of his 18 points in the second half and the Highlanders (5-8) ended the three-game win streak of the Lions (11-2). Dragan Elkaz had 11 points for the Highlanders.
at Long Beach State 64, Colorado State 61: Deishaun Booker scored 14 points, including four free throws in thefinal 20.4 seconds, and KJ Byers had a key steal and blocked shot as the 49ers (5-9) edged the Rams (5-7), who were paced by Nico Carvacho's 23 points and career-high 22 rebounds.
at UC Santa Barbara 84, Idaho State 65: Ar'Mond Davis scored 19 points and Devearl Ramsey added 18 to lead the Gauchos (9-3) past the Bengals (4-5). Both teams started off strong as Idaho State shot 12 of 22, while UC Santa Barbara made 15 of 29, as the Bengals claimed a 38-37 lead at halftime.
WOMEN
USC 73, at Texas Arlington 61: Minyon Moore scored 15 points, including six for six free throws, and had five steals to lead the Trojans (10-1) over the Lady Mavericks (7-3).
MEN SUNDAY
Cal State Northridge vs. Rider 1:30 p.m.
Continental Tire Las Vegas Classic
Get our high school sports newsletter
Prep Rally is devoted to the SoCal high school sports experience, bringing you scores, stories and a behind-the-scenes look at what makes prep sports so popular.
You may occasionally receive promotional content from the Los Angeles Times.