Football forecast remains cloudy at scandal-plagued Ohio State, Maryland
When the skies cleared after lengthy rainstorms Saturday afternoon over Columbus, Ohio, and Landover, Md., the loyalists at Ohio State and Maryland might have looked for a rainbow as a sign that scandalous times would end soon.
Check the weather report: Cloudy, with still a chance of meaty firings.
Separate but equally prophetic thunder and lightning delays, each lasting about an hour and a half, interrupted things during what turned out to be the Buckeyes' and Terrapins' season-opening victories.
Without head coach Urban Meyer, No. 5 Ohio State washed away Oregon State, 77-31, at the Horseshoe, tying a school record for most points in a season opener. Despite the long halftime break, Ohio State extended its nation-leading streak of 18 wins to start a season, and the program is one triumph away from 900.
Without head coach DJ Durkin, Maryland allowed No. 23 Texas to score 22 unanswered points, took a third-quarter lead before the weather stoppage, and then slipped and slid to a 34-29 victory at FedEx Field.
By various reports, both Meyer and Durkin served their school-imposed suspensions by watching their team's games from the comfort of their homes' flat screens. But the umbrella effect of their actions isn't making anyone there feel real comfortable.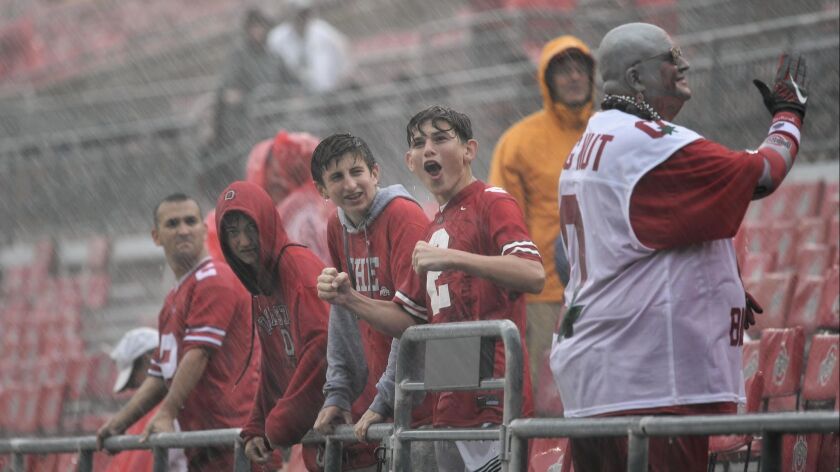 Meyer will be allowed to return to practice Monday, although his suspension lasts two more games for "failure to take sufficient management action." His sanctions are the result of an internal investigation that determined he mismanaged punishment for now-fired assistant Zach Smith, accused of domestic violence and failing to adhere to a restraining order.
"When Coach gets back, we're looking forward to getting him back and looking forward to those meetings and kind of building as we go to Rutgers," said Buckeyes offensive coordinator and interim head coach Ryan Day, noting the team's next opponent. "My job is not to replace Coach Meyer. My job is to just keep this place until he gets back."
"We're playing for Coach and we're playing for each other, and we took it out on the field today," said Ohio State quarterback Dwayne Haskins, who passed for 313 yards and five TDs.
Durkin remains on leave with no end in sight as a result of an investigation about a toxic culture created by his staff, said to be part of the circumstances that led to the death of 19-year-old offensive lineman Jordan McNair from heatstroke after a strength and conditioning drill.
Maryland lined up for its first offensive play Saturday in a missing-man formation — McNair's spot on the offensive line was left open. Texas declined the delay of game penalty. Maryland players all wore McNair's No. 79 on a sticker decal on their helmets.
The Terrapins' 24-7 lead in the second quarter was flipped into a 29-24 deficit in the third quarter. But Maryland came out of the storm watch by scoring the game's final 10 points, and clinched it with an interception of a pass by Texas' Sam Ehlinger with less than two minutes left.
"I just can't say enough about our players, everything they've been through and the way they stuck together," Maryland interim coach Matt Canada said. "It was a great way to honor Jordan. This was a win for Jordan. We're certainly proud of our team, proud of our program."
Problematic weather delayed and postponed several other games across the country. Play was stopped for more than an hour at halftime amid No. 17 West Virginia's 40-14 runaway over Tennessee in Charlotte, N.C. Lightning warnings hit right after the opening kickoff in the Akron-Nebraska game in Lincoln., Neb., and it was canceled, as was South Dakota State at Iowa State. Two breaks for lightning also occurred during Air Force's 38-0 win over Stony Brook at Colorado Springs, Colo.
FRY TO FERENTZ
Iowa's 33-7 triumph over North Illinois gave 63-year-old Kirk Ferentz a school record-breaking 144th coaching win with the Hawkeyes at the start of his 20th season.
He is 144-90-0 since taking over for Hayden Fry before the 1999 season. Fry, who retired at age 70, had 20 full seasons to set the previous Iowa win record with a 143-89-6 mark. But he also racked up 87 wins in 17 prior seasons at SMU and North Texas.
"The big games we won in the '80s got down to playing good, solid, fundamental football. I think [Fry] fooled a lot of people with the white pants, the sunglasses and exotic [plays]," said Ferentz, Fry's assistant from 1981-'89, during a time when Iowa lost to UCLA in the 1985 Rose Bowl.
NO WASTED EFFORTS
New alternative Adidas-made uniforms, cleats and gloves that Miami will wear against LSU in Sunday's nationally televised game have been made from marine plastic waste — "repurposed and upcycled materials" — according to the school.
More than 70 percent of the jerseys are from raw materials taken from fishing nets and nylon waste. The jerseys will then be auctioned off to raise funds for Miami's Rosenstiel School of Marine and Atmospheric Science.
NUMBERS GAME
Texas has lost four straight games as a ranked team, the third-longest streak in the Associated Press poll era. …
Annapolis, Md.-based Navy traveled some 4,800 miles to open its season at Hawaii late Saturday, and the Midshipmen will end up traveling 26,496 miles this season for six road games plus two neutral-site games. One of the latter is against Notre Dame in San Diego in late October. …
Akron was cut a $1.17 million check for its trip to Nebraska, and will also get $1.2 million by going to Northwestern in two weeks. … No. 2 Clemson got off with a relative bargain, giving $360,000 to Furman to make a 30-mile trip to its campus and absorb a 48-7 loss.
EXTRA POINTS
On the first play from scrimmage during the West Virginia-Tennessee contest, Mountaineers senior defensive lineman Kenny Bigelow Jr. broke through and forced a fumble from Vols quarterback Jarrett Guarantano. The 6-foot-4, 307-pound Bigelow is a former USC five-star recruit who had season-ending knee injuries in 2014 and 2016 and played in just 19 games over five seasons. Bigelow, who became a graduate transfer to WVU last March after considering retiring from the college game, also had two solo tackles in the Mountaineers' win. …
Recently fired UCLA head coach Jim Mora will join Mack Brown, Gene Chizik, Hugh Freeze and Todd Graham in the ESPNEWS "Coaches Only Film Room" at the network's Bristol, Conn., studios as part of the ESPN "MegaCast" coverage of Virginia Tech-Florida State on Monday….
Florida suspended seven players prior to its season-opening runaway win over visiting Charleston Southern for what was called "not living up to the Gator standard." Three of the players — defensive lineman Kyree Campbell, receiver Kadarius Toney and cornerback Brian Edwards — were involved in a campus altercation last May that included Airsoft guns and a frying pan. Toney also was later pulled over with a loaded AR-15 assault rifle in his car. Edwards was in the car with Toney. …
Florida State backup quarterback Bailey Hockman has announced he will transfer, leaving the Seminoles with two scholarship quarterbacks on their roster.
---
Get the latest on L.A.'s teams in the daily Sports Report newsletter.
You may occasionally receive promotional content from the Los Angeles Times.