Spotlight: Hurricane leads to a 'weird' situation in Nashville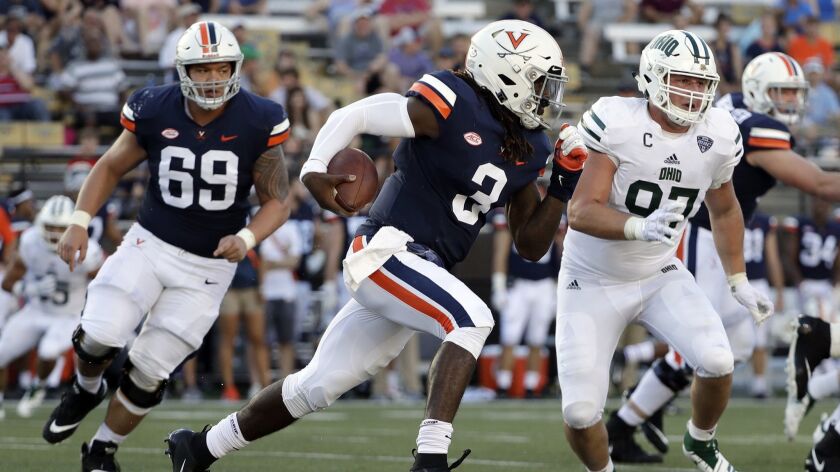 Dennis Haysbert walked through neighborhoods devastated by catastrophic weather, offering sage advice. It was only the occasional insurance company TV commercial that ran all day Saturday. But they resonated a little bit more during Week 3 viewing of college football.
The mayhem of Hurricane Florence, downgraded to a tropical storm by Friday, resulted in a half-dozen games in the Carolinas and Virginias being preempted, rescheduled or shifted.
But in trying to maintain some normalcy, Virginia's decision to move its home game against Ohio more than 500 miles West to Nashville, for a late-afternoon contest at Vanderbilt Stadium, there was an abnormal element. Attendance was free for the Cavaliers' 45-31 triumph over the Bobcats. Some 37,212 filled the 40,350-seat facility.
On a warm and muggy day on the neutral field, Virginia scored 38 of its points in the first half, but all Cavaliers coach Bronco Mendenhall could focus on was how strangely everything unfolded.
"The whole thing is weird. Not knowing whether we were going to play was weird, not know where we were going to play was weird," he said. "Coming a day early and changing hotels twice, and then showing up to an empty stadium that we have no affiliation with. The whole thing was weird."
Manley Worrell, of the Hampton Roads municipality inland of the Chesapeake Bay at the North Carolina/Virginia border, said he and his mother traveled 10 hours to be in Nashville for the game.
"Virginia needs six wins one way or the other to make a bowl game this year, and Ohio is definitely one of the games on the schedule we were looking at as a must win game," he told the Associated Press.
Meanwhile, Tennessee said it gave away more than 1,000 free tickets to people who evacuated from the Carolinas, allowing them to watch the Vols' 24-0 win over Texas El Paso in Knoxville, and join more than 87,000.
THE SUNNY SIDE OF CLEMSON
No. 13 Virginia Tech, North Carolina, South Carolina, North Carolina State, Appalachian State, the Citadel and Liberty either canceled or postponed home games Saturday. Coastal Carolina moved its home game to Wednesday against Campbell.
But No. 2 Clemson dug in.
The Tigers' 38-7 home win over Georgia Southern happened before about 75,000 at 80,000-seat Memorial Stadium. It started with relatively sunny skies with the earlier kickoff, but by the second half, gray clouds hovered with the wind picking up. The stadium sits about 250 miles from the coast.
The South Carolina team was the lone major conference school in the region to play at home.
Instead of the usual 110 state troopers on hand for a game, there were only 16 made available.
"I really didn't know what to expect," Clemson coach Dabo Swinney said. "There's still a tremendous amount of devastation people are dealing with. But I told our guys, maybe we can somebody's mind off things they're going through today."
Clemson could have lost a reported $2 million in income by canceling the game. Former PGA Tour golfer and South Carolina grad Kyle Thompson said on Twitter: "I may get blasted for this, but I'm surprised Clemson is playing a football game tomorrow with Hurricane Florence bearing down on SC. Seems like a money grab."
A DIFFERENT HURRICANE UPDATE
Whether or not No. 21 Miami made an odd choice in paying a visit to Toledo and its 26,000-capacity Glass Bowl in order to duke it out for a 49-24 win, it was somewhat reflective of the latest college football climate change.
Few of the players were even born when the Hurricanes ran off five national titles between 1983 and 2001. Yet the program was in need of a boost when it set up this home-and-home series way back in 2010.
A year after defending Mid-American Conference champion Toledo stayed close before losing 52-30 at Miami, the Rockets hung tough again. They trailed 21-14 in the third quarter and 35-24 in the fourth before they were grounded.
Some at Toledo called Miami's appearance the most important event in the school's 101-year-old program.
"There were some moments where we were taking some punches from a heavyweight opponent and staring them right back in the eyes," Toledo coach Jason Candle said.
FROST WARNINGS IN NEBRASKA
Nebraska's sluggish 24-19 home loss to Sun Belt Conference opponent Troy marks the first 0-2 start for the Cornhuskers since 1957 and the third week new head coach Scott Frost hasn't been able to see his first victory.
Troy, the FBS school from Alabama that took $1.15 million from Nebraska for the visit, had a 17-0 lead at one point. Without injured starting quarterback Adrian Martinez, the Cornhuskers had two turnovers and a missed field goal among their first five possessions, gave up a long punt return for a touchdown and had costly personal fouls on a Troy touchdown drive
"I think we're a better team than what the results say we are, but that doesn't matter," said Frost, whose team opens its Big Ten schedule at Michigan next week. "I told [the team] if anybody doesn't want to stay on for this ride, let me know and get off, because I know where this is going."
Added Troy coach Troy Brown: "I want to say this to the Nebraska fans: You guys are going to be fine. … They're going to win and they're going to win big. But I don't want the narrative to be about that."
BYU BADGERS WISCONSIN
BYU's signature move in a 24-21 upset at No. 6 Wisconsin was when Cougars receiver Aleva Hifo found tight end Moroni Laulu-Pututau for a 31-yard touchdown pass in the second quarter.
"Win as a team and everyone can own their part equally in a loss," Wisconsin coach Paul Chryst said.
The Badgers had a 41-game nonconference home winning streak snapped, the longest active in the nation. BYU, coming off a loss to California, also won despite losing starting linebacker Andrew Van Ginkel to a leg injury in the first quarter.
IRISH ISN'T REAL DANDY VS. VANDY
No. 8 Notre Dame commandeered the 22-17 win against Vanderbilt's visiting Commodores that didn't happen until safety Jalen Elliott knocked the ball loose from receiver Kalija Lipscomb with 1:07 left to give the Irish a fourth-quarter stop. Last week, Elliott had two interceptions in a win over Ball State.
Vanderbilt piled up 420 yards against the Irish but committed three turnovers.
"We're trying to find our identity on offense," said Notre Dame coach Brian Kelly, whose team goes on the road next week against Wake Forest after three home wins. "Our defense is good but not a great defense yet. But there are a lot of positives to take from this."
THE BUYOUT BOWL
Colorado State happily accepted a record $2-million payout from Florida for absorbing a 48-10 loss at Gainesville. That number was derived back in 2014, as part of the compensation to CSU for allowing coach Jim McElwain's escape to Florida after a 10-2 season. After seven games into the '17 season, McElwain was fired by the Gators. He is now the receivers coach at Michigan. And Florida still owes Colorado State $1 million more to finish the buyout.
BY THE NUMBERS
In Connecticut's 56-49 win over Rhode Island, the teams had 1,123 yards of offense, while Huskies quarterback David Pindell and Rams quarterback JuJuan Lawson combined for 659 yards passing and 222 yards rushing … During a 44-21 loss at No. 24 Oklahoma State, Boise State's Brett Rypien threw for 380 yards, giving him 17 games with 300-plus passing yards, the longest streak among the FBS quarterbacks … Penn State quarterback Trace McSorley surpassed Daryll Clark's school career mark of 22 rushing scores and leads now with 24 ... Kansas is 2-1 for the first time since 2014. … Harvard opened its 145th season with a 35-14 win over visiting San Diego. …
EXTRA POINTS
Prior to Maryland's 35-14 upset home loss to Temple, the Terrapins honored their late freshman offensive lineman Jordan McNair with a moment of silence and a red No. 79 painted outside both 21-yard lines, representing the 79 yards away from each goal line … Auburn coach Gus Malzahn and his wife, Kristi, have pledged $2 million to go toward a proposed football-only operations building. Malzahn signed a seven-year, $49-million contact extension last summer … Brown, the Ivy League school from Providence, R.I., traveled West of the Mississippi River for the first time since 1916 only to lose 44-15 at Cal Poly in San Luis Obispo late Friday night.
---
Get our high school sports newsletter
Prep Rally is devoted to the SoCal high school sports experience, bringing you scores, stories and a behind-the-scenes look at what makes prep sports so popular.
You may occasionally receive promotional content from the Los Angeles Times.