It hasn't taken long for early signing period to become the biggest day in college football recruiting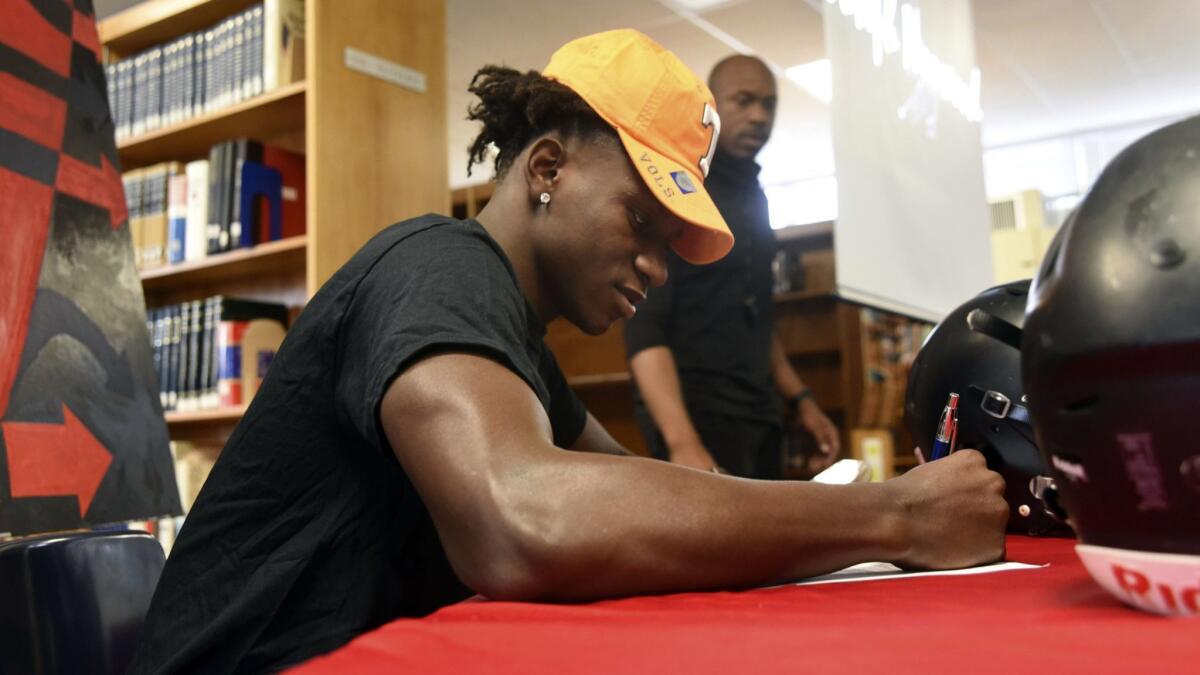 Something has weighed on Kirby Smart's mind the last few weeks, troubling him as he prepares to face Texas in the Sugar Bowl.
"It's very complicated," he said. "And it causes for a lot of sleepless situations."
The coach isn't talking about planning strategy for the Longhorns.
Like a lot of marquee programs around the nation, Georgia has faced a juggling act this month, dealing with the postseason and the arrival Wednesday of the early signing period.
This is the second year for college football's accelerated recruiting process that allows high school prospects to sign in mid-December instead of waiting for the traditional date in February.
The new policy has generated strong feelings on all sides, for and against. That goes for young players and for coaches still adapting to a different sort of calendar.
But with 70% or more of big-time recruits expected to finalize their decisions this week, everyone seems to agree that the process is moving toward sooner rather than later.
As Penn State coach James Franklin said, "This is going to become the signing day."
The early period runs from mid-week through Friday, with recruits allowed to secure their program of choice at any time during those three days. Players who decide to wait won't get another chance until the first Wednesday of February.
Several years of debate and compromise went into the legislative package the NCAA approved before the 2017 season. The change not only added a second signing period but also allowed high school recruits to visit college campuses in the spring of their junior year.
Other sports, such as basketball, already had two signing periods. Many football coaches liked the idea of locking up recruits before Christmas and not having to worry about other schools swooping in at the last moment.
"It's six weeks less that they have to babysit their commits," said Brandon Huffman, national recruiting editor for 247Sports.
Early signings also allow programs to spend January focused on the last few scholarships they might have to offer.
For players, there are at least two potential benefits.
A lot of prospects have already decided on a school and might welcome the chance to spend their holidays without all the phone calls and texts that come with recruiting.
Early signing also meshes with a growing trend that has players graduating from high school early to enroll in college at the start of the year so they can participate in spring practice and compete for playing time as freshmen.
"This is a significant move forward for football recruiting," Bob Bowlsby, the Big 12 Conference commissioner and NCAA leader, said when the legislation was hammered out. "The entire package of rule changes is friendly for students, their families and their coaches."
Not everyone agrees.
Elite recruits still have the freedom to delay until February, taking those extra weeks to survey the landscape and, maybe, see who gets fired or switches teams during the annual coaching carousel.
Players a little further down the food chain take a gamble if they wait. Lots of open spaces might fill up, leaving them with fewer choices.
As for coaches, they see other reasons to be unhappy.
At Alabama, Nick Saban has been a critic from the start. He sees football as a "developmental" sport in which some athletes don't reach their potential until senior year in high school or later.
Players taking official visits as juniors might get overlooked, he says. Just as troublesome, programs don't always know how many open spots they will have on the roster because juniors and third-year sophomores have until mid-January to declare for the NFL draft.
"Some of them want to play in the actual bowl game and gather more information," Smart said. "So it makes it hard to manage. I don't think there was enough foresight by the coaches and by all the rule makers that this was all going to collide."
Mid-major programs in smaller conferences face an additional challenge in that many were in other cities practicing for, or playing in, bowl games when recruiters made their final home pitches and recruits took their final campus visits before the start of a dead period this week.
"The timing of it is really screwed-up for them," Huffman said of the Group of Five schools.
Another faction has been adversely affected: The subset of fans who track recruiting every bit as closely as wins and losses on the field. Most of the big signings now get lost in the postseason jumble.
"So many people treated the first Wednesday of February as a national holiday," Huffman said. "There isn't as much excitement."
Still, an estimated 65% to 70% of recruits chose to sign early last season and that number is expected to keep growing. People in and around the game predict it will eventually reach 80%.
So, even as he scrambles to recruit and prepare for the Sugar Bowl at the same time, Smart doesn't see things going back to the way they used to be. Does he have any suggestions to make early signing easier?
"I don't know that I have a perfect solution," he said. "Because just as soon as I say what I'm about to say, there will be somebody that has an argument against that."
Follow @LAtimesWharton on Twitter
Get our high school sports newsletter
Prep Rally is devoted to the SoCal high school sports experience, bringing you scores, stories and a behind-the-scenes look at what makes prep sports so popular.
You may occasionally receive promotional content from the Los Angeles Times.