Cale Yarborough-Bobby Allison fight at 1979 Daytona 500 put NASCAR in national spotlight
Reporting from DAYTONA BEACH, Fla. —
With four simple words, a sport that was born out of bootlegging, good ole boys and fast cars graduated from a regional sideshow to a national spectacle.
"And there's a fight."
It's what CBS announcer Ken Squier said with a perfect combination of surprise, shock and anticipation as the 1979 Daytona 500 came to a close.
Squier said neither he nor the sport could have written a better script.
Donnie Allison, first a driver then a fighter, said it was the best thing that ever happened to NASCAR.
Richard Petty, who won the race, called it the sport's first big deal.
But maybe Cale Yarborough, who threw the first punch — with his helmet — said it best.
"It was great racing, great fighting and a great time," he said.
Sunday is the 40th racing anniversary of when NASCAR crossed the Mason-Dixon line and found itself a national audience. It was the first time a race, and not just any race but the race, was televised live start to finish. And those at home were captive.
Snow had socked in most of the East Coast and parts of the Midwest. People were trapped with only three television channels to occupy their time.
While some memories might have grown a little fuzzy after four decades, the recollections of this race seem sharp and consistent. Well, mostly. The drivers still have different views.
But before any of that could happen, there had to be a television deal.
Before the race
Before 1979, races weren't shown live. The sport had been relegated to tape delays and highlights, mostly on ABC's "Wide World of Sports" and "CBS Sports Spectacular."
ABC had the rights to the Daytona 500 but CBS really wanted it and brought Squier and executive Neal Pilson to Daytona Beach to meet with Bill France, the founder of NASCAR. It took a couple of days to make a deal, but it got done with a significant increase in rights fees.
When race day came on Feb. 18, it was raining.
"It's not looking good and Pilson is panicking because he has four hours of racing to fill," said Mike Joy, currently the lead announcer for Fox and at the time a reporter for the Motor Racing Network. "And, if the race was rained out, he was committed to showing it on Monday."
France, the most powerful man in the sport, didn't have the ability to stop the rain but he must have known who could. The rain stopped.
"France had guaranteed CBS that the race would start at 1 p.m. and he was going to make that happen no matter what," said Darrell Waltrip, who finished second in the race and now serves as lead analyst for Fox.
The first 15 laps were run under a green-yellow flag as the cars puttered around the track using their heat to dry the surface.
The first crash
Once they went to green-flag racing, pole sitter Buddy Baker dropped back, leaving Yarborough and the Allison brothers, Bobby and Donnie, vying for the lead. On lap 31, all three started spinning and ended up in the infield.
"I hit a slick spot on the track and the car wiggled and next thing I know we were going around," Bobby Allison said. "Cale and I went down in the infield and got stuck. But Donnie was able to get his car going again."
The race went to caution for 10 laps, Yarborough and Bobby Allison went two laps down and Donnie Allison dropped a lap.
"It dinged up my car pretty good, but we got ours fixed," Donnie Allison said. "Bobby never got his back" to running like it was.
Slowly, Donnie Allison made his way back into contention and regained the lead midway through the race. Yarborough, having been down two laps, took longer and on lap 178 of 200 returned to the lead lap.
"I think the audience was totally chimed in," Squier said. "It was one of those events you don't see every year. The audience was building by the quarter-hour watching this unfold."
The race had a 10.5 rating, a number that has been beaten only four times. The audience was a little more than 15 million.
The second crash
Donnie Allison and Yarborough had separated themselves from the rest of the cars by about half a lap as they headed down the backstretch on the final lap. Yarborough was drafting with the hope of a slingshot pass and tried to go low.
"I looked in the mirror and I see Cale was coming down and I said, 'Oh no you don't. You can have all the room on the outside but you are not going inside,' " Donnie Allison said. "He hit me in my back bumper and I went a little sideways."
Yarborough saw it differently.
"All you've got to do is look at the film and it shows you exactly that he ran me off the racetrack and I lost control," he said.
The cars remained in state of instability as the pair touched three more times before crashing into the wall and floating down into the infield grass.
We both got out of our cars and had a few words. And they weren't very pleasant.
— Donnie Allison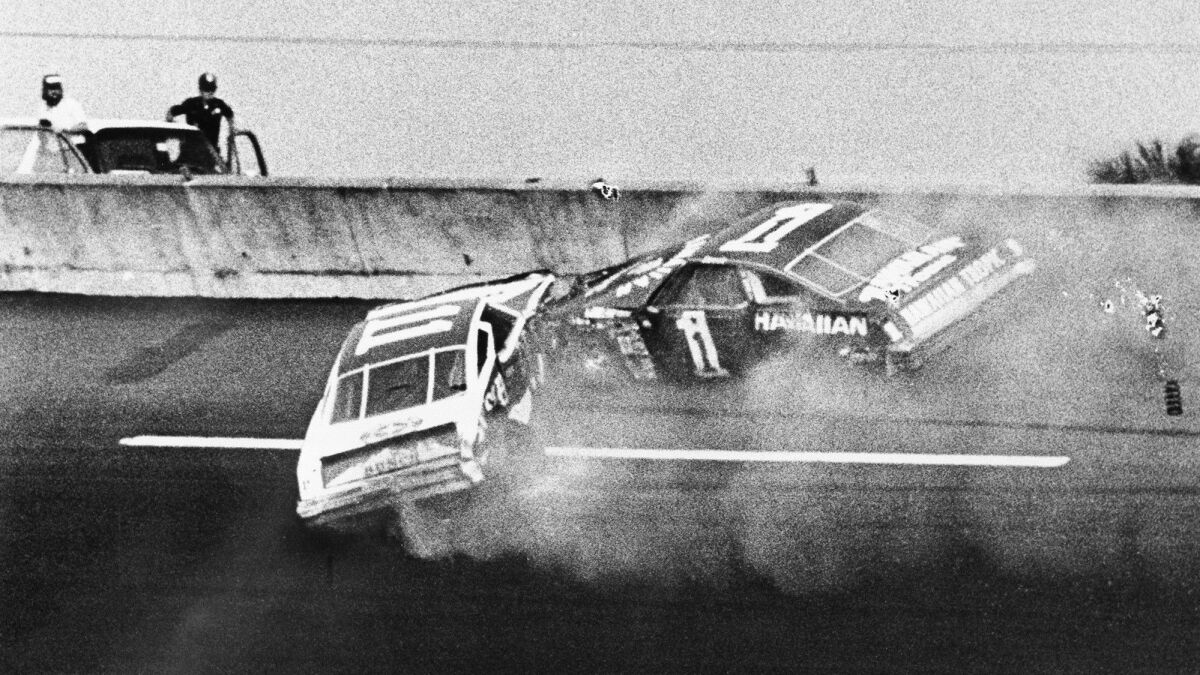 "We both got out of our cars and had a few words," Donnie Allison said. "And they weren't very pleasant."
Petty, Waltrip and A.J. Foyt all thought they had no chance of winning.
"The leaders were 20 seconds ahead of us and we couldn't see them," Petty said. "We were racing for third place. So, we get off the second turn and the caution flag comes out. … We didn't know what happened."
Waltrip spotted the cars and saw something crazy.
"When we were headed into the third turn, I could see these two cars in the mud," Waltrip said. "It was hilarious we were going for the win."
Petty held position and won the race with Waltrip right on his bumper.
The fight
Bobby Allison had finished the race and was circling around to see if his brother needed a ride to the garage.
"I stopped at the scene of the wreck," Bobby Allison said. "And Cale comes over and starts yelling at me that the wreck was my fault. How could that be? I was half a lap away."
Yarborough was in no mood to stop.
"I was mad enough to fight and I did," Yarborough said. "The only thing I've regretted was not winning the race."
Yarborough charged Bobby Allison's car.
"He's yelling things at me and he's 10-12 feet from my car," Bobby Allison said. "I questioned his ancestry and he lunges at me and hits me in the face with his helmet. It cut my nose and lip and I look down and blood was dripping down. I thought I had to address this right now or run from Cale Yarborough the rest of my life."
Bobby got out of the car and, as he has put it for 40 years, "[Cale] started beating my fists with his nose."
Safety workers broke it up, but not easily, as a stunned national television audience watched.
I was mad enough to fight and I did.
— Cale Yarborough
The aftermath
The Allisons and Yarborough have never talked about the fight and there have been no apologies.
"If it had been me and Cale [fighting] it would have been worse for Cale because I just lost the Daytona 500 for the third time," Donnie Allison said. "I wasn't mad, I was hurt, having to sit in that infield because of a greedy son of a gun."
From the Allisons' viewpoint, the matter has been put to rest but not forgotten.
"We're not friends but we're also not enemies," Bobby Allison said. "We'll always remain respectful competitors."
Again, Yarborough sees it differently: "We were friends as soon as it was over."
Also unresolved is who was at fault for the wreck?
"Every time he mentions it, he says it was my fault and I say it was his fault," Donnie Allison said. "But, I know it was his fault and he knows it was his fault."
Of course, Yarborough disagrees.
"You watch the film and you'll know what happened."
Get our high school sports newsletter
Prep Rally is devoted to the SoCal high school sports experience, bringing you scores, stories and a behind-the-scenes look at what makes prep sports so popular.
You may occasionally receive promotional content from the Los Angeles Times.