It will be a bittersweet day at Santa Anita for Peter Miller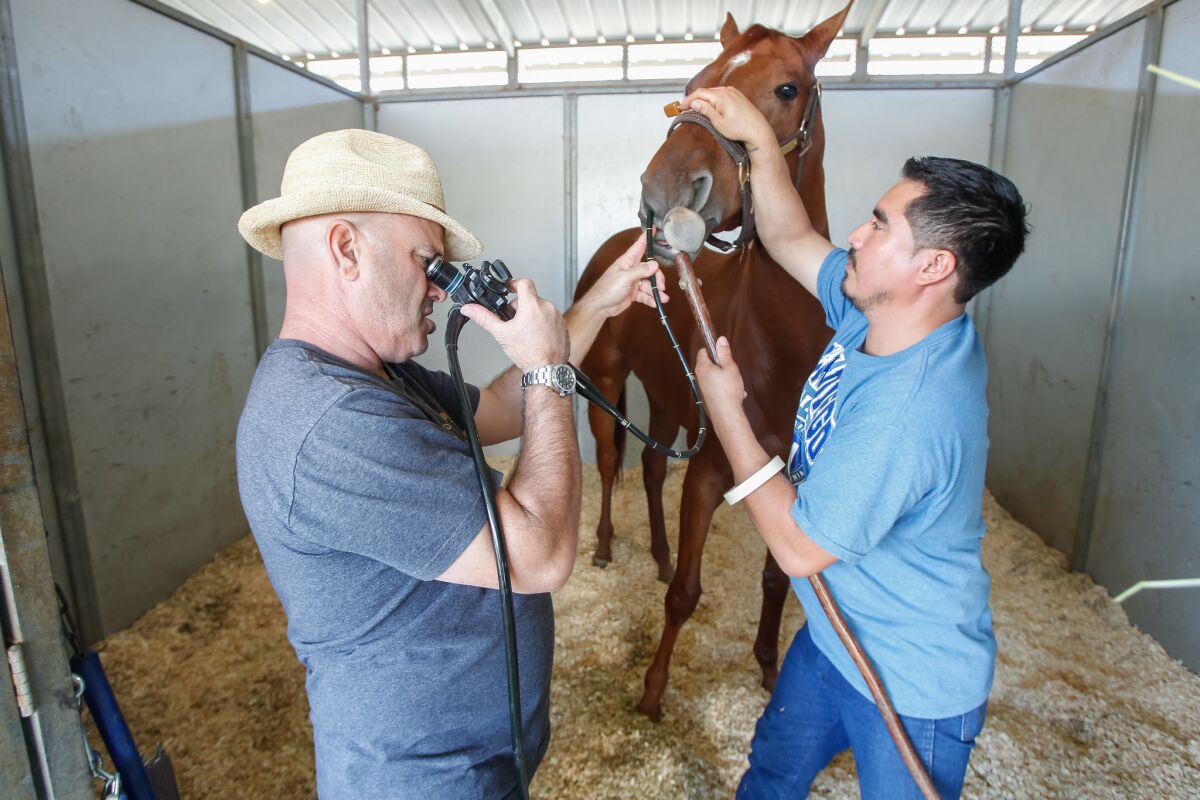 Peter Miller stood on the stage at Gulfstream Park accepting an award on behalf of his first Eclipse Award winner. It was a moment of a lifetime in a career that includes nine training titles and more than $40 million in purses. But he was nervous, and it wasn't over the speech he was giving.
"I just rushed through my speech, didn't even pull out my notes," Miller said. "I was more worried about the other speech I had to give."
The end of 2017 for Miller contained the greatest high and an unfathomable low, all over the course of 34 days. It started when the 51-year-old Encinitas resident won two Breeders' Cup races, the Turf Sprint with Stormy Liberal and the Sprint with Roy H. Miller. He had never won a Breeders' Cup race; to win two in one day seemed unbelievable.
Then on Dec. 7, he got a call that the San Luis Rey Downs training center, where he had 77 horses, had been set ablaze by the Lilac fire. He rushed there from Los Alamitos only to be forced to wait outside for what seemed like an interminable amount of time before he could learn the fate of his horses. Five from his stable perished.
On Eclipse Awards night, he was feeling the pressure of also accepting an honor on behalf of the first responders to the fire that killed 46 horses at the facility.
"It was very emotional for me," Miller said. "It was a difficult speech to give, but I'm glad I did it. I really wanted to convey what all the horsemen were feeling. I was representing everyone."
Saturday is another step in Miller's attempt to bring normality back to his life. Roy H, his Eclipse Award winner, is running in the Grade 2 $200,000 Palos Verdes Stakes at Santa Anita.
"It's been a rough couple months, to say the least," Miller said. "We're all still getting over it. But horse people are resilient; you have to be because there is so much disappointment in this industry. But this was much more than usual."
Miller was at the San Luis Rey Downs facility, just a few miles from his home, that morning.
"I saw some smoke when I left for Los Alamitos but it was 10 or 15 miles away," Miller recalled. "So, I called the farm manager and made sure they had told the fire department. I called the van companies, told them it was probably nothing to worry about, but to be ready."
Miller was at Los Alamitos when he got the call from his assistant trainer Jehobany Alvarez.
"He said the fire was on the property," Miller said. "I said, 'You're kidding. What do you mean?' He said again the fire was on the property. I told him he had to set the horses loose."
What followed was chaos as horses, some on fire, many in distress, frantically ran in random directions to a fate that was uncertain. But allowing them to stay in their stalls was likely tantamount to a death sentence.
Miller rushed back to the facility only to be held up by police. He had vans ready to take away his horses, those that he could find, but he was held back.
"They were not letting anyone in for an hour," Miller said. "They said it was too dangerous. Finally, I found one police officer who seemed to understand we needed to get the vans in."
When he got to the scene what he saw was beyond horrific.
"It was worse than I imagined," Miller said. "It was a war zone."
Perhaps most gut wrenching was seeing the body of one of his better runners, California Diamond, dead in his stall. He was set loose but returned.
"Horses are inclined to go back to their home, where they think it's safe," Miller said. "And that was it. It was very difficult. He was a barn favorite, a very good horse for us. It's like losing one of your pets."
Miller said it took two to three weeks to shake off the shock.
"I'm not alone in there was a lot of us with PTSD," Miller said. "There are things that I saw that I will never be able to erase from my mind."
Saturday will be part of the healing process for those affected by the fire.
"It could have been a lot worse," said Gary Hartunian, a co-owner of Roy H, who also has a stake in Stormy Liberal and owned California Diamond as well as many other horses.
"We've got to have an attitude to keep going. There are still a lot of horses that didn't perish that are all banged up and bruised. Pete gets a little hyped up, so we've got to calm him down. In the end, everything is going to be just fine."
Roy H was not at San Luis Rey, as he was stabled that time at Santa Anita, where he is the overwhelming favorite at 3-5 in the six-furlong Palos Verdes Stakes.
In many ways, Roy H symbolizes the mercurial life of those in horse racing. He earned just short of $90,000 in his first two years of racing, then earned almost $1.3 million last year.
"He wasn't doing much," Hartunian said. "He wasn't training well. He wasn't geared into the program. I probably said, 'Why don't we just geld him?'"
That and some time off seemed to turn things around for Roy H, named for Hartunian's grandfather.
He started last year with an easy win in an optional claimer and then followed it up with another win, but this time by 7¼ lengths.
"It was a good race with some good horses," Hartunian said. "When he came around the turn as fast as he did, I thought, 'This horse is unbelievable.' He went by them like they were standing still. On that day he was a monster."
From there, Roy H won a Grade 2 at Belmont and finished second at Del Mar in the Bing Crosby after his race was compromised by a riderless horse. He finished the year with wins at Santa Anita and the Breeders' Cup.
"You never expect a horse to go from that level to an Eclipse Award winner in a year," Miller said. The trainer also has Bobby Abu Dhabi in the five-horse race, a colt Miller hopes is "this year's Roy H."
As good as last year was for Miller, that one day in December makes looking forward to this year so much more appealing.
"We're well on our way to being whole again," Miller said.
---
Get our high school sports newsletter
Prep Rally is devoted to the SoCal high school sports experience, bringing you scores, stories and a behind-the-scenes look at what makes prep sports so popular.
You may occasionally receive promotional content from the Los Angeles Times.