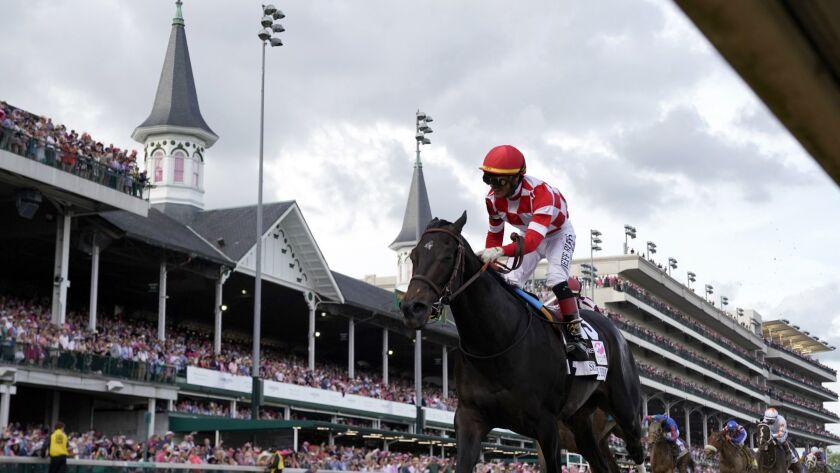 Reporting from LOUISVILLE, Ky. —
Serengeti Empress went right to the lead Friday and was never headed in winning the Grade 1, $1.25-million Kentucky Oaks.
After finishing seventh in the Fair Grounds Oaks, Serengeti Empress was sent off at 13-1 but dazzled the crowd of 105,719 to win by 1¾ lengths in the 1 1/8-mile race that is the filly version of the Kentucky Derby for 3-year-olds.
"She's such a fast filly," jockey Jose Ortiz said. "She took me to the front and she fought the entire way around there."
It was the most significant win in trainer Tom Amoss' career of almost three decades.
"My label, maybe even up until [Friday], is that 'he's a great claiming trainer,'" Amoss said. "About four or five years ago, I made a committed effort to start going to the yearling sales and trying to change that and to be a trainer that people wouldn't just say, 'Hey, he's just a claiming trainer.' "
The favorite, at 4-5, was Santa Anita-based Bellafina. She broke slowly, stayed mid-pack and never could significantly gain on the leaders. She finished fourth.
"She broke a little slow, but she always does," jockey Flavien Prat said. "In California, with a five-horse field, you are not far back after [a slow] break. The break was not the issue. I thought she was in a good spot, but when it was time to fire, she just didn't."
Serengeti Empress paid $28.00, $14.80 and $9.60. Liora was second and Lady Apple was third.
Street Band, partly owned by longtime Dodgers clubhouse manager Mitch Poole, finished seventh — but moved to sixth after a disqualification — in the field of 14.
There was a scary moment at the start of the race when Positive Spirit clipped heels with Jaywalk and went crashing to the dirt surface. Both horse and rider Manuel Franco were uninjured. Jaywalk was disqualified to last.
Smith back in Derby
Jockey Mike Smith is back in the Kentucky Derby. After finding himself without a mount when Omaha Beach scratched from the race, Smith landed on Cutting Humor, in place of Corey Lanerie.
It's unusual for a jockey to be replaced so close to a race, but Cutting Humor is owned by Starlight Racing, which had a piece of Justify, whom Smith rode to the Triple Crown.
According to Kentucky rules, Lanerie will receive whatever part of the purse he would have won based on where Cutting Humor finishes. Starlight Racing will also have to pay Smith. A jockey the caliber of Smith usually gets a percentage higher than what he would have been entitled to based on his horse's placing.
Cutting Humor qualified for the Kentucky Derby by winning the Sunland Derby in New Mexico
McKinzie wins Alysheba
Santa Anita favorite McKinzie took his act to Churchill Downs on Friday and won the Grade 2 $400,000 Alysheba. He broke near the front and looked poised when suddenly Smith took him back on the far turn. He looked as if he were done, but obviously wasn't.
"He was telling me he wasn't ready to go," Smith said. "I said let me give him a breather and see what he does. And I kind of took a hold of him and he backed up nice and I said, 'OK, come on, come on,' and all of a sudden he filled up with air.
"I needed some room at that point because I was going to run over somebody. Nine times out of 10 it would never work and I would never do that, but he was telling me to do it and I listened to him. You'd be surprised when you listen, things seem to pay off a lot more."
McKinzie won by 4¾ lengths for trainer Bob Baffert. McKinzie was the heavy favorite and paid $3.40, $2.60 and $2.10. Tom d'Etat was second and Seeking The Soul was third.
Derby field down to 19
The Derby field for Saturday shrank by one to 19 when Haikal was scratched after developing an abscess in his left front hoof.
"We put shoes back on him this morning and jogged him and he was still not 100%," trainer Kiaran McLaughlin said. "After speaking with [Shadwell Farm general manager] Rick Nichols, we decided to scratch. The horse always comes first. He will head home today to Shadwell and live to fight another day."
The starting gate will leave the No. 1 hole open, which is fortunate for War Of Will, who will no longer be breaking right on the fence.
Omaha Beach OK
The surgery to repair an entrapped epiglottis on previous Derby favorite Omaha Beach went well with no complications. He'll stay at Rood & Riddle Equine Hospital for a couple of days, recoup at WinStar Farm for a week and then head back to California.
Omaha Beach could run in the San Diego Handicap and Pacific Classic at Del Mar, but no decisions have been made.
---