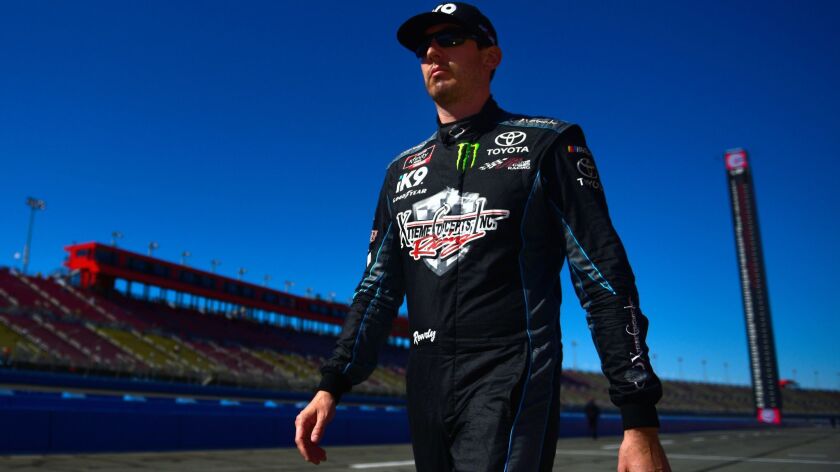 On a November morning in 2011, a solemn Kyle Busch walked into the media center at Arizona's ISM Raceway and asked for mercy.
Busch then was NASCAR's brash bad boy — arrogant, aggressive and a driver whom stock-car racing fans loved to hate. A week earlier he had taken things too far by intentionally wrecking a rival driver, and now he was paying the price.
NASCAR took the rare step of forbidding Busch to race for a weekend as punishment, and Busch's primary sponsor, Mars Inc. — which found Busch's actions "unacceptable" — dropped him for two races as well.
So, as he sat next to his team owner, Hall of Fame football coach Joe Gibbs, Busch was contrite and subdued. "I'm utmost apologetic," Busch said.
Nearly eight years later, all of that is a faded memory because Busch has become the most prolific winner in NASCAR history across its three national levels: the elite Monster Energy Cup Series, the second-level Xfinity Series and its Truck Series.
Busch is on the verge of becoming the first driver to win 200 races across all three series, a milestone he could achieve Sunday at the Auto Club 400 in Fontana, where he won his first Cup race in 2005. He tried for No. 200 on Saturday at the Xfinity race at Auto Club Speedway but finished second behind winner Cole Custer.
"It's just amazing to see how good he is in all types of series and race cars," driver Kyle Larson told reporters Friday. "For him to be as good as he is at every race track is pretty spectacular."
The legendary Richard Petty, who raced from 1958 to 1992, won a record 200 races and seven championships in what's now considered the equivalent of the Cup series. Busch has 52 Cup victories, 11th on the all-time list.
Petty, now a team owner, recently complimented Busch on his achievement.
"I read what Richard said the other day, which was cool," Busch told reporters. "He talked about how, if I was thrown back in their era, with [David] Pearson and Petty, I could compete with those guys. I am honored he said that. I feel, I'd like to think, the same way, that I could do it."
Busch won the Cup championship in 2015 and last month Gibbs extended his contract. In turn, Mars announced a multiyear extension to keep sponsoring Busch, calling him "a worldclass" driver.
As he keeps building his own Hall of Fame career, Busch clearly is more mature now at 33. He married, and he and his wife Samantha have a son, Brexton, who was born in 2015. He has his own truck-racing team, Kyle Busch Motorsports.
But Busch still is very aggressive, impulsive at times and mercurial; he can be short-tempered one minute and humorous or benevolent the next. Angry at Joey Logano two years ago after a race in his hometown of Las Vegas, Busch marched up to Logano and took a swing at him, sparking a brawl between their crews on pit road.
Nicknamed "Rowdy," Busch refers to his fans as "Rowdy Nation," and remains a compelling and polarizing personality.
In an interview with The Times, Busch grew testy when asked about how he's changed and how he's covered by the media.
"I wish they would stop bringing up the past, all the negativity or the bad things that I did as I was growing up and the aggressiveness that I showed, whether it was on the track or off the track," Busch said. "People grow, people change, people move on. It just took me a little bit longer than others.
"Today I'm still very fiery and passionate and determined and aggressive and things like that, but I think I've been able to harness it a little bit better and use that to my advantage sometimes.
"I've grown up. I would probably go ahead and score a fight with anything I could back then, where now I kind of pick and choose my battles."
One thing that hasn't changed is how Busch races others, said Kevin Harvick, the veteran driver who n the Cup title in 2014 and has a longstanding rivalry with Busch.
"The more you race, the more experience you get, the older you get, the more mature you get in life," Harvick said. "But he's an animal. He's always going to race hard and always going to do everything he can to win and I haven't seen any of that change."
As Busch has kept winning, the way fans react to him has changed. For many years, boos rained on Busch when he was introduced. But today the cheers often hold the edge.
"I'm going to be blunt," Busch said. "With attendance down and everything else," such as recently retired star drivers, "you're not having so many of those naysayers show up, so the boos aren't as loud anymore."
Busch added: "You're still getting the Kyle Busch fans to show up because Kyle Busch is still here. Jeff Gordon's not here, Dale [Earnhardt] Jr.'s not here, Tony Stewart's not here. You're not getting those [fans] to show up, so the boos aren't as loud.
"But I would say as far as Rowdy Nation goes, the people that cheer for Kyle Busch, I feel that's the biggest section of the grandstands every week."
Busch gets introspective when asked about how fatherhood has changed him.
"I certainly see a lot of similar tendencies in my 2½- [or] 3-year-old that I did in myself until I was about 33," Busch quipped. But he noted "the relationship that I've had with him, and learning some patience and learning how to teach him, how to go about things a little bit differently and calm him down, to talk to him."
"I don't feel like I had a whole lot of that when I was growing up," Busch said. "So I was always just kind of doing my own thing and learning off of my own ways rather than being helped along the way. I feel like I'm trying to do that a little bit more with my son."
Busch is relatively young for a NASCAR driver, 10 years younger than seven-time Cup champion Jimmie Johnson. So Busch should have years to win more races.
Busch recently was asked how his record compares with other NASCAR greats.
"It's not for me to worry about," he replied. "It's for everybody else to discuss and talk about and argue over and debate."
Just as it's always been with Kyle Busch.
---