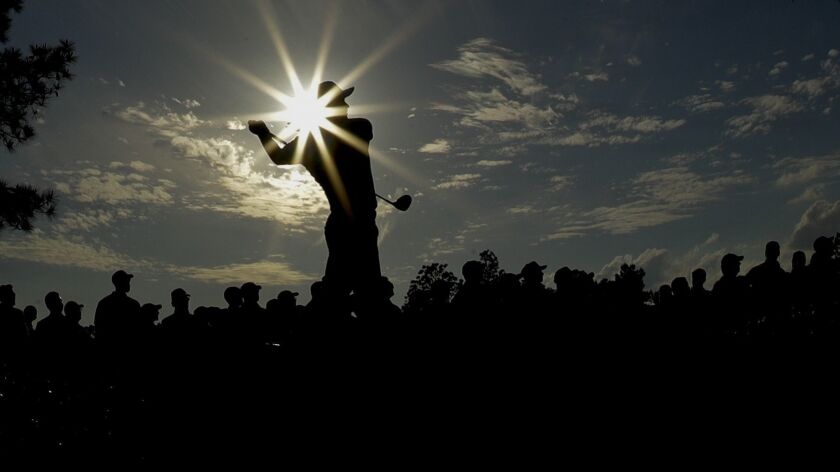 Reporting from AUGUSTA, Ga. —
There's no running at Augusta National, but there sure will be some scrambling around the course Sunday to beat the rain.
Given the possibility of severe weather, officials adjusted the grouping, tees, and tee times for the final round of the Masters.
Players will be grouped in threesomes, with tee times beginning at 7:30 a.m. local time off the Nos. 1 and 10 tees, with the last group — Francesco Molinari, Tiger Woods and Tony Finau — teeing off at 9:20 a.m., as opposed to the early afternoon.
Woods, pursuing his fifth green jacket and first since 2005, said after his round of 67 on Saturday that he was going to "try to get to bed as soon as possible."
"It's an early start tomorrow, so I'll get the mind and body ready for tomorrow, and get after it a little bit earlier than we're used to," he said.
Inside voice
It's a subtle shift in timbre, but CBS play-by-play announcer Jim Nantz tends to sound a bit more subdued as the day goes on. It's not that he's losing his voice; it's by design.
Nantz stays inside Butler Cabin until the last group goes through the ninth hole, so he can use his voice with more "velocity" and not worry about disrupting anyone from the 18th tower, located between the greens on Nos. 9 and 18.
"When I'm in here, I can talk more the way I would like to with a little more energy in the voice," Nantz said.
There could be a situation where Nantz has to call something happening on the ninth hole just as a group is finishing on 18. That could lead to problems.
"There could be players directly below me on 18," he said. "So if somebody made a miraculous shot or knocked it close and I raised my voice a little bit, I'm going to distract the guys right below me."
In Butler Cabin, Nantz has a computer with the scoring and leaderboard at his fingertips, plus direct feeds of at least a half-dozen holes going at once.
"I don't really keep any notes in front of me," he said. "I have things as far as resources, so I can look something up and be reminded of a good story or two. But by and large, I broadcast the Masters from my heart. Whatever's in my heart, then I go with it. I have a lifetime of stories catalogued in my brain."
Bling's best score
UCLA sophomore Devon Bling made one big mistake, but he also carded his first under-par Masters round with a 71.
The 19-year-old from Ridgecrest made six birdies. His one error came at the par-five 15th, when his third-shot wedge spun back off the green and into the water.
"When it landed on the green I knew it was in the water immediately. I didn't give it enough," Bling said.
The reigning U.S. Amateur runner-up made bogey there and followed with another bogey at 16, but bounced back by making a 12-foot birdie at 17.
Sign up for our daily sports newsletter »
"I didn't drive it as well today as the last few days, but still drove it pretty well and, but ball striking and putting and chipping I'm very confident in it," said Bling, who was tied for 50th at two over.
"Yeah, I missed a couple short putts, but it was more speed rather than stroke. I just hit them a little too hard and hit them through the break and then a little over-correction on 16. Definitely my confidence is growing throughout the week."
Tiger talk
Woods was asked Saturday if, after all these years, he's immune to pressure.
"No, I always feel pressure," he said. "The day I don't feel pressure is the day I quit."
Follow Sam Farmer on Twitter @LATimesfarmer
---