Bellerive's history will be linked forever to 9/11, even with a new generation of players ushering in
Reporting from st. louis —
On the morning of Sept. 11, 2001, Bellerive Country Club was buzzing with anticipation.
It was only Tuesday, but St. Louisans were starved for professional golf, and they filled the grandstands early as PGA Tour pros practiced for the WGC-American Express Championship.
In truth, there was one man they'd come to see. Tiger Woods was at the zenith of his popularity, having won five times that season, including the Masters to hold all four major trophies at the same time.
At Bellerive, Woods kept his usual routine of going out at sunrise, accompanied by Mike Weir, Mark Calcavecchia and Vijay Singh.
The round was casual, carefree, until PGA Tour Commissioner Tim Finchem drove up in a golf cart with horrifying news. A plane had crashed into the World Trade Center in New York.
Hitting golf balls became instantly meaningless. Woods and company hustled back to join others in the locker room, where they stood staring at televisions in silent disbelief.
"By the time we got in, unfortunately, we had the chance to see the second plane hit," Woods said recently.
The tournament was canceled the next day and, with air travel in chaos, the players scrambled to get home. Woods was given a courtesy car and drove 17 hours to Florida.
"I had a lot of reflecting to do during that time," he said. "That's one of the reasons why I changed my foundation from a golf-based foundation to an educational-based foundation, because of what happened with the towers."
For dozens of professional golfers, Bellerive — the host site for this week's 100th PGA Championship — always will be linked with the tragedy of 9/11. It's impossible for them to walk the grounds and not have some flashbacks.
There was one previous return to Bellerive — the 2008 BMW Championship in the FedEx Cup playoffs — and the players found the circumstances eerie.
Before that tournament, Irishman Padraig Harrington said, "A journalist asked me a few weeks ago to talk about the golf course. Even what little I remember, I can't even talk about that, because it all relates to Sept. 11. How can I talk about the golf course when it's all so insignificant?"
The PGA Championship will be Woods' first time back at Bellerive; he missed the 2008 tournament because of knee surgery following his U.S. Open triumph that June at Torrey Pines.
For the tour's younger set, who were elementary school kids during 9/11, Bellerive is just another championship test — and maybe a forgiving one at that.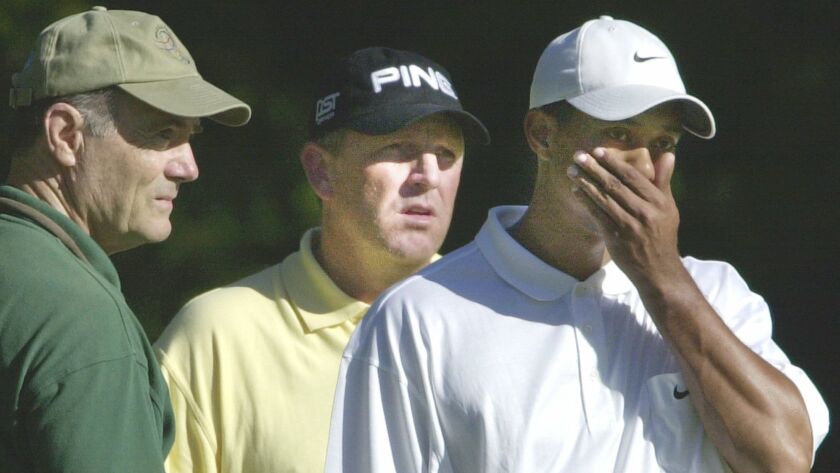 Named for Louis St. Ange De Bellerive, a French commander who was instrumental in founding the city of St. Louis, Bellerive Country Club is a parkland course in the west St. Louis suburb of Town and Country.
It tips out at about 7,400 yards, and with relatively generous fairways and numerous trees eliminated during architect Rees Jones' 2006 renovation of his father's original 1960 design, the layout might have little in the way of defense.
Coronado Golf Course head pro Brian Smock, a longtime Web.com Tour player who qualified for his second straight PGA through the Club Professional Championship, practiced at Bellerive last week and declared it "soft." The greens, he said, have just begun to get healthy after a long winter, and so they might not reach the slick speeds that would overly tax the world's best.
Forget about seeing balls spring off concrete-hard greens as they did in June's U.S. Open at Shinnecock Hills.
"It's gettable," Smock said. "I think 20 under could win."
That seems an optimistic but not unreasonable expectation, even with Bellerive playing to a par of 70. Just last week in the WGC-Bridgestone Invitational, at reputedly demanding Firestone Country Club, there were a handful of 400-yard drives, and Justin Thomas won at 15 under.
Thomas, a three-time winner this year who captured his first major in last year's PGA at Quail Hollow, played Bellerive for the first time in early June with head pro Mike Tucker while attending media day. Thomas didn't reveal his score, but Tucker let it be known that he didn't make a bogey.
"He made a great up-and-down on one, a nice little par from the water on two, and then put on the most spectacular display of driving I've ever seen," Tucker said.
With numerous doglegs and water coming into play on 11 holes at Bellerive, Rees Jones contends that it's not a bombers' course.
"The beauty is that this course does not favor a specific player," Jones said. "In recent U.S. Opens, wide fairways or no rough favored long hitters. Bellerive requires shot makers."
Bellerive was just a toddler of a track in 1965, when Gary Player won the U.S. Open to complete his career Grand Slam. A straight hitter, but not long, Nick Price took the 1992 PGA Championship with a six-under-par total. Camilo Villegas captured the 2008 BMW at 15 under, beating Dudley Hart by two shots.
All of those guys were ping hitters compared to Dustin Johnson and Tony Finau.
"Driving is going to be a premium," Thomas said. "The holes have great shape to them. A lot of them kind of go out and then dogleg. … You're going to need to be really precise."
Bellerive's greens are among the largest in major championship golf — many at 10,000 square feet — and there are massive bunkers around most of them. Club members like to boast that they face some of the longest greenside sand shots in golf, but whether that comes into play with golfers hitting short-iron approaches will be a key.
With only one par-five hole longer than 600 yards, the players will be aggressive, and the PGA is helping them out too, with a risk-reward chance at the par-four 11th. It likely will play at less than 300 yards for a couple of days.
Come Sunday, the 17th should be the most exciting hole. It's a par five, with a creek that will gobble up an overly aggressive fade. From the back tees, it plays 597 yards, but there's a 520-yard teeing ground that is sure to be used.
In Thomas' June round from the back tees, he reached the green with a driver and five-wood.
"So the two par fives — I didn't really think they were reachable," Tucker said with a smile. "Well, they're reachable now."
The 457-yard 18th is fairly unremarkable — a dogleg left that seemingly should be difficult.
Think again.
Thomas "tugged" his driver over the bunkers in the dogleg and had a 125-yard wedge approach.
Second shot: "It landed a little off the right," Thomas said, "and the hole just happened to get in the way."
An eagle.
A sweet ending to Thomas' very good first date with Bellerive. Woods no doubt wishes he could say the same.
---
Get our high school sports newsletter
Prep Rally is devoted to the SoCal high school sports experience, bringing you scores, stories and a behind-the-scenes look at what makes prep sports so popular.
You may occasionally receive promotional content from the Los Angeles Times.