Olympian Kim Rhode must deal with the reality of mass shootings
When someone drowns at the beach, reporters don't call on Olympic swimmers for comment.
When a car strikes a bicyclist on the street, elite cyclists aren't asked for their reaction to the news.
But whenever there is a mass shooting in the U.S., such as the recent incidents in San Bernardino and an Orlando, Fla., nightclub, Kim Rhode listens for her phone to ring.
The 36-year-old shotgun shooter has won five Olympic medals in trap and skeet over the course of a historic career. Four years ago, just moments after her most recent gold, she faced questions about the killings at an Aurora, Colo., movie theater that summer.
Now, in the weeks before she travels to Rio de Janeiro for her sixth Games, current events have once again cast a shadow over her sport.
"We get lumped in with all that," she said. "It's very sad."
This isn't what the Southern California native expected when she broke into the elite ranks by finishing atop the podium in double trap as a 16-year-old at the 1996 Atlanta Games.
Her winning streak has continued for the next two decades with two more golds, a silver and a bronze, making her the first individual athlete from the U.S. to medal in five consecutive Olympics.
If it seemed to her that sports and mass murder existed in separate worlds, Rhode gradually learned otherwise.
"The fact that her instrument of success is a gun somehow plays differently than Serena Williams' tennis racket or Jordan Spieth's golf club," said Kevin Neuendorf, a spokesman for USA Shooting.
At the 2012 London Olympics, those questions about Aurora bothered her but – ever the cheerful, friendly type – she answered patiently, expressing her sadness and mentioning the positive aspects of competitive shooting.
She addresses the Orlando incident in similar fashion.
Those 49 people were killed just one day after a World Cup shotgun competition in the country of San Marino. Rhode recalls her first reaction was purely emotional.
"Your heart breaks for them," she said.
But she also understands that such crimes can have a tangible effect on her daily life.
During the trip to San Marino – a tiny republic within Italy – security personnel delayed her at the airport for hours, nervous about letting someone board a commercial flight with multiple shotguns and ammunition in her luggage.
"They had to hold the plane for us," she said. "Just lots of hoops we have to jump through whenever we travel."
The push for stricter gun laws is another concern.
This is a woman who, as part of her training, burns through 500 to 1,000 shotgun shells a day. If ammunition becomes tougher to buy, she might struggle to remain adequately stocked.
And if weapons purchases are restricted, that could hinder Rhode and other elite competitors who frequently wear out pistols and rifles.
"It's changing our sport everywhere," she said. "We're seeing athletes who can't get the ammo or can't get the firearms they need to train."
Like other Olympians, shooters depend on corporate sponsorships, but the support they receive is limited mostly to the gun industry. Even someone as successful as Rhode doesn't get a chance at more-lucrative endorsements for toothpaste, yogurt or shaving cream.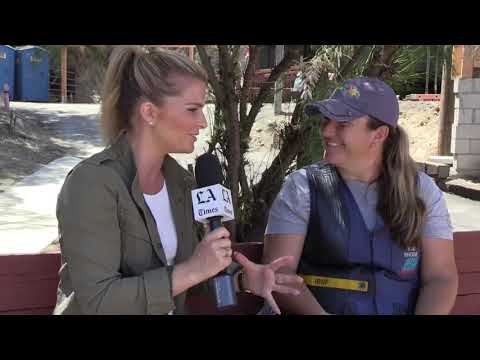 Watch shooter Kim Rhode train for her sixth appearance in the Olympic Games and hear why preparing for this trip has been different than the past. 
"Endemically she's a star," Neuendorf said. "But there is this sad reality when an athlete that's won … five Olympic medals and is as dynamic a personality as Kim is and she's not one of the marquee names being featured by Olympic sponsors and promoted by NBC."
The Rhode family tries not to be resentful. They have a long history with hunting and target shooting and are quick to mention that a distant relative fought with George Armstrong Custer in the late 1800s.
"Obviously he survived," Rhode's father, Richard, said. "Otherwise, we wouldn't be here."
On a recent weekend afternoon, family members gathered at the Oak Tree Gun Club in Newhall, where Rhode trains. Her husband, Mike Harryman, shoots too. It is a point of pride, and he insists that a visitor give the sport a try.
They all have strong feelings about 2nd Amendment rights but Rhode feels torn between wanting to speak out on the issue and worrying about public backlash.
Olympic shooters have "received thousands of death threats because of this," she said. "People have demanded that they strip us of our medals."
If nothing else, with so much attention currently being paid to Orlando and last week's floor protest by House Democrats, she wishes competitive shooters could somehow stay clear of the controversy.
"There are a lot of emotions going in a lot of directions," she said. "What I do is a sport."
ALSO
Lionel Messi says he's retiring from international play
Floyd Mayweather Jr.: 'For the right price, I may come back'
Chase Kalisz surprises Ryan Lochte in 400 IM at Olympic trials
Get our high school sports newsletter
Prep Rally is devoted to the SoCal high school sports experience, bringing you scores, stories and a behind-the-scenes look at what makes prep sports so popular.
You may occasionally receive promotional content from the Los Angeles Times.