As Santa Anita opens, fix-it man Tim Ritvo ponders 'problems bigger than I thought'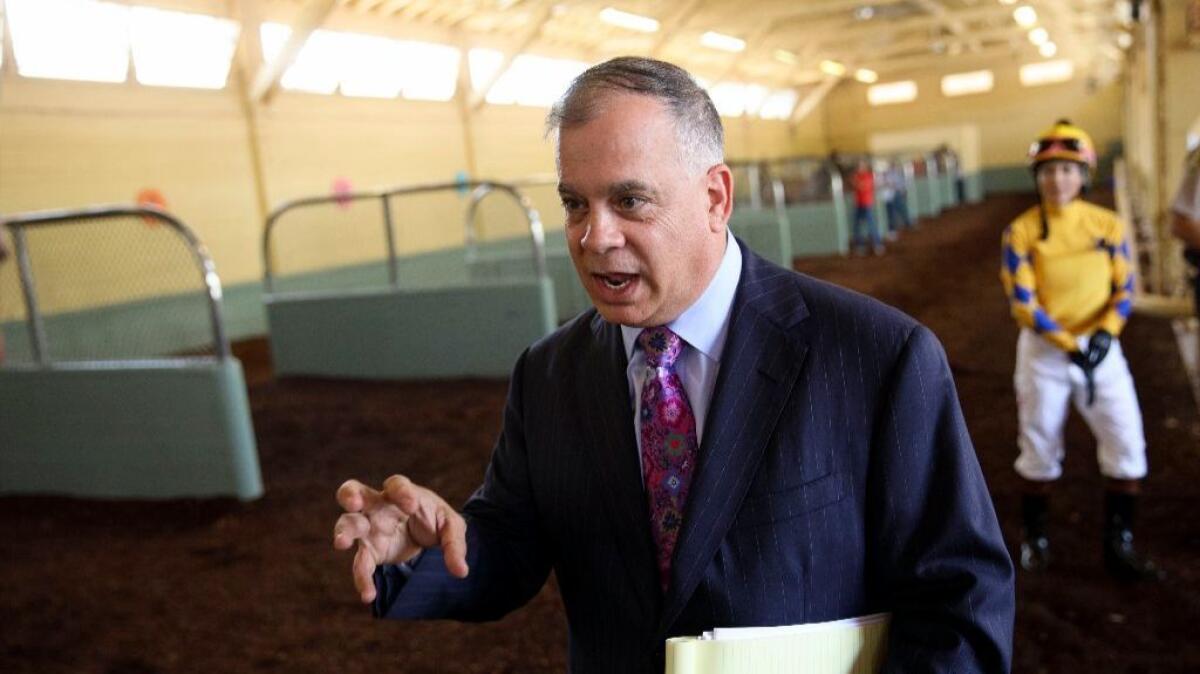 Tim Ritvo's arrival at Santa Anita in late May caused quite a stir in horse racing circles. As Frank Stronach's fix-it guy, he was sent west, after successful projects in Florida and Maryland, with the goal of returning the Arcadia track to at least some of its past greatness.
He spent a couple months here, and in the offseason has been racking up frequent-flier miles back to the East Coast and Canada, headquarters of the Stronach Group, which owns Santa Anita.
Race fans looking for any immediate changes at Santa Anita, which opens a 19-day fall meeting Friday, will be disappointed. Ritvo's planning his big unveiling for the signature winter/spring meet, which starts Dec. 26.
"The problems are bigger than I thought," he said, reflecting on his first few months here. "A lot of problems, but I'm not directing them at individuals or trainers or horsemen. It's more of a culture.
"It's not even directed at Santa Anita, it's the industry. More and more people want more quality and less quantity. People want to see the higher-priced horses. The middle-priced horses, you don't get as much interest in."
Ritvo identified early that a major problem is field sizes. Santa Anita had to cancel four days of racing earlier this year because it couldn't fill the races with enough horses.
The Southern California racehorse population is about 3,200, but a lot of the horses don't run that often for various reasons, be it trainers looking for the perfect spot or not willing to take a chance.
"We need to correct the guys who are here and not running and just using the place as a training track," Ritvo said. "We need to replace them."
There is no cost to a trainer who stables or trains at Santa Anita, or most any racetrack.
"We're talking internally about a ship-and-stay program" that would incentivize trainers and owners to run their horses at Santa Anita, Ritvo said.
The track has initiated some rules starting with this meeting in that regard.
A trainer who plans to run a horse out of state must fill out a form indicating the reason for shipping the horse. Anyone who claims a horse is not permitted to move it out of state for 45 days except to run in a stakes race.
"We keep track of every horse that comes in and out," said Rick Hammerle, vice president of racing at Santa Anita. "It kind of just went in a file, now we're keeping a bit more track and if we see some patterns that don't look right, we'll ask questions."
Hammerle said the track plans to get serious about the issue, while at the same time indicating this is a problem among only a small minority of horsemen.
"Now that Hollywood Park is gone … stalls at Santa Anita are at a premium, so we want them to know that if you're stabled here, we expect you to run your horses here," Hammerle said. "And by and large they do. … We just want to keep what we have."
Alan Balch, executive director of California Thoroughbred Trainers, understands the problems.
"We don't know how strict this is going to be and how it's going to be enforced," Balch said. "Generally speaking we back horses training in Southern California to race in Southern California. We especially need horses in middle and lower claiming ranks."
The consensus two best horses in the country — Arrogate and Gun Runner — are both stabled at Santa Anita but won't run there as they are pointed to the Breeders' Cup Classic at Del Mar on Nov. 4. But Ritvo made it clear he isn't looking to chase either Bob Baffert (Arrogate), or Steve Asmussen (Gun Runner), who rarely stables at Santa Anita. Quite the opposite, he wants to do what he can to entice those trainers to run their best horses locally.
"We've got to figure a way to mix those horses in and get big fields to run against them," Ritvo said.
Ritvo has not backed off the idea of going to three-day-a-week racing if that's what it takes to give bettors fuller fields.
"I believe it's not how many days we run, but how many opportunities [to bet] we give them," Ritvo said. "If we do 10 or 12 races on Saturday and Sunday, and the bettors and horsemen have the same number of opportunities, it's good for the sport. I know the employees are concerned and we want to be fair with them. But if we don't do something they won't have jobs because there won't be any racing."
With that said, Ritvo wants to maintain four-day racing.
"We still think right now we'll be fine," he said. "But if the field size doesn't increase, we'll have to work with the horsemen to find a solution."
Ritvo has instructed Hammerle to add more turf races because fans like them and they usually bring full fields. On Friday's opening-day card there are three races on grass, with current field sizes of 10, 10 and 11.
Get our high school sports newsletter
Prep Rally is devoted to the SoCal high school sports experience, bringing you scores, stories and a behind-the-scenes look at what makes prep sports so popular.
You may occasionally receive promotional content from the Los Angeles Times.