Lane Kiffin reportedly accepts head coaching job at Florida Atlantic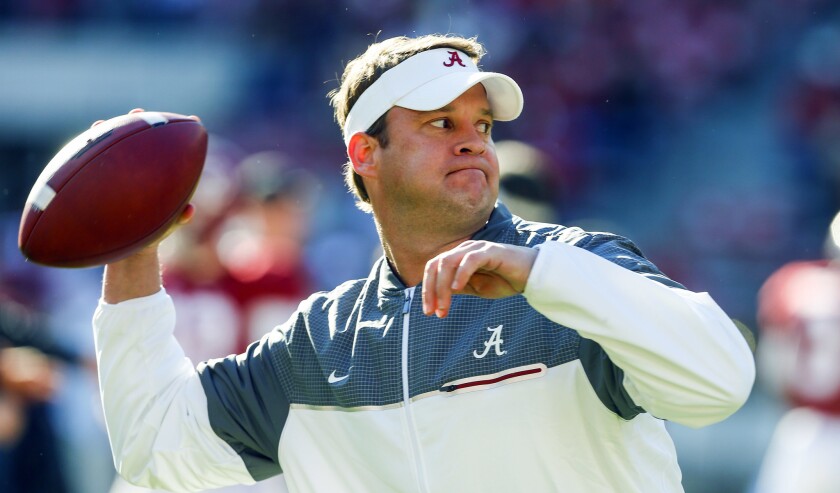 Three years after USC fired him — at the airport, in the middle of the night — Lane Kiffin has made his way back to the head coaching ranks.
Kiffin came to terms with Florida Atlantic on Monday, taking over a beleaguered football program that has won all of nine games in the past three seasons.
Though neither he nor the school made any comment, his current boss confirmed the hiring during a news conference.
"Lane's done a phenomenal job for us the last three years," said Nick Saban, the coach at Alabama, where Kiffin has served as offensive coordinator. "We think that this is a wonderful opportunity for him to be a head coach again and I think FAU has selected someone that is going to do a great job for them."
Kiffin will remain with the Crimson Tide through the College Football Playoff, Saban said. The top-ranked team faces No. 4 Washington in a semifinal in the Peach Bowl on Dec. 31.
Over the last few weeks, Kiffin's name has been linked to several openings, including the top job at Houston and the offensive coordinator's spot at Louisiana State.
After the Southeastern Conference championship game, he was asked about the possibility of running his own team again.
"The last thing we're thinking about is any of that," he told ESPN.
According to multiple reports, FAU offered him a five-year deal for about $1 million annually, which would represent a pay cut from his current job, where he earned $1.4 million this season.
This will be the fourth opportunity for a 41-year-old coach who was largely unknown when he joined Pete Carroll's USC staff to work with tight ends in 2001. After moving up the ranks — and earning a reputation for his offensive knowledge — he was unexpectedly named coach of the Oakland Raiders in 2007.
The job didn't last long; the team went 5-15 and owner Al Davis pulled the plug early in the 2008 season, holding a bizarre news conference in which he called Kiffin a "professional liar."
The next year saw Kiffin take over at Tennessee, where he ruffled feathers in the Southeastern Conference with his brash talk and made even more enemies by bolting to USC after a 7-6 season.
Over the next three-plus seasons, the Trojans went 28-15, playing well at times but often struggling under the weight of NCAA sanctions that limited their ability to stockpile talent.
In the fall of 2013, as the team returned from a blowout loss at Arizona State, former athletic director Pat Haden was waiting at the airport to dismiss the coach.
Kiffin "was clearly disappointed and battled me," Haden said at the time. "He really tried to keep his job and I respect him for that."
Alabama seemed like an odd match at first, but Saban believed that Kiffin could help the Crimson Tide shift to an up-tempo offense. Three dominant seasons and a national championship later, it seemed the offensive coordinator had mended his reputation.
"Absolutely," Saban said last week when asked if Kiffin was ready to coach again. "I think he's proven."
In 13 years of major college football, the FAU Owls have managed only two winning seasons, reaching bowl games under Howard Schnellenberger in 2007 and 2008.
---
Get the latest on L.A.'s teams in the daily Sports Report newsletter.
You may occasionally receive promotional content from the Los Angeles Times.