Tiger Woods moves within a stroke of five leaders at Masters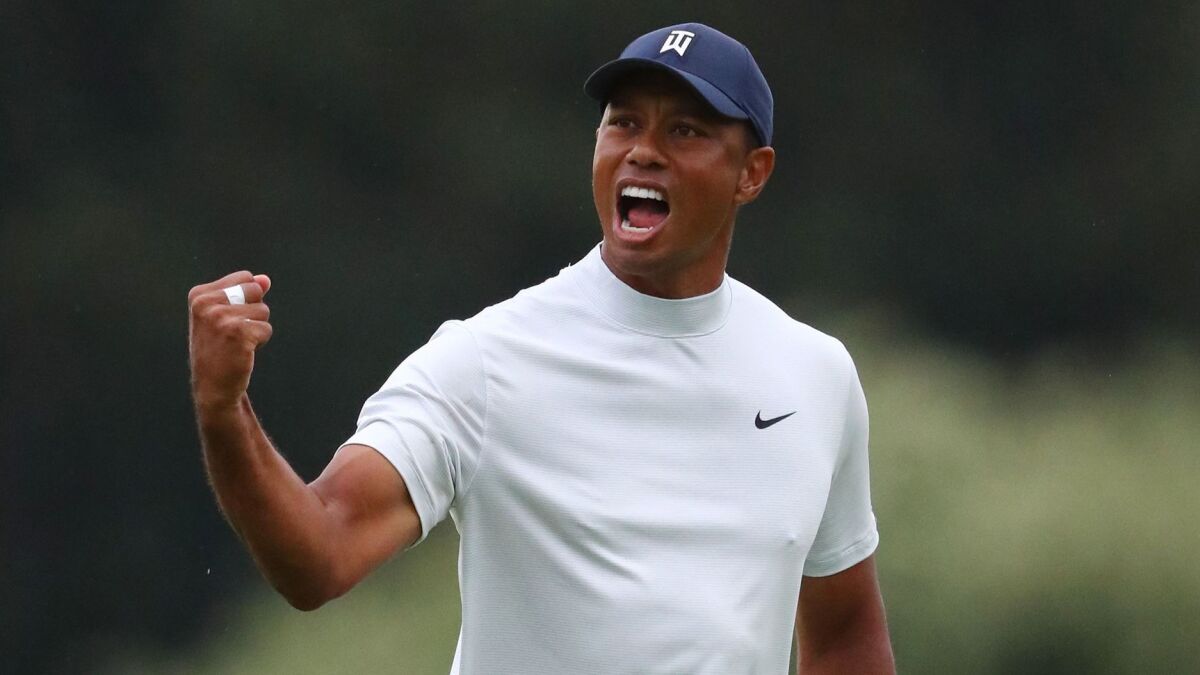 Reporting from augusta, ga. —
It was a moment that could have changed not only this Masters, but also the entire golf world.
Blown-out knee? Fractured ankle? Something more horrendous, such as seeing Tiger Woods carried off on a stretcher like a damaged quarterback?
It's not being overly dramatic to say any of that could have happened Friday to the game's biggest draw in the second round of the Masters.
Instead, Woods was able to laugh off a bizarre incident involving a security guard — who slipped while trying to hold off the crowd and stumbled into Tiger's leg — on the way to contending in a tournament that is shaping up as one of the greatest in 83 editions at Augusta National.
The player with the fused spine was unfazed by a half-hour weather delay that basically served as a halftime in his hot-running back nine, and Woods stirred memories by shooting a four-under-par 68 that had him tied for sixth at six under, one stroke behind the five leaders — Jason Day, Francesco Molinari, Brooks Koepka, Louis Oosthuizen and Adam Scott.
"I feel like I played my own way back into the tournament," Woods said. "I was just very patient today, felt very good to be out there doing what I was doing. This is now three straight majors that I've been in the mix, and so it's good stuff."
Woods' greatest birdie of the day came at the par-four 14th, where he coaxed a downhill 28-foot putt into the cup, the fourth of his field-best five converted birdies of longer than 20 feet this week.
Only minutes before, he emerged unscathed after momentarily limping following his strange encounter with an overzealous security guard.
After Woods had hooked his drive into the trees at 14, he launched a high and spectacular approach shot. As the gallery watched, the security guard rushed to hold spectators back. Looking as if he was trying to break up a double play at second base, the man lost his footing on the slick, muddy pine straw and clipped Woods' lower right leg. Woods - hopped and grimaced, but eventually shook it off as he stood in the fairway.
Relieved fans and golf executives picked themselves off the floor.
Clearly wanting to not embarrass the guard, Woods downplayed the incident after the round, saying, "It's all good. Accidents happen. I've had galleries run over me. It's just, when you play in front of a lot of people, things happen."
The five golfers tied on top at seven under are all past major champions — Day, who scored 67 Friday; Molinari (67), reigning British Open titlist; two-time defending U.S. Open champion Koepka (71), 2010 British Open winner Oosthuizen (66), and the lone previous Masters champion, from 2013, Scott (68).
Joining Woods at one stroke behind are 2016 U.S. Open champion Dustin Johnson (70), world No. 10 Xander Schauffele (65) and Masters rookie Justin Harding (69) of South Africa.
"It must have happened at some point, but this is really stacked," Scott said. "I think it's going to be an incredible weekend, no matter what happens now. There are so many great players with a chance."
After heavy overnight rains, Augusta National again played soft and "gettable," as the players say. Balls were not careening off the usually hard and slick greens.
More of the same is expected over the weekend, with an ominous forecast for the final round Sunday.
"We were able to stop six‑irons and five‑irons; that's something that you don't normally see here, and with it being so hot, the ball's flying forever," Woods said. "... If it got cooler from the same distance, it would be a totally different deal."
Woods, the winner of 14 majors but none since 2008, was only one under for the day when he arrived on the ninth tee. He had just suffered a bad bogey at the par-five eighth when he three-putted.
He cranked a 305-yard drive down the middle on No. 9 and stirred his first big roar by making an uphill 37-foot putt for birdie.
Two holes later, at the tough 11th, Woods canned a 13-footer for birdie, and the thousands of fans behind the 12th tee sensed something special was happening. They roared when Woods hit his tee shot to six feet, but then everyone groaned when the alarm sounded for a weather delay.
It seemed to be a terrible break for Woods, who missed his birdie putt at 12.
"I was a little bit stiff when I came back out and started swinging again, but I was able to ratchet up the speed for 13 to just sort of go after it," Woods said..
He hammered his drive and needed only a six-iron into the 13th green. But Woods came up just short on his approach and, after a poor chip, missed a 13-foot putt for birdie.
Woods followed a birdie on 14 with another hooked drive into the trees on the par-five 15th, but after laying up canned a 30-footer for another birdie. He had birdie chances inside 10 feet at 17 and 18 but barely missed them both.
"I missed a few putts out there, but I'm not too bummed out about it because I hit them on my lines," Woods said. "So I can live with that."
---
Get our high school sports newsletter
Prep Rally is devoted to the SoCal high school sports experience, bringing you scores, stories and a behind-the-scenes look at what makes prep sports so popular.
You may occasionally receive promotional content from the Los Angeles Times.