Column: Heat wreaks havoc on U.S. Open
Reporting from new york —
There were moments Tuesday when Novak Djokovic's complexion took on the same bilious, blue-green tone as his shirt and it seemed inevitable he'd need the bucket placed near his chair at Arthur Ashe Stadium.
"It was so warm," he said. "It feels like everything is boiling in your body; the brain, everything."
The high temperatures and oppressive humidity that blanketed the Billie Jean King National Tennis Center created grueling conditions for players and forced U.S. Tennis Assn. officials to scramble for solutions that were hasty and inadequate. Part of the beauty of the U.S. Open is that it's a stern test of endurance and will. It shouldn't also be a breeding ground for heat stroke.
"One can say, as well, you have to be fit. Of course. I agree with that," Djokovic said. "But there are some conditions that are so extreme, that as fit as you are, you can't just not feel it. I mean, it's there."
The Women's Tennis Assn. had rules in place regarding remedies for heat and invoked them Monday, when players were given the option to take a 10-minute break between the second and third sets of singles matches. The men's tour, the Assn. of Tennis Professionals, had a policy "that relies a lot on discretion," USTA spokesman Chris Widmaier said, but no formal rules.
With players visibly laboring, the USTA made the unprecedented decision Tuesday to allow men to take a 10-minute break between the third and fourth sets of singles matches. Djokovic, who held on to his lunch and his title hopes by winning the last 10 games of a 6-3, 3-6, 6-4, 6-0 decision over Marton Fucsovics of Hungary, used the break to jump into an ice bath. Fucsovics was in the next tub over. "You feel refreshed," Djokovic said.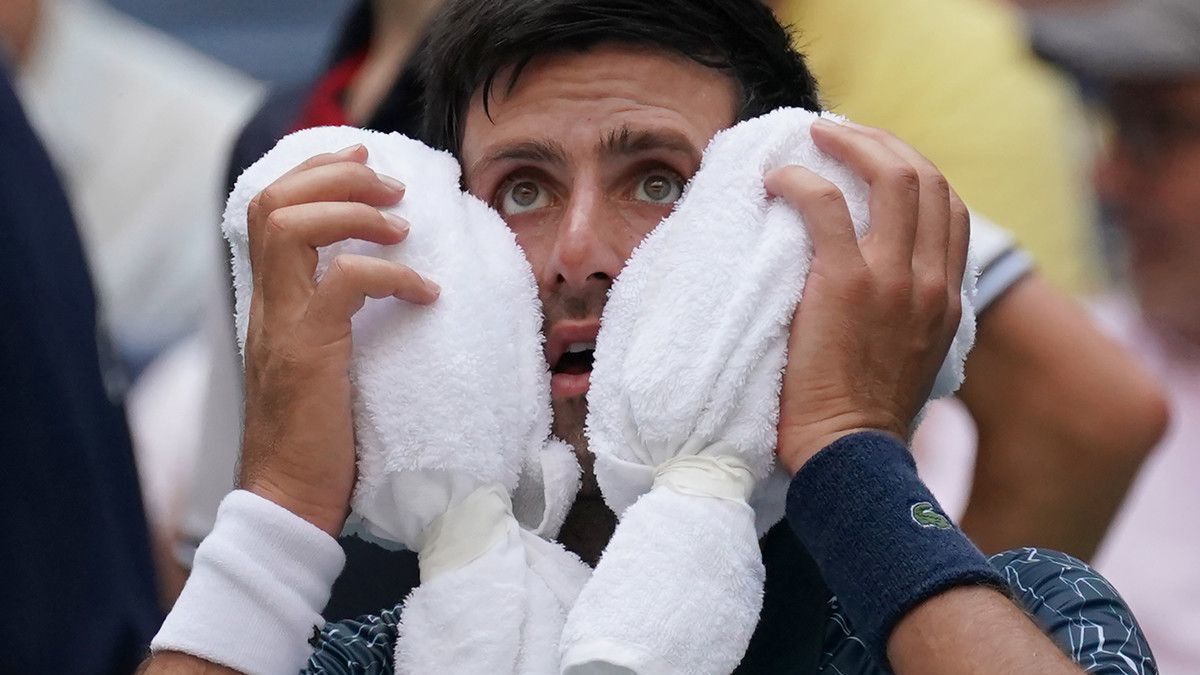 Six players retired mid-match Tuesday; only one was confirmed to be because of injury. According to the tournament referee, Stefano Travaglia of Italy and Ricardas Berankis of Lithuania retired for heat-related reasons, Leonardo Mayer of Argentina cited fatigue, and Mikhail Youzhny had cramps. It was not immediately clear why No. 32 seed Filip Krajinovic retired in the fifth set against Australia's Matthew Ebden. Felix Auger-Aliassime's agent said heat and humidity caused his client to feel heart palpitations Monday night and retire in the third set of his first-round match. The agent, Bernard Duchesneau, told the Canadian press news agency that Auger-Aliassime felt better within an hour. David Ferrer of Spain also retired Monday during his match against Rafael Nadal.
Starting play earlier, taking a break during the mid-day heat, and shifting more matches to the night session should have been worth considering. Widmaier said those options had not been discussed. Why not? Djokovic wanted to know, too.
"This tournament is famous for its night sessions, going deep into the night. Doesn't rain that much. Now we have couple of courts with roofs," he said, referring to the retractable roof that was added to Louis Armstrong stadium. "I'm sure the schedule of the day wouldn't be harmed so much if you start a bit later."
No. 5 Petra Kvitova of the Czech Republic, a 6-1, 6-4 winner over Yanina Wickmayer of Belgium on Tuesday, was glad to be first on Court 17, before the temperature hit the upper 90s. She was especially happy to win in straight sets and in 72 minutes.
"I really tried hard not to play the third [set] in this kind of heat," she said. "I knew it's going to be very hot, but I couldn't imagine how horrible the heat was, so it was pretty difficult conditions. … When you are playing, you are not just really thinking about it. But when you stop for a while, then you feel the heat like from the ground, as well. Yeah, it was the humidity, as well, was there. We didn't really play, like, long rallies. I think that was kind of helpful."
No. 2 seed Caroline Wozniacki found refuge in the shade on the sidelines.
"Other than that," she said after her 6-3, 6-2 victory over 2011 U.S. Open champion Samantha Stosur, "it was just about trying to think cool thoughts and drink a lot of water and be well prepared."
No. 10 seed Jelena Ostapenko credited the break in her match against Andrea Petkovic for giving her strength to break Petkovic's serve and earn a 6-4, 4-6, 7-5 victory at Louis Armstrong Stadium.
"Conditions were difficult today," Ostapenko said. "It was very humid and also very hot but it was the same for both of us."
No. 20 Naomi Osaka, who represents Japan but lives in Florida, stood out for saying she didn't mind the conditions.
"Everyone was complaining about it. I thought it was pretty decent," she said after her 6-3, 6-2 victory over Laura Siegemund of Germany. "Florida summers are way worse, I think."
Forecasts call for the heat and humidity to be the same or worse Wednesday, when second-round matches will begin. Widmaier said USTA officials were considering leaving the roof of Arthur Ashe and Louis Armstrong stadiums closed Tuesday night to reduce the ambient temperature, but that might not help much because Louis Armstrong Stadium isn't air-conditioned.
The heat is on in New York … and it's on the USTA, too.
Follow Helene Elliott on Twitter @helenenothelen
Get our high school sports newsletter
Prep Rally is devoted to the SoCal high school sports experience, bringing you scores, stories and a behind-the-scenes look at what makes prep sports so popular.
You may occasionally receive promotional content from the Los Angeles Times.