Column: Serena Williams closing in on history, will meet Naomi Osaka in quest for 24th major title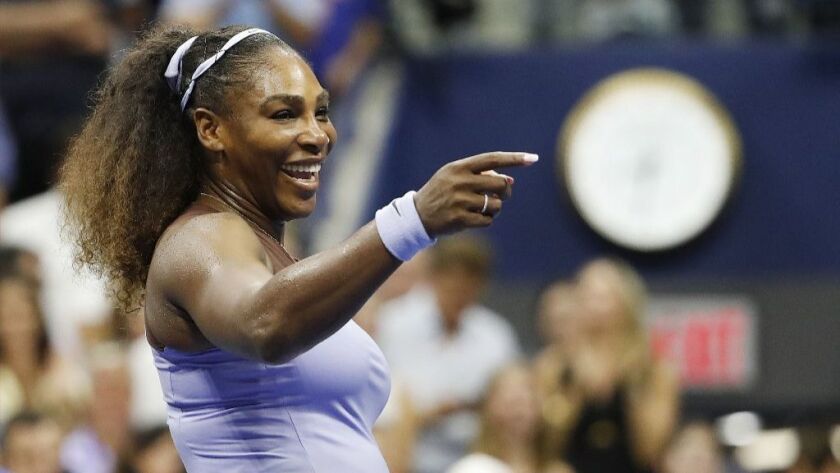 Reporting from NEW YORK —
The master will face her most eager disciple for the U.S. Open women's title, the paths of Serena Williams and Naomi Osaka intersecting to create a moment worth celebrating.
A year ago at this time, Williams was between the third and fourth surgeries she required for complications that followed the birth of her daughter. On Thursday she stood at center court at Arthur Ashe Stadium with tears in her eyes, a catch in her voice and a berth in the final in her pocket after a systematic 6-3, 6-0 dissection of Anastasija Sevastova of Latvia in the evening's first semifinal. Six times a U.S. Open champion, she's tantalizingly near equaling Margaret Court's record of 24 Grand Slam singles titles.
"Honestly, it is remarkable," Williams told an adoring crowd. "I couldn't have predicted this at all."
A year ago at this time, Osaka ranked 45th in the world. She was powerful and promising, but so were dozens of other youngsters. Her career zigzagged. She reached the high of winning the title at Indian Wells in March and sank to the low of a three-match losing streak that had her crying in the locker room in Cincinnati a month ago. "I thought, 'Wow, I'm really bad at tennis,'" she said.
On Thursday, with an unrelenting will that helped her save 13 break points against her, the 20-year-old from Japan romped past 2017 U.S Open finalist Madison Keys 6-2, 6-4 in the second semifinal. Repelling that many break points is unusual, but Osaka was fueled by a single great wish.
"This is going to sound really bad," she said during an on-court interview, "but I was just thinking I really want to play Serena."
Why? "She's Serena," Osaka said, as if that explained everything — and maybe it did. Williams on Saturday will play in her 31st Grand Slam final and second this year, after she lost to Angelique Kerber at Wimbledon.
A few weeks short of her 37th birthday, she is the third-oldest Grand Slam finalist in the 50 years of the Open Era. If she wins Saturday, she will be the oldest Grand Slam singles champion in that time period. "I'm not a spring chicken," Williams said, "but I still have a very, very bright future. That is super-exciting for me."
It's exciting to Osaka too. Asked if she had a message for Williams, she giggled. "I love you," Osaka said.
Her affection for Williams will end, though, when she steps on the court. "Of course, it feels a little bit surreal," Osaka said. "Even when I was a little kid, I always dreamed that I would play Serena in a final of a Grand Slam. Just the fact that it's happening, I'm very happy about it. At the same time I feel like even though I should enjoy this moment, I should still think of it as another match. Yeah, I shouldn't really think of her as, like, my idol. I should just try to play her as an opponent."
Though she might regret wanting to face Williams, who will compete in her ninth U.S. Open final, Osaka has played well enough to indicate she will put up a strong fight.
Against Keys, who was seeded 14th, Osaka made good use of her wide serve, a weapon Keys could never solve, and fought back against all those break points. "It was really impressive," Keys said. "For a first-time semifinalist on a big stage and all that, it was really impressive that she held her nerve the entire time, never really had any kind of slip-up."
Williams had an uncertain start and was broken in the first game by Sevastova, who relies heavily on a slice backhand, drop shots and changes of pace. Down 0-2, Williams responded by coming to the net a lot, a tactic she rarely uses — or needs — in her power-based game. It paid off: She won 24 of 28 points at the net while winning five consecutive games and 12 of the last 13 to close out the match.
Williams and Osaka have faced each other only once, in Miami in Williams' second tournament back from maternity leave. Osaka won 6-3, 6-2. "Hopefully I won't play like that again," Williams said. "I can only go up from that match."
Williams still calls this the beginning of her return from her maternity break. She estimated she's at 50% or 60% of peak form and is still getting used to her post-childbirth body.
She weighs less than she did before she became pregnant, "but it's distributed differently now," she said. "I'm still waiting to get to be the Serena that I was, and I don't know if I'll ever be that physically, emotionally, mentally. But I'm on my way."
And on her way to another U.S. Open final and a piece of tennis immortality.
Follow Helene Elliott on Twitter @helenenothelen
---
Get the latest on L.A.'s teams in the daily Sports Report newsletter.
You may occasionally receive promotional content from the Los Angeles Times.