Erin Hills — a short, strange trip to landing the U.S. Open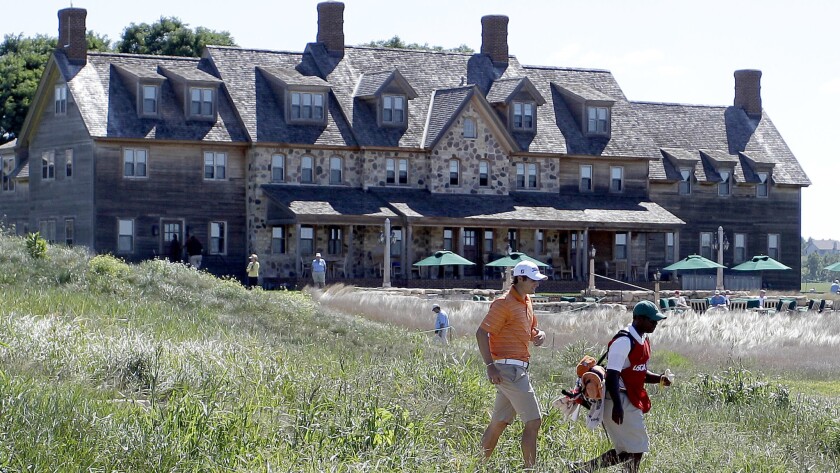 Turn-of-the-20th-century clubs dominate the list of U.S. Open venues: Shinnecock Hills (established in 1891), Pinehurst (1895), Oakmont (1903).
Then there's Erin Hills. It wasn't even a golf course when the calendar flipped to 2000. But don't let the newness fool you. This infant already has undergone a lifetime's worth of face-lifts.
"A lot of history," said Jim Reinhart, a Milwaukee-area investment manager and key figure in the intriguing tale, "in a short period of time."
Start in 2001 with a transaction. Developer and greeting-card magnate Bob Lang purchases a 437-acre Wisconsin cattle farm, later supplementing it with 215 more acres. The crumpled and contoured land, formed by receding glaciers from the Ice Age with natural mounding, is perfect for golf.
USGA executive director Mike Davis describes it now as "a magical piece of property."
Lang, who doesn't play golf, envisions a jumbo, tree-filled course with blind shots, dozens of bunkers, a par-six hole and a par-three "Bye" hole to settle bets. The total length: 8,800 yards.
Hmmmm … is Lang trying to service all those customers who long to play a six-hour round and shoot three times their age?
He hires Michael Hurdzan, Dana Fry and Golf Digest architecture critic Ron Whitten, bypassing celebrated architects such as Jack Nicklaus and Arnold Palmer. Their design theme is minimalism, moving little dirt at little cost to create a course with a $50 green fee.
But Lang is now dreaming bigger, aiming to build a course to land the U.S. Open. While those around him try to stifle their laughter, Lang asks his friend Reinhart to introduce him to Davis at the 2004 U.S. Open at Shinnecock Hills.
"It was such a casual introduction," Reinhart recalled in a telephone interview. "Bob had a portfolio and pictures under his arm. We're at the USGA hospitality tent, and Mike looks at Bob's pictures and his eyes widen. He says: 'Wow. This place looks fantastic. Keep me apprised of how this project goes, and if I get the chance, I'll come out and see it.'
"It was one of those one-in-a-million sort of things. I didn't think it would lead to a U.S. Open in 2017 by any means. But it did."
Lang butts heads with the architects. He digs out bunkers by hand. He is consumed. He borrows millions to make changes he thinks he will appeal to the USGA.
Finally, the money runs out. And there's a deadline to get the course in championship condition — the USGA wants Erin Hills to host the 2011 U.S. Amateur, a precursor to landing a U.S. Open.
Erin Hills needs a savior to avoid losing the Amateur and any shot at an Open. Reinhart, a former USGA vice president, tries to entice Herb Kohler (Whistling Straits), Mike Keiser (Bandon Dunes) and Phil Mickelson to buy the club, according to the Milwaukee Journal Sentinel's Gary D'Amato.
Finally Reinhart convinces Andy Ziegler, a golf partner from Milwaukee Country Club, to shell out $10.5 million. Ziegler hires top-notch people, builds a magnificent clubhouse and modern maintenance facility, bans motorized carts to improve conditioning and oversees the removal of hundreds of trees.
In short, he does everything to transform Erin Hills into a world-class facility — one worthy of holding our nation's championship.
Here are nine more things to know about Erin Hills:
The property is ginormous. Erin Hills is spread over 652 acres, about four times more land than a standard American course. Davis said the walk can be "exhausting … a physical test." It's about six miles, up and down hills, and because of the lack of trees, there's very little shade. At 7,693 yards, it will officially measure as the second-longest U.S. Open course, two yards shy of Chambers Bay. But from the back, back, back tees, Erin Hills is 8,348 yards.
The wind will blow, especially in the afternoon. Or so the USGA hopes, with Davis calling wind "the invisible hazard." Length, bunkers, fescues and wind are Erin Hills' only true defenses. If it doesn't blow, players will go low.
But it's not a prevailing wind. It varies. Fry studied the last five years of wind from June 12 to 18. He found it generally averages 3 to 5 mph in the morning and 16 mph in the afternoon, with surges of 24 to 28 mph. The wind has come from every direction but the south.
Erin Hills welcomes your business. It's a public course with a $280 green fee, caddie not included. And don't ask for a motorized cart; they're not permitted. Erin Hills ranks 44th on Golf Digest's list of America's top courses and ninth among public tracks. Ziegler ordered the course closed since Oct. 2, forfeiting tons of revenue with the goal of having ideal conditioning for the Open.
The USGA wanted to stop dissing the Midwest. As Davis told the Tribune: "There's no doubt we have been weak in terms of the middle of America." This will be the first U.S. Open in the Midwest since Olympia Fields hosted in 2003, and from 2018 to 2026, the championship will make three stops in New York, three in California and one apiece in Massachusetts, North Carolina and Pennsylvania. Erin Hills officials hope to secure the next unclaimed Open in 2027.
Only a handful of trees remain. And as Davis joked, "the ones out there are probably nervous." Lang loved many of the trees and grew attached to a giant oak guarding the corner of the dogleg on No. 1. But the USGA and Fry pushed for its removal to make the second shot less awkward.
The course opens and closes with par fives. There are four par fives at Erin Hills, which is newsworthy because the last U.S. Open to play to a par of 72 was in 1992 at Pebble Beach. The first (560 to 608 yards) and 18th (622 to 675) will be reachable depending on the wind and which tee box the USGA chooses. If the wind howls from the west, guys such as Dustin Johnson and Jon Rahm could bomb it 400 yards on No. 18.
The most intriguing hole might be No. 15. It will be a drivable par four on some days. The USGA set the tee at 252 yards for the 2011 U.S. Amateur final, daring players to drive it to a small, elevated green. Patrick Cantlay instead teed off with an eight-iron, found a fairway bunker and made a bogey en route to losing 2-down.
Once there was a "Dell" hole. Modeled after the famed fifth at Lahinch in Ireland, Erin Hills' version was a blind par three to a downhill green measuring between 139 and 201 yards. Golfers launched tee shots at an "aiming rock," hoped for the best as they approached the green and then rang a bell after putting out so the group behind them knew when to tee off. The hole was removed because of a routing issue and American golfers' lack of tolerance for blind shots.
sports@latimes.com
---
Get our high school sports newsletter
Prep Rally is devoted to the SoCal high school sports experience, bringing you scores, stories and a behind-the-scenes look at what makes prep sports so popular.
You may occasionally receive promotional content from the Los Angeles Times.