Serena and Venus Williams advance to fourth round of U.S. Open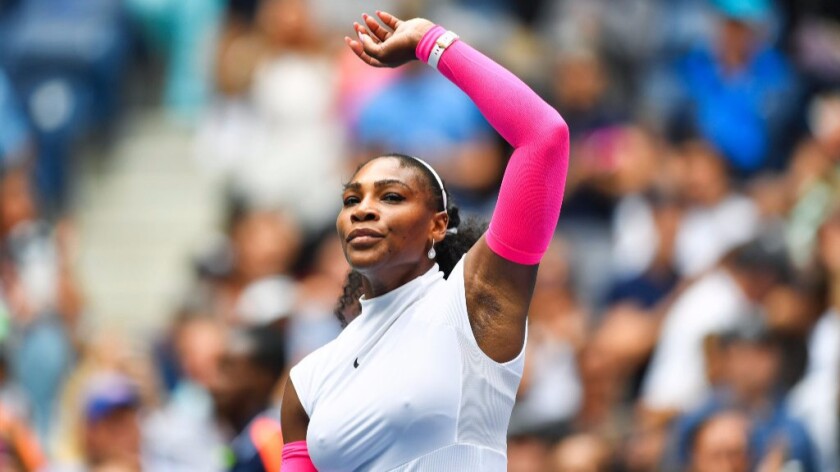 Reporting from NEW YORK —
What do we know now that the first week of the U.S. Open trundled to a close, as the "day matches" seeped into the night-time hours Saturday?
Top-seeded Serena Williams is feeling and playing like Wonder Woman — wearing neon pink sleeves — and hasn't lost her serve in three matches here. She beat Johanna Larsson of Sweden, 6-2, 6-1. Her older sister, Venus, is looking to recapture her wonder years and moved into the fourth round in convincing fashion, defeating Laura Siegemund of Germany, 6-1, 6-2.
Pink must have been the power color of the day. Third-seeded Stan Wawrinka of Switzerland, clad in a mostly pink shirt, showed his veteran resilience against the threat of the talented Dan Evans of Britain, surviving a match point in the fourth-set tiebreaker with a drop volley.
Wawrinka won, 4-6, 6-3, 6-7 (6), 7-6 (8), 6-2, in four hours two minutes in the third round, one of the most compelling men's matches of the tournament. Their day match didn't finish until after 9 p.m. local time. "It was an unbelievable fight tonight," Wawrinka said, adding that he was "lucky" to survive.
"I lost the match because I made the wrong decision on the smash," Evans said of the overhead he failed to put away late in the fourth-set tiebreaker.
Evans, who said he had an injured foot, was within a point of joining second-seeded Andy Murray in the fourth round. But there still are two British players remaining in the men's draw, Murray and Kyle Edmund, who faces No. 1 Novak Djokovic of Serbia on Sunday.
That is one more than the American men. Teenager Jared Donaldson, who was trying to join Jack Sock in the fourth round, went out in straight sets to the ageless serving machine Ivo Karlovic of Croatia, 6-4, 7-6 (3), 6-3. The 37-year-old Karlovic had 14 aces and made the fourth round of the U.S. Open for the first time in 13 appearances.
Donaldson, who was raised in Rhode Island but is living and training in Irvine, won't turn 20 until October and will break into the world's top 100 by reaching the third round here.
There have been relatively few high-profile upsets among the top eight seeded players in the first week. No. 5 Milos Raonic of Canada and No. 7 Marin Cilic of Croatia exited on the men's side, Garbine Muguruza of Spain on the women's side.
Serena Williams came to New York with concerns about her sore right shoulder and has answered those questions, emphatically. On Saturday, it was her 307th Grand Slam singles victory, an Open-era record. She will play Yaroslava Shvedova of Kazakhstan in the fourth round.
"Twenty-two majors — that adds up quickly," said Venus Williams. "She puts the work in. She believes in herself. Between those two, you can't beat 'em."
Of Serena's three opponents, Larsson is the only one to even reach break point. She had one and it was quickly erased by Williams.
Larsson predicted that Serena's journey will get more difficult in the later rounds.
"No one is unbeatable, not Serena Williams either," Larsson said. "She is a great player, but she's not unbeatable. If she's going to win this Grand Slam, she's has to continue playing really well and she has to hit those spots.
"The further in the draw she is coming, the more players have also played her more often, so they know a little bit more what to expect and have probably played on the Center Court with this surface. The matches are probably going to get tougher the longer the weeks go."
With such little suspense on the court, the questions quickly turned to fashion during the post-match TV interview. Williams was asked about her neon pink sleeves on the court and again later in the interview room.
"I feel this design in particular really is kind of like a superhero design," Serena said. "We design so far in advance, honestly I don't remember if that was one of our inspirations.
"Looking at it now, I can say that it definitely feels like a Wonder Woman or Superwoman. Really like a strong powerful character that is strong but yet isn't afraid to be soft at the same time."
That led to the obvious question: And that's you?
"It is me," Williams said, smiling.
Follow Lisa Dillman on Twitter @reallisa
---
Get the latest on L.A.'s teams in the daily Sports Report newsletter.
You may occasionally receive promotional content from the Los Angeles Times.