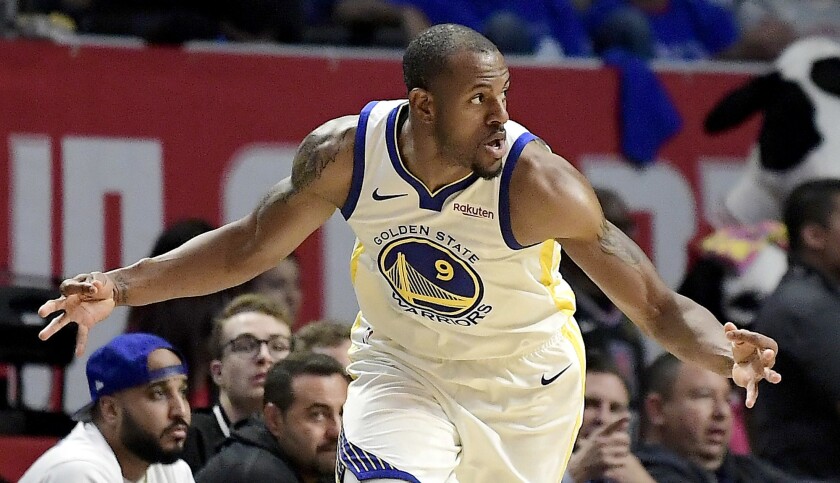 In his 15th NBA season, and fifth consecutive appearance in the NBA Finals, Andre Iguodala knows what kind of balance he needs.
He wants to be comfortable and relaxed as he reaches his sport's pinnacle, but not too comfortable or too relaxed.
"You still want to have that edge about you," Iguodala said.
When his mind needs sharpening, he finds a puzzle to refine his thoughts, or picks up a book. Right now he's reading "The Sports Gene: Inside the Science of Extraordinary Athletic Performance" by David Epstein and listening to the audiobook of "Educated: A Memoir" by Tara Westover.
To question his methods would be unwise — whatever Iguodala does has been working for him. He was the 2015 Finals MVP during the Warriors' first championship run of this era, and since has been a consistent and stabilizing force for his teammates.
On Sunday night in Toronto, it was Iguodala's composure that sealed the Game 2 victory over the Raptors for the rapidly unraveling Warriors and allowed them to tie the best-of-seven series, which continues Wednesday with Kevin Durant still sidelined and Klay Thompson questionable to play.
If the Warriors win their fourth championship in five years, it will be in no small part because of their elder statesman.
"Andre is the guy that kind of sets the tone when it comes to the overall perspective of what we're doing and protecting the conversation around that," Warriors guard Stephen Curry said.
Sign up for our daily sports newsletter »
To hear Iguodala tell it, he wasn't much of a prospect coming out of high school or college, so he didn't think much about his potential career longevity or what type of legacy he could leave. But he did play at Arizona before being drafted with the ninth pick in 2004 by the Philadelphia 76ers.
"I think I've surpassed my expectations from then," Iguodala said. "I don't know. Knowing then what I know now, [my career] probably would have been shorter."
Iguodala spent eight seasons with the 76ers and one with the Denver Nuggets before he arrived with the organization that would turn him into a Hall of Fame candidate, at once likely and unlikely. His physical gifts — the length of his arms in particular — combined with his mental gifts to turn him into one of the most adept defenders in the NBA.
That's why during the 2015 Finals, Warriors coach Steve Kerr made a surprise move that changed basketball history. In Game 4, with the Warriors down 2-1 to the Cleveland Cavaliers, he started the 6-foot-6 Iguodala in place of 7-foot center Andrew Bogut, creating what became known as the Death Lineup.
Two championships later, Iguodala was a free agent, but after meeting with a series of Western Conference teams, he returned to the Warriors on a three-year deal worth $48 million. As he had before, his defense and poise proved critical for the Warriors.
It's what caused Kerr to liken him to a "babysitter" during last year's playoffs by keeping everyone calm — a metaphor that bemused Curry and caused him to wonder during a news conference whether Iguodala could perhaps babysit his own kids.
Iguodala's stats haven't been gaudy in this year's playoffs, but his three-pointer in the closing seconds of Game 2 allowed the Warriors to steal home-court advantage from the Raptors.
"If the things that people say matters, matters, then how couldn't he be a Hall of Famer?" Warriors forward Draymond Green said. "But we got another championship to win, and then everybody will probably just stop with the debate and just go ahead and say it. So I think we should just do that to help y'all out with y'all's debates."
As the oldest player on the Warriors, Iguodala has plenty of wisdom to share with his younger teammates. But he believes firmly that the path he's taken to get here is the journey he needed to make.
That much was clear Tuesday afternoon as he sat for yet another Finals media session. He was asked whether he could humor a reporter by answering question.
"No humor," Iguodala said. After a beat, he smiled.
What would he tell his younger self if he could share some of the wisdom he has now?
"I think it was probably good for me to have not known what I know now," Iguodala said. "I don't know if I would be playing basketball if I knew then what I knew now."
As he spoke, though, something came to him.
"I'd probably tell myself to enjoy it more, going through the process," Iguodala said. "That's about it."
Follow Tania Ganguli on Twitter @taniaganguli
---