Column: NBA Finals: Warriors hobble through chaotic Game 2 to defeat Raptors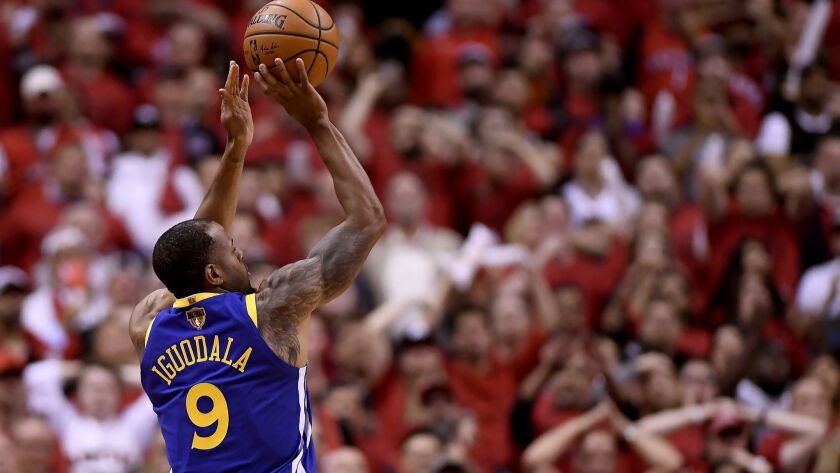 Reporting from TORONTO —
It was chaos. The Golden State Warriors were scuffling, trying to hang on. The Toronto Raptors were desperate, flying around, doing anything to get the ball one last time.
Down just two points, they trapped Stephen Curry, the mid-court line acting as a third defender. He somehow slipped through and threw a pass toward Shaun Livingston. Kawhi Leonard reacted and was so close to intercepting it that Pascal Siakam started to run in the other direction.
The pass barely made it through and Livingston, in maybe the most important moment of the night, found the most open player on the court, Andre Iguodala. And with the game's final seconds ticking away, Iguodala hit a game-icing three-pointer.
Their 109-104 win in Game 2 of the NBA Finals on Sunday was, in so many ways, pure Golden State Warriors basketball.
Kevin Durant still hasn't gone through a practice since injuring his calf and remains unavailable. DeMarcus Cousins had logged only eight minutes in a month and half. Curry struggled with some light-headedness early in the first half. Klay Thompson left the game with a hamstring injury in the second. Backup big man Kevon Looney got knocked out of the game with a shoulder injury.
And Iguodala, the man who hit the big shot, took a big shot earlier in the game on a Marc Gasol screen that left him slow to get up.
But in between all those bruises and strains, the Warriors authored the kind of win that every player who stepped on the court contributed to, the kind of win they'll keep needing if those injuries don't heal quickly enough.
But when things are hardest, the Warriors usually are at their best.
"I don't know if that's a good quality or a bad quality, to be honest," veteran center Andrew Bogut said. "…I guess we sometimes need to be punched in the face before we punch back. But we always find a way."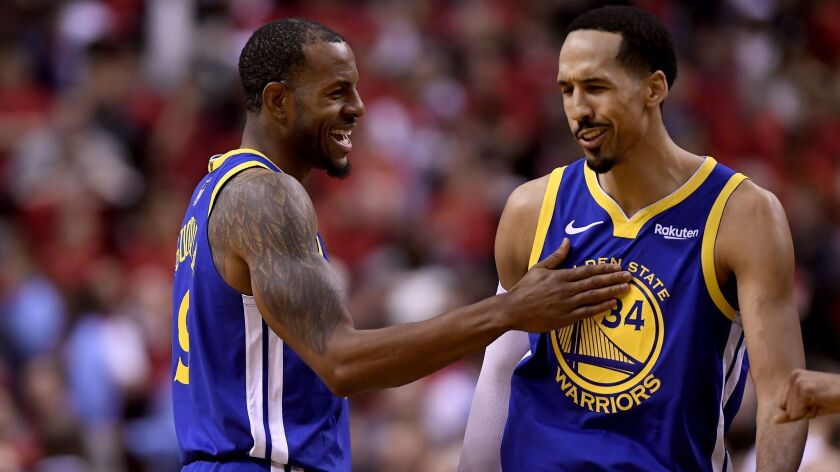 When the Warriors finally start to swing, they sure can connect.
Curry was cold and then he was hot — like Steph Curry hot. He and Thompson scored the Warriors' final 17 points in the second quarter as a 10-point Toronto lead got sliced in half. And then Warriors, as they do, unleashed one of their third-quarter runs, scoring 18 straight points to start the second half and take a 72-59 lead.
"We got stops. We took away their transition buckets and we got transition buckets. ... That's our best offense when we're getting stops and we're pushing the ball," forward Draymond Green said. "Obviously Steph was great in closing out that half for us, and I think we should have been down by a lot more than five points.
"But when you're going into the half down five, we know we can cover that in 10 seconds."
It wasn't quite 10 seconds — but it kind of felt like it.
"Just that third quarter, I feel like it just really killed us — an 18-0 run," Leonard said. "If we can't score no baskets, you're not going to win no game."
Even when the Raptors started to see the ball go through the net, they got hit with a wave of so many different Golden State players. Nine Warriors scored in the second half.
Cousins, whom coach Steve Kerr inserted into the starting lineup, found his rhythm in the second half, with the Warriors outscoring Toronto by 16 with him on the floor. Bogut caught three lobs, guard Quinn Cook hit three three-pointers, and Alfonzo McKinnie and Livingston both made key buckets.
"That's what it takes," Kerr said. "You need your bench, no matter what, but in particular when you've got a lot of injuries."
Golden State ended up assisting on 34 of their 38 field goals. Green had nine to go with 17 points and 10 rebounds. Cousins and Iguodala each had six assists in just 28 minutes.
The Raptors, led by Leonard's 34 points, fought back, focusing all their defensive energy on Curry (23 points) after Thompson (team-high 25) limped off. For more than five minutes, they kept the prolific Warriors from scoring while they trimmed a 12-point lead to two.
And needing the ball, they created chaos. They got the Warriors scrambling. They forced the ball out of Curry's hands. They almost got their steal.
It was almost perfect. Almost.
"You just shoot it," Iguodala said with a grin in front of his locker, ice bags wrapped around his legs.
It's who these Warriors are, a team that's handled almost every test over the last five seasons.
"When you get to this stage," Curry said, "our DNA shows up."
Sign up for our daily sports newsletter »
Durant might not play Wednesday in Game 3. Who knows about Thompson or Looney? Iguodala still will be sore. And Cousins, he'll still be rusty.
But the Warriors will feel good about winning. It's what they do.
Like Curry said, it's just who they are.
Twitter: @DanWoikeSports
---
Get the latest on L.A.'s teams in the daily Sports Report newsletter.
You may occasionally receive promotional content from the Los Angeles Times.