Baron Davis dreams of an NBA comeback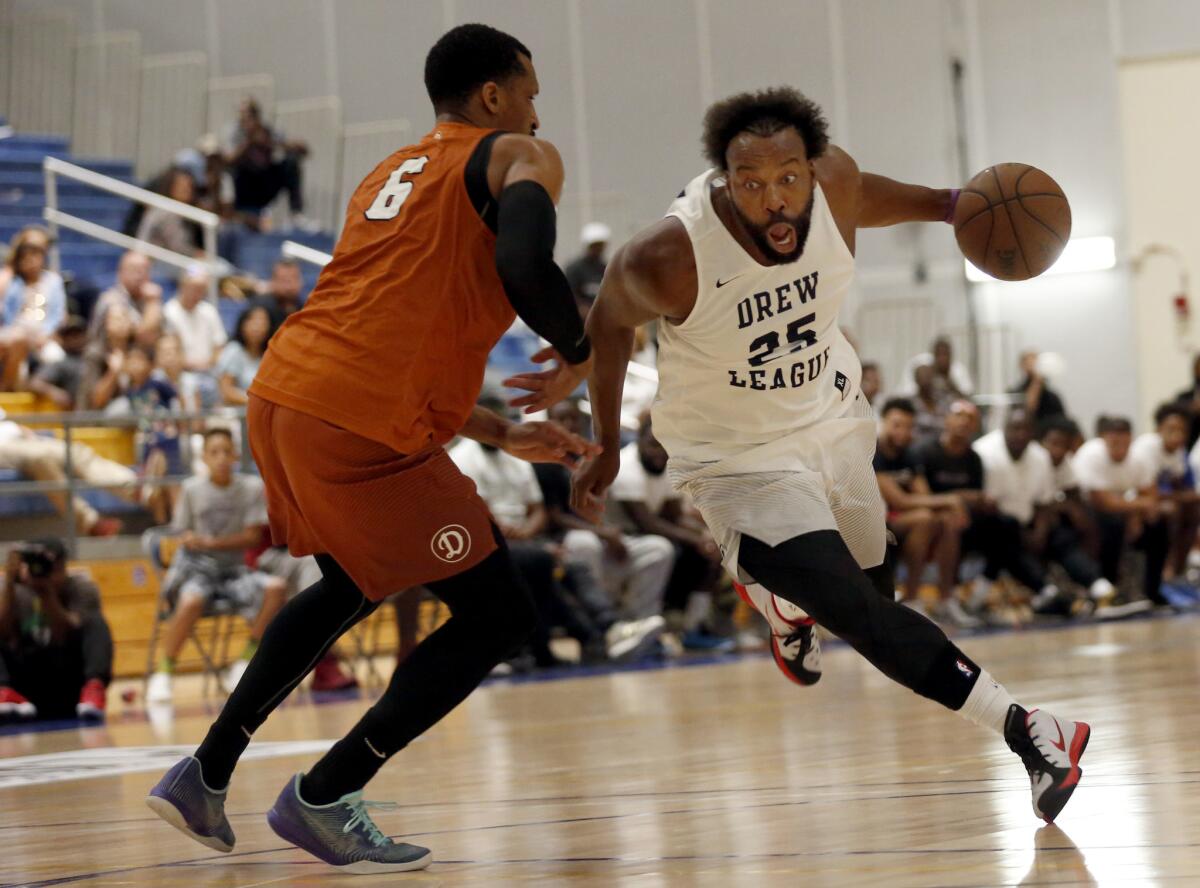 Outside of the high school gym, after signing autographs, taking selfies and laughing through some conversations, Baron Davis sat down and took a deep breath.
It was a recent afternoon at the Drew League in South Central Los Angeles, where Davis has spent hundreds of summer days just like this one. On this day he coached his team, BB4L, to a lopsided win. He then relaxed under a beating sun and an older man asked whether Davis is gunning for one more season in the NBA Developmental League.
"Nah, I'm trying to get back to the NBA," Davis, 37, said. "The real thing."
"You're an inspiration, Baron," the man answered. "If you can do it, I'm starting to think I can do whatever."
Davis flashed that familiar ear-to-ear grin and then dropped his eyes. "Well, let's hope I can," he said quietly. "Let's hope."
It's been four years since Davis' last NBA season, in 2011-12, when after 29 forgettable regular-season games with the New York Knicks and a series of knee injuries, his career ended.
Davis played 13 seasons in the NBA, including with the Golden State Warriors and Clippers, was a two-time All-Star and for much of it was one of the league's top point guards. He couldn't swallow that kind of ending, so his informal comeback started with Sunday morning games at Santa Monica College against players half his age.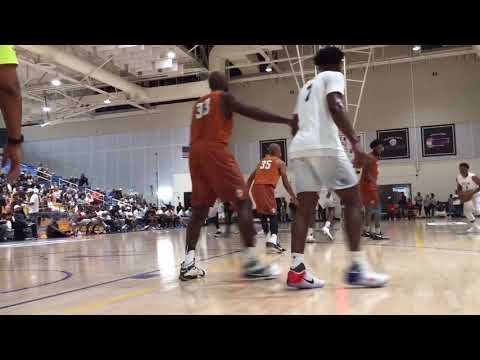 Baron Davis playing in the Drew Leage dreams of an NBA comeback
Once his knees healed and his first step returned, Davis was convinced his tank wasn't empty. Last spring he played six games with the Philadelphia 76ers' D-League affiliate in Delaware and flashed the tools that once made him a standout talent, averaging 12.8 points in 22 minutes a game.
He's been working out, playing in some Drew League games and hoping an NBA team will offer him a workout or a training camp invite.
Charlotte drafted Davis third overall out of UCLA in 1999, and he averaged double figures in scoring for 11 straight years in the NBA. His game peaked in the mid-2000s on Don Nelson's Warriors, when Davis was the leader of the "smurfs," a lineup of small, up-tempo players who kept firing three-pointers.
When he returned home to play for the Clippers in 2008, Davis added some credibility to the lowly franchise until Blake Griffin's arrival.
Davis grew up just a few blocks from the Drew League, one of the best pro-amateur leagues, and he's always used it as a launching pad. He played against grown men there as a teenager to get tougher. He returned in the summer after his lethargic rookie season in Charlotte to remember his roots.
Now Davis walks into King Drew Magnet High School looking to spark the last embers of his basketball career.
"It's full circle. I came to The Drew with big dreams as a kid, and now I have a goal again," Davis said. "I just feel like I have something left to give. When I don't, I'll hang it up and stay away for good. But right now there's something there."
This summer Davis has been a player-coach, and when he gets into a game he takes some possessions off and goes full tilt to the rim on others. He laughed and said his knees aren't an issue — "If they give then I guess my career's over, right?"
"I've told him you may have one bullet left, one bullet left in that chamber," said Dino Smiley, the Drew League's commissioner who has known Davis since he was a child. "And I think you'd be silly not to try to use it."
Even before his NBA career ended, Davis was working on films and his producing credits include an Emmy-nominated documentary, "Crips and Bloods: Made in America."
He was the executive producer of "The Drew: No Excuse, Just Produce" released in 2015, which depicts the league as the heartbeat of Los Angeles basketball. It shows its rise from a small school gym to becoming an institution that's hosted games with Kevin Durant, Kobe Bryant and LeBron James in recent summers.
Davis sprinkled his own story into the documentary — how the Drew gave him a "gangster disposition" on the court and helped shape his NBA career.
Chronicling the league's 43-year history also taught Davis about storytelling and character development. It also made him take a closer look at himself.
"Filming 'The Drew,' thinking a lot about story arcs and all that stuff, I thought about how my career ended," Davis said. "I decided I wanted to try to rewrite that."
In a recent game, Davis' team needed to protect a slim lead and its undefeated record with two minutes left in the game.
James Harden and Lakers guards Nick Young and Jordan Clarkson had played in the game before, so most of the crowd had filtered out. But Davis treated the half-empty gym as if the fans were in Staples Center, Oracle Arena or Madison Square Garden.
He dribbled through a full-court press on two straight possessions. Davis muscled his way through a trap in the corner to set up a wide-open dunk. He used his husky build to draw fouls, and knocked down four straight free throws to secure a win.
Davis was the savvy veteran steering a crowd of young players to the finish. Now all he can do is hope an NBA team wants him to do the same.
jesse.dougherty@latimes.com
ALSO
Carmelo Anthony helps U.S. men pass first test with 98-88 victory over Australia
Russell Westbrook brings a smile to Oklahoma City by signing a contract extension
D'Angelo Russell has another big game and Lakers get another victory in summer league
Get our high school sports newsletter
Prep Rally is devoted to the SoCal high school sports experience, bringing you scores, stories and a behind-the-scenes look at what makes prep sports so popular.
You may occasionally receive promotional content from the Los Angeles Times.