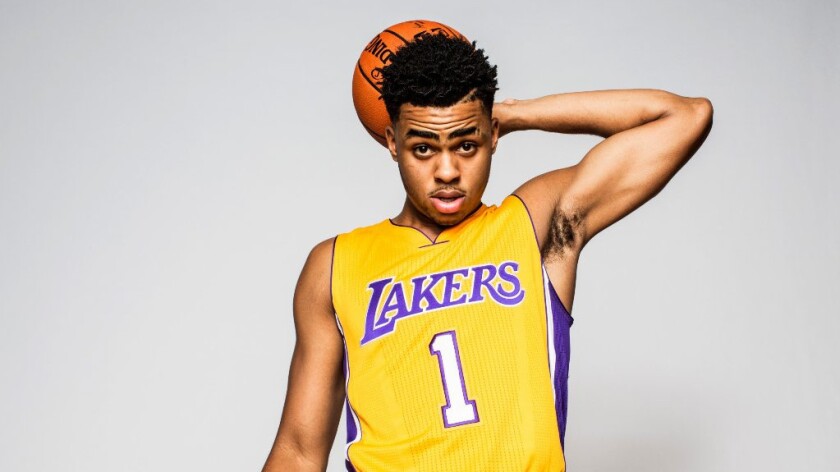 Reporting from Las Vegas —
It's easy to see that D'Angelo Russell is comfortable and confident in what his game can produce.
The summer league has become Russell's personal playground and the site for all three of his exploits has been Thomas & Mack Center.
Russell was back at work again Monday night, delivering a masterful 22-point first-half performance before finishing with 26 points in the Lakers' 78-65 victory over the Golden State Warriors that pushed their record to 3-0.
This summer was supposed to be about the breakout of Brandon Ingram, the Lakers' No. 2 draft pick.
But so far, it has been mostly about Russell, the Lakers' No. 2 draft choice from last season.
"Guys that get the second year under their belt, get the first year under their belt, you come back with a different swag and a different confidence, a different pace to your game," Russell said. "With my pace, I know I'm going to be a point guard. So I've still got to get better every game and treat it like it's a playoff game."
Russell announced himself as being ready for the summer by scoring 20 points in his first game Friday night. He then made everyone take notice of him when he scored 22 points against the Philadelphia 76ers on Saturday night, including the game-winning three-pointer at the buzzer.
Those moments seem small compared to what Russell particularly did in the first half against the Warriors.
He was under control and clearly at ease with all his movements, weaving in and out of traffic, pulling up for a three-pointer with precision.
Russell made seven of 10 shots in the first half, including four of six three-pointers.
He ended his night with five rebounds and one assists. He was nine for 13 from the field, four for seven from three-point range.
Shot after shot had the fans cheering, especially when Russell produced a left-to-right crossover dribble that left his defender in the wrong position and led to an easy layup for the 6-foot-5 guard.
"This is summer league. You can only get better," Russell said. "You can showcase what you've been working throughout the summer."
Ingram, on the other hand, still is feeling his way after playing his third game in four days.
He missed all five of his shots and made seven free throws.
Still, it's easy to see Ingram has skills. He led the fast break and made a nice pass to Anthony Brown for a layup in the first quarter.
But it's also clear that Ingram's 6-9, 190-pound frame is one of his weaknesses.
That was evident when Ingram drove into traffic in the first quarter, but was unable to complete the play when it got physical inside.
"When guys get physical, I think it's important to hit them first before they hit you," Ingram said. "I just try to be aggressive and try to make plays for my teammates when I'm not knocking down my shots."
The pro-Lakers crowd sensed something special might just be on the horizon when 7-1 rookie Ivica Zubac checked back into the game in the second quarter while the Warriors had 7-6, 300-pound center Mamadou N'Diaye on the court.
Zubac caught a pass along the baseline and made an 18-foot jumper over the slow-charging N'Diaye, who played at UC Irvine last season.
Zubac was solid, scoring nine points, grabbing five rebounds and blocking two shots.
MORE SPORTS NEWS
Lakers rookie Ivica Zubac is living his dream of being an NBA player
Dana White pockets millions from UFC sale and will keep running the company
Tim Duncan calls it quits after 19 seasons with the San Antonio Spurs
---