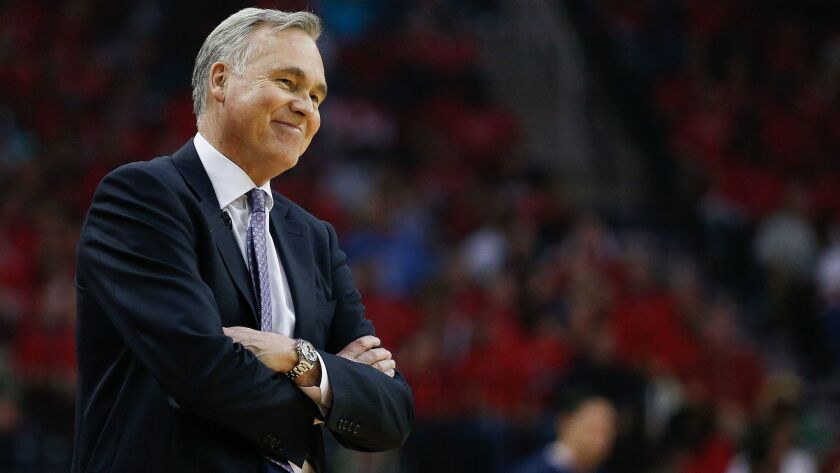 Mike D'Antoni is coaching a second-round NBA playoff team for the first time in 10 years.
Houston's season has turned into vindication at his fifth NBA head-coaching stop. It has enhanced memories of how D'Antoni thrived on his last playoff deep dive in Phoenix and glossed over his sideline struggles with the Lakers and the New York Knicks.
D'Antoni's league-transforming style was embraced for 10 years, but not with the teams he coached, until this season with Houston. As Rockets coach, he fostered James Harden's transformation from All-NBA snub to most-valuable-player candidate, Houston's 14-win bump over last season and the Rockets' competitiveness in a second-round series with San Antonio. The Spurs' 110-107 overtime win Tuesday gave them a 3-2 series lead.
D'Antoni's two-season Lakers riptide did not bode well for another coaching chance, let alone one like his Houston situation. He has front-office synergy and a superstar focal point like he had with Steve Nash — the healthier, MVP-winning Suns version.
The public detractors and internal resistance of past stops did not prompt D'Antoni, 66, to change his pace-and-space basketball beliefs. He clenched them tighter and produced the 10th-most efficient offense of the NBA three-point era, outperforming any of his previous teams.
"Now I know that I will fight to do what we're doing and hold onto it and go down swinging," D'Antoni said. "You want to be successful and do what you do. I didn't want to leave on those two notes [121-167 in New York, 67-87 in Los Angeles]. I feel more at ease and more calm. I'm grateful to this organization that gave me a chance and these players who believe the way I believe."
Appreciation for what D'Antoni instilled in the NBA grew despite his Lakers time. Stretch big men, 100-point league averages, small ball and three-point slinging became commonplace. Golden State won the 2015 championship openly biting off tenets of D'Antoni's fun-and-gun Suns teams.
D'Antoni shook the league landscape with Nash as a ball-dominant playmaker, Shawn Marion and Amar'e Stoudemire as unconventional big men and a notion that the first open three-pointer would be better than most shots created by a methodical half-court set.
Other coaches, including longtime playoff nemesis Gregg Popovich in San Antonio, added their spins to "Seven Seconds or Less." D'Antoni now has done so by moving Harden into the role of pick-and-roll maestro.
"He's really happy to be coaching again and he's really happy that he convinced James Harden that you can score all your points, but also lead the league in assists," said New Orleans coach Alvin Gentry, who was D'Antoni's top assistant in Phoenix. "The success that they're having is mainly because James bought into what Mike wanted him to do.
"Mike's not any different. He's the same coach. He just had to get his personnel together."
Rockets general manager Daryl Morey was the ideal fit when D'Antoni wondered if he would get a chance to coach after not winning a playoff game in New York and Los Angeles.
Ideologies matched up. Morey provided shooters — Eric Gordon, Ryan Anderson and Lou Williams. D'Antoni turned around a 41-41 team into a team with the NBA's third-best record (55-27).
"I always had the edge and wanted to coach, especially after a year of licking my wounds," D'Antoni said. "I didn't think it would happen, to be honest with you. I got lucky. The year where they fire 14 guys in one year, there wasn't anyone else left."
The familiar mustache is gone, but the self-deprecating humor and wide-open, position-less structure remain.
"Everybody bought into him," Rockets power forward Montrezl Harrell said. "We've got a system in place and we know how we want to play."
D'Antoni gives Harden the power to improvise in a potent offense that creates three-point shots out of double teams or sets up mismatches at the rim, much like it did 10 years ago.
"We tiptoed into everything in Phoenix," D'Antoni said. "If we got beat and took 30 threes, everybody said, 'You can't win that way.' Now for the first six months, you tell them, 'Yeah, you can,' to build them up, because the next six months, someone has to reinforce to me that it works. You start wavering a little bit because you want to win and everybody is telling you that you can't do it that way."
D'Antoni said he was most to blame for "blinking" when he bailed on the Suns' distinct look in 2008. He pushed to trade Marion for Shaquille O'Neal that mid-February and resigned from the Suns by the end of that April.
He said he has mellowed and shut out external criticism. He said he is better at handling player personalities, although few coaches will encounter a situation like the Kobe Bryant-Dwight Howard dynamic.
"I enjoyed it," D'Antoni said of his 17-month Lakers stint. "It's still special. I wish it would've been better. I knew Nash was going to be there and I jumped. I just didn't know he was not healthy. We couldn't see the future, him or I. When he went down, it got very complicated. I hate it because you want to be successful. I took it for good reasons and I'd do it again if I had the same information. If I knew how it'd turn out, I wouldn't do it.
"The Chris Paul thing [league-rejected 2011 trade] really set them back. There were a lot of repercussions. Some players were upset. It's not utopia anymore. People get old. Then you're grasping at straws. Now, they're doing the right thing to rebuild. L.A. can get lucky because it's a destination place."
---