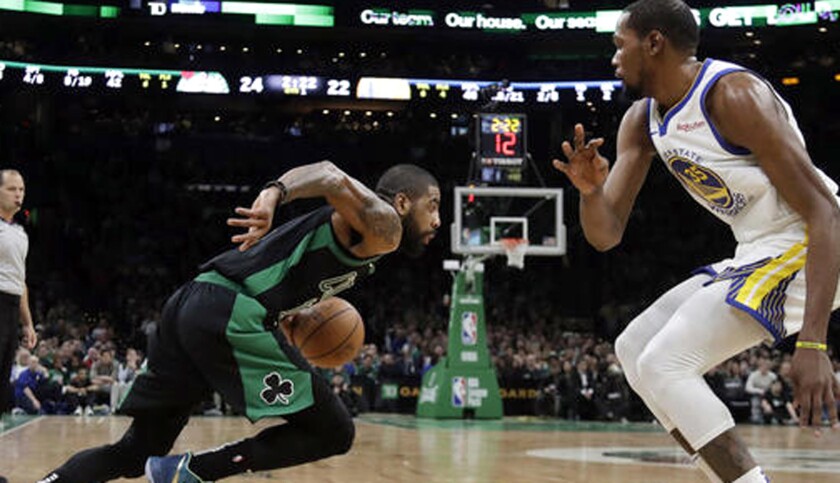 The whispers about Kevin Durant weren't really whispers. They were closer to shouts.
There were shouts from the back hallways of NBA arenas, where general managers and their staffs would huddle before and after games. There were shouts courtside before games when scouts scribble notes and study players during their pregame workouts.
There were even shouts during Golden State Warriors games.
Durant would finish his year with the Warriors. He probably would win another title. And he'd end up playing for the New York Knicks.
It was done. Hands were maybe even shaken, some executives would wonder out loud.
But in the NBA, and particularly in free agency, none of the speculation, predictions and assurances matter until it actually gets here.
Sunday it arrived. Durant is indeed heading to New York. And he'll eventually play in Madison Square Garden … as a visitor with the Brooklyn Nets.
On a day when more than $2.1 billion in contracts was agreed upon, no one made bigger moves than the Nets. In addition to a four-year contract for Durant, Brooklyn also agreed to a four-year deal with Kyrie Irving and a four-year, $40-million pact with DeAndre Jordan.
Both Durant and Irving accepted less than the maximum contracts they originally agreed to, allowing Jordan to commit to Brooklyn too. It was all part of the kind of day that can change the NBA for the next 10 years.
Durant, who ruptured his Achilles tendon during the NBA Finals, is expected to miss most, if not all, of next season. Still, the creation of a new super team in the NBA's biggest market is huge news, especially considering how many people expected something like this to happen across town.
The Knicks had hoped to land Durant and Irving — owner James Dolan boasted about the team's future without naming names in a radio interview in March.
"New York is the mecca of basketball. We hear from people all the time, from players, representatives. It's about who wants to come. We can't respond because of the NBA rules, but that doesn't stop them from telling us and they do," he told "The Michael Kay Show."
"I can tell you from what we've heard, I think we're going to have a very successful offseason when it comes to free agents."
And Sunday, despite agreeing to deals with Julius Randle, Reggie Bullock, Bobby Portis and Taj Gibson, the Knicks felt compelled to issue a statement essentially apologizing to their fans.
"While we understand that some Knicks fans could be disappointed with tonight's news," Knicks president Steve Mills said, "we continue to be upbeat and confident in our plans to rebuild the Knicks to compete for championships in the future, through the draft, targeted free agents and continuing to build around our core of young players."
So much of the reshuffling came in the Eastern Conference, with Brooklyn, Philadelphia, Milwaukee, Indiana and Miami all making big moves.
Jimmy Butler, who had been linked to teams with cap space all over the NBA, agreed to a sign-and-trade sending him to the Heat and giving him another chance to lead a team without other stars. The salary cap math on the trade, which includes Dallas, was still being finalized Sunday night.
Sign up for our daily sports newsletter »
While losing Butler and JJ Redick, who signed with New Orleans, the 76ers added Josh Richardson from Miami in the Butler deal while emerging from the shadows to announce themselves as Al Horford's mystery team, signing the big man to a four-year, $109-million contract. Philadelphia also re-signed Tobias Harris to the second-richest deal announced Sunday, five years and $180 million.
The Pacers (Malcolm Brogdon, Jeremy Lamb) and the Bucks (re-signing Brook Lopez and Khris Middleton and adding Robin Lopez) also made big moves in the East.
While the Los Angeles teams waited for word from Kawhi Leonard, Utah solidified its spot as a contender. Having already traded for point guard Mike Conley, the Jazz added sharp-shooting forward Bojan Bogdanovic and backup big man Ed Davis.
Bogdanovic, in particular, fills a huge need for the Jazz, already one of the top defensive teams. He gives Utah a top-notch shooter and a secondary scoring option alongside rising star Donovan Mitchell.
And as the night wound down, the Warriors, one of the big losers of the earliest hours of free agency, made their move.
First, Klay Thompson got his full five-year, $190-million max contract — something that's been long expected. Then, the Warriors shocked the NBA by pulling off a sign-and-trade with Brooklyn, grabbing the now-expendable D'Angelo Russell, costing them former Finals most valuable player Andre Iguodala (to Memphis) and a future first-round pick.
The old Warriors are now gone, with Stephen Curry, Thompson and Draymond Green left to make it work with a new supporting cast. And Russell, seemingly the Lakers' Plan B, will be part of a dynamic backcourt up the coast.
But even with the late-evening surprise, the biggest impact on the NBA's future came in Brooklyn, with the Nets announcing their intentions to be factors in the title hunt.
People thought this could happen in New York, a city rising up from seasons of despair.
They thought it was ready to regain its place as a "basketball mecca." And when the tweets finally stopped firing Sunday evening, it was — just not in the borough people expected.
Twitter: @DanWoikeSports
---