Lakers blown out again, this time by lowly Suns, 137-101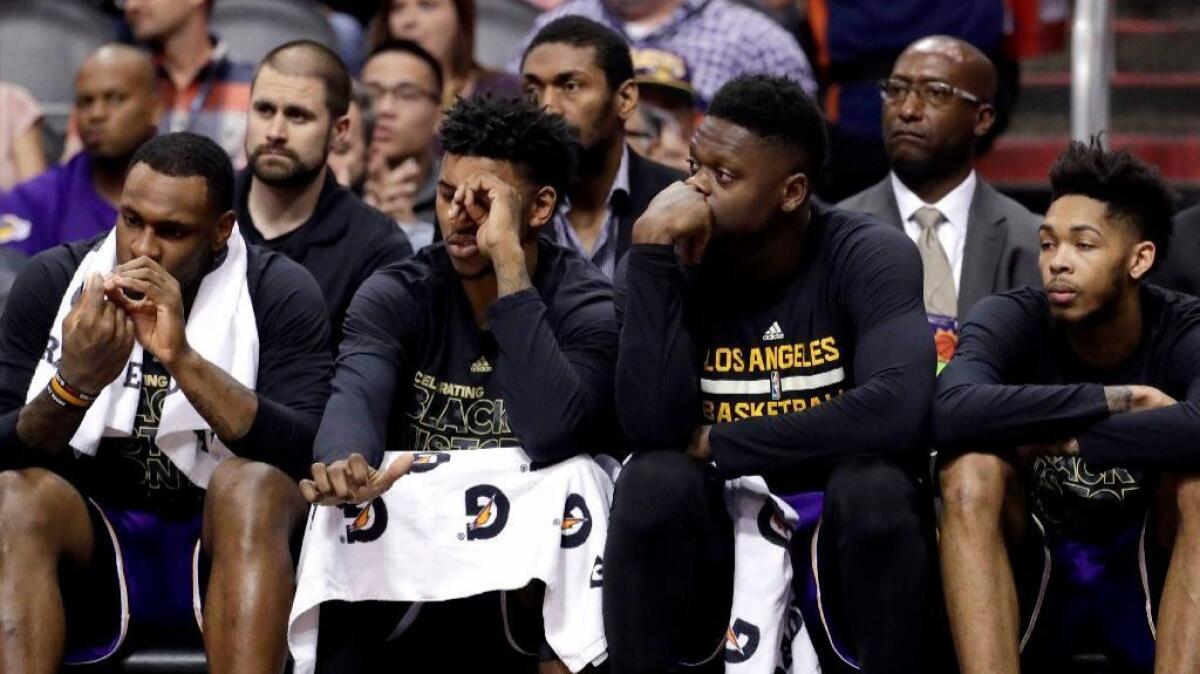 Reporting from phoenix —
There was a hint of disdain in Luke Walton's voice Wednesday night when the Lakers coach was asked about his lengthy team meeting after the debacle that was a 137-101 loss to the Phoenix Suns in Talking Stick Resort Arena.
"There were two messages delivered to the team," Walton said after the helpless Lakers yielded their second-highest point total of the season, "one about the game, or whatever you want to call it that we just played, and one about where we are at the All-Star break."
Their bodies fatigued on the second night of a back-to-back and their minds seemingly in All-Star-break mode, the Lakers fell behind by 22 points in the first quarter, 30 points in the third, and never challenged the Suns, one of only two teams with a worse record than theirs.
Guard Eric Bledsoe had a triple-double, with 25 points, 13 assists and 10 rebounds, and guard Devin Booker added 23 points on nine-of-14 shooting to lead the Suns (18-39) to their largest margin of victory against the Lakers in series history.
And it all seemed so easy, with the Suns throwing down 15 dunks, many on alley-oop passes, scoring 60 points in the paint and outscoring the Lakers 41-16 in fastbreak points. Phoenix had huge edges in rebounds (59-36) and assists (32-16) and shot 55.7% (49 of 88).
"We came out flat from the very beginning," reserve forward Larry Nance Jr., said. "We had no energy. It was a lack of effort from everybody. It wasn't one single person, one single unit, it was an entire team letdown tonight."
Lou Williams and D'Angelo Russell each scored 21 points and Jordan Clarkson had 15 for the Lakers (19-39), but Nick Young and Brandon Ingram combined to make three of 17 shots for eight points.
"What we've been warning about, not going on All-Star break early, I felt like we did," Walton said. "Not everybody. We had some guys who showed up ready to play and competed, which is the only thing that is acceptable, really.
"It's an honor and a privilege to play in this league. We have a great fan base, a great organization. We're gonna lose games, but when we give in like that and don't play with a certain competitive level, that's not right for anybody."
The Lakers don't play again until Feb. 24 at Oklahoma City, giving them a full eight days to stew over Wednesday's blowout. This one, which went sour soon after the opening tip, won't sit well.
The Lakers made five of 19 shots (26.3%) and missed all five of their three-point attempts while falling behind 32-15 in the first quarter. They didn't make their first field goal until Russell's 17-foot jumper with 7 minutes 43 seconds left.
The Lakers turned the ball over eight times in the period, leading to 10 Phoenix points. The Suns manhandled the Lakers inside, scoring three times on alley-oop dunks.
The Lakers rallied a bit in the second, twice trimming the deficit to 11, but Booker hit a pair of three-pointers and Marquese Chriss dunked off a Bledsoe alley-oop from near midcourt. Bledsoe banked in a 41-foot shot at the buzzer for a 68-48 Suns lead.
Were the Lakers more mentally or physically fatigued?
"It looked like both, honestly," Walton said. "Mentally, we weren't locked in on what we wanted to do, and physically, they seemed to beat us up out there. We weren't hitting, tagging cutters, boxing out on rebounds."
Even with the score well out of hand in the fourth quarter, an exasperated Walton called two timeouts in the final three minutes to chew out his players.
"If we're gonna go out there and do that, even if we're down by 30, what's the point?" Walton said. "We're not learning anything from that. The timeouts were to remind them that these are still opportunities to get better, let's not waste them."
Twitter: @MikeDiGiovanna
Get our high school sports newsletter
Prep Rally is devoted to the SoCal high school sports experience, bringing you scores, stories and a behind-the-scenes look at what makes prep sports so popular.
You may occasionally receive promotional content from the Los Angeles Times.