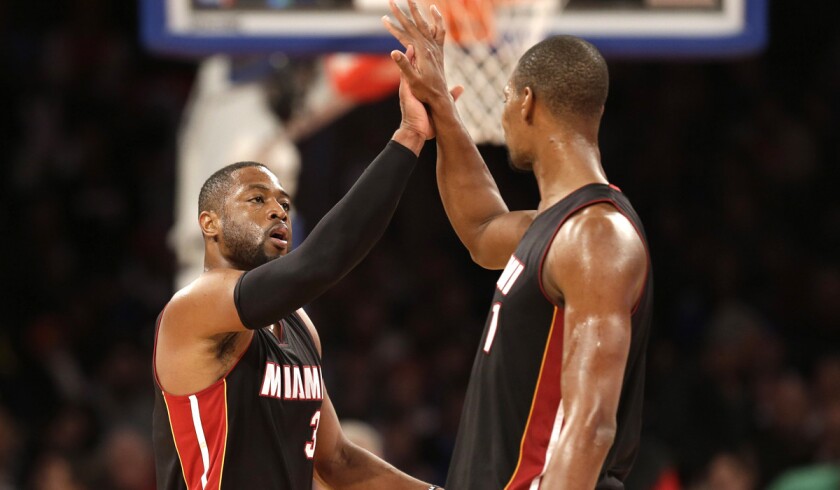 Dwyane Wade returned from a seven-game absence to score 27 points — 13 in the fourth quarter —as the visiting Miami Heat beat the New York Knicks, 86-79, on Sunday night.
Chris Bosh added 20 for the Heat, including a crucial three-pointer with 1:07 left as Miami held off a late New York rally.
Carmelo Anthony also returned after a two-game absence because of back spasms to score 31 points for the Knicks. Amar'e Stoudemire finished with 19 points and 12 rebounds
After trailing by as many as 16, the Knicks pulled to within two, 65-63, on Tim Hardaway Jr.'s layup with 9:22 left in the game.
Wade then followed with a baseline jumper and scored 12 of Miami's next 15 points to help the Heat maintain the lead.
However, after the Knicks again pulled to within two, 79-77, on Stoudemire's tipin with 1:23 left, Bosh hit his three-pointer and New York never got closer.
The Heat led the entire game, getting out to a 10-2 lead and never relinquishing it.
San Antonio 111, at Boston 89: Danny Green scored 18 points and Coach Gregg Popovich returned from a two-game absence to lead the Spurs to their seventh straight victory. Popovich returned for the opener of a four-game trip after missing two games following an undisclosed minor medical procedure.
Memphis 97, at Sacramento 85: Zach Randolph had 22 points and 12 rebounds, Marc Gasol added 18 points and six rebounds and the Grizzlies held off a late rally to beat the short-handed Kings for their fifth straight win.
Golden State 104, at Detroit 93: Draymond Green scored 20 points and Stephen Curry added 16 points and 10 assists to help the Warriors beat the Pistons for their ninth straight victory. The Pistons have lost eight in a row, the longest streak of Stan Van Gundy's coaching career.
Orlando 93, at Phoenix 90: Tobias Harris scored 21 points and the Magic held off a late Phoenix rally to beat the Suns and snap a four-game losing streak. Nikola Vucevic added 18 points for Orlando, which led by 16 early in the fourth quarter before Phoenix cut it to three with 1:02 to play.
Chicago 102, at Brooklyn 84: Jimmy Butler had 26 points and Pau Gasol had 25 points and 13 rebounds, leading the Bulls past the Nets. Derrick Rose had 14 points and reserve Nikola Mirotic chipped in 12 points and 12 rebounds for the Bulls, who capped a seven-game, 14-day trip with their second straight win.
at Portland 107, Minnesota 93: LaMarcus Aldridge had 26 points and 15 rebounds to pace the Trail Blazers in a victory over the short-handed Timberwolves.
---