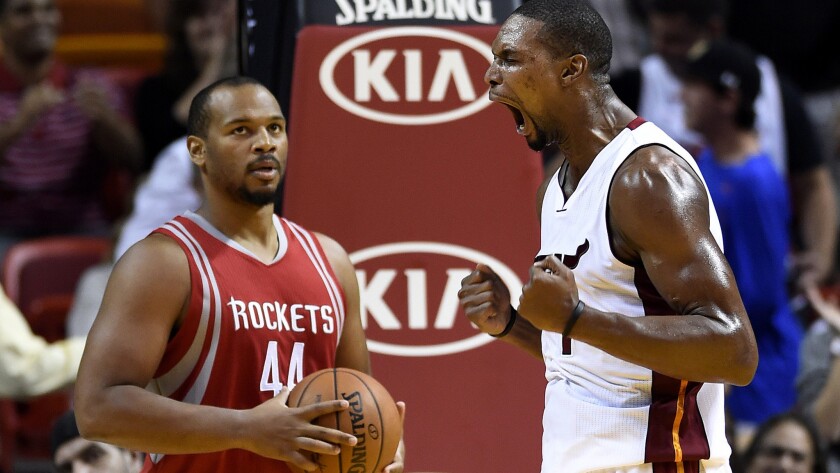 The first half was a blowout. So was the second half.
The only difference was which team was rolling.
Down by 19 at the half and 21 points early in the third quarter, the Miami Heat used a 21-1 run in the fourth quarter to turn what looked like a bad loss into a big win.
Hassan Whiteside had 25 points and 15 rebounds, Chris Bosh scored all 10 of his points in the fourth and the Heat went on to beat the Houston Rockets, 109-89, on Sunday night.
Dwyane Wade had 20 points and eight assists, and Luol Deng scored 14 points for Miami — which outscored Houston by a staggering 65-24 margin in the final 23 minutes. It was Miami's largest comeback win since a 27-point second-half rally at Cleveland during a 27-game winning streak, on March 20, 2013.
The Heat got an angry halftime talk from tri-captain Udonis Haslem, and responded.
"UD," Wade said. "That's all I got to say. UD got on us like a captain should."
Marcus Thornton scored 21 points for Houston, and James Harden had 16. The Rockets have dropped their first three games of the season — all by exactly 20 points each.
Houston's Dwight Howard sat out to rest on the first night of a back-to-back.
Atlanta 94, at Charlotte 92: The Hornets had a chance to tie the game at the buzzer, but Kemba Walker's 17-footer from the left wing hit the back rim and bounced out. Kent Bazemore scored 20 points and Al Horford added 16 points and 12 rebounds for the Hawks.
San Antonio 95, at Boston 87: The Spurs opened a double-digit lead early in the game and held off the Celtics' charges the rest of the way. LaMarcus Aldridge had 24 points and 14 rebounds and Kawhi Leonard added 19 points for the Spurs.
at Toronto 106, Milwaukee 87: Dwane Casey got his franchise-record 157th win as coach of the Raptors, in his 315th game with the team. Jonas Valanciunas had 19 points and eight rebounds.
at Chicago 92, Orlando 87: Pau Gasol and Nikola Mirotic each scored 16 points and the Bulls withstood a late surge from the Magic.
at Oklahoma City 117, Denver 93: Kevin Durant scored 25 points, making eight of 11 field goals and six free throws, to help new coach Billy Donovan stay unbeaten in the NBA. The Thunder shot 52% from the field, and all five starters rested for the entire fourth quarter.
---