How DeMar DeRozan got over dejection and bought into the Spurs
Reporting from Phoenix —
Tim Duncan isn't there, banking in 15-foot jumpers. Manu Ginobili isn't Euro-stepping his way to the basket. Tony Parker is wearing the teal uniforms of the Charlotte Hornets. Danny Green and Kawhi Leonard are playing for the Toronto Raptors.
None of them is on the court Wednesday morning in Phoenix when the San Antonio Spurs go through a pregame shootaround. They won't be there when they get blown out by the lowly Suns later that night. And they won't be there when they lose in Los Angeles to the Clippers a night later.
It's clear as crystal: These Spurs aren't those Spurs.
But in the transition from a two-decade fixture in the postseason to a team trying to figure exactly who it is, there's energy in the change. Fueling that is a star guard who is regrouping from being discarded and one of the NBA's most revered coaches.
DeMar DeRozan's arrival in San Antonio has helped excite coach Gregg Popovich with the hope that DeRozan can be the next great Spurs player and keep the team in playoff contention.
"Basically, he's gotten over himself," Popovich told the Los Angeles Times. "That's something I've said for 20 years. People who have gotten over themselves, you can tell after three minutes of conversation whether it's about them or they understand the group. If you've gotten over yourself, you're more ready to be part of a group, be part of a team, enjoy someone else's success, feel responsible to somebody else, teammate to teammate, and not want to let them down.
"You can tell that very quickly."
DeRozan could tell very quickly that he landed all right after being traded from Toronto, a place where he'd built a home as a professional, for Leonard and Green. The move was emotional, full of hurt feelings and miscommunication.
DeRozan had shown his loyalty to Toronto, signing a long-term contract. Had the trade not happened, he'd have been the one popping up at Raptors practices after he retired, the way Duncan and Ginobili do in San Antonio.
Popovich tried to address all of that immediately.
"When the trade first happened, he was pretty dejected. He was not a happy camper," Popovich said. "And I didn't know him personally, so I wanted to make him feel like he was at home."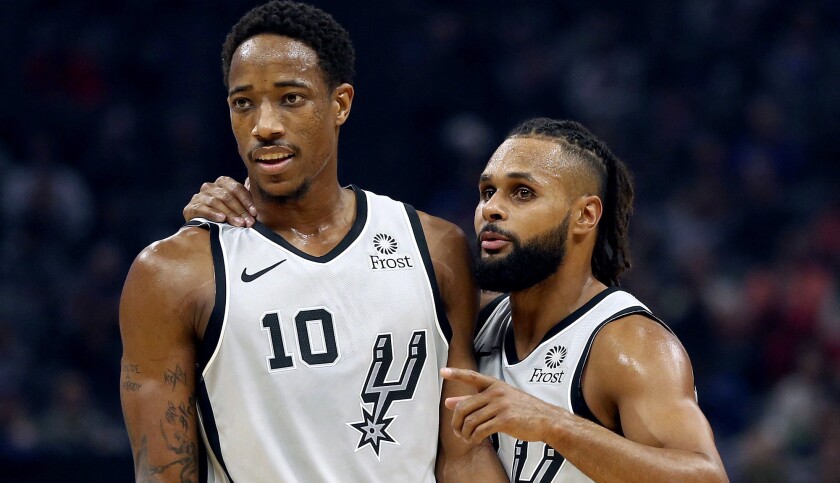 In their first conversation, DeRozan said he started to feel that.
"The night when I got traded, he made it known to me: 'We didn't trade you; we traded for you. We wanted you.' Just hearing those words from him made everything else, from there on out, as easy as possible," DeRozan said.
The early season for the Spurs hasn't been easy. They lost starting point guard Dejounte Murray to a season-ending injury. Center Pau Gasol has dealt with a foot injury. All-Star forward LaMarcus Aldridge is having the worst shooting season of his career.
The Western Conference is a minefield, full of more playoff-caliber teams than there are playoff spots, meaning the Spurs' 21-year streak of postseason appearances might not last another season.
The team's struggles so far don't fall on DeRozan's shoulders. He's averaging more than 25 points, six rebounds and six assists a game — one of three players in the league doing so. The other two? LeBron James and Kevin Durant.
The assists in particular are a change. DeRozan's on track for a career high, a sign to Popovich that DeRozan has bought in to making the extra pass, a tenet of the Spurs' system.
"I'm trying to be a better playmaker, trying to be a better player overall," he said. "There are things I try to add to my game every year. I'm just trying to be better and wanted to be conscious about it."
Added Popovich: "He wanted to fit in. He wanted to involve everyone and let them know he was for the group. All of sudden, he's getting assists. He's rebounding. More than anything, that told us that he was going to be able to do this."
At that shootaround without Duncan, Ginobili, Parker or any of the other Spurs legends, Popovich found DeRozan sitting by himself in the front row of the stands at center court.
Popovich plopped down next to him and they spoke, with Popovich walking onto the floor to illustrate his point. DeRozan's eyes were locked on the coach, his right hand on his chin, as he soaked in every word.
"The respect level was always there. And when you have respect for a person, everything after that is simple," said DeRozan, who's also spoken with Duncan and Ginobili. "I've always been a fan of Pop and he always gave me the upmost respect as a player and a person. Combing those two things make it simple. I just want to learn every time I have a conversation with him."
Working with a star with whom he doesn't have a decade-long relationship has energized Popovich.
"It's very refreshing. It really is," he said. "We were on auto-pilot, relationship-wise, since I had been with those guys for so long."
Popovich and DeRozan spoke after the trade in Las Vegas, where both men were for Team USA's training camp. Popovich knew DeRozan was stung by the trade. He wanted to tell him about the Spurs, their system, their expectations.
He asked DeRozan about his family, about growing up in Compton, about playing at USC. He offered to help DeRozan once he got to Texas, to let him know about the best restaurants in town.
It was the kind of conversation that has defined Popovich's relationships with his players for more than 20 years. It was about trying to form a bond like he had with so many players in the past.
"It was just getting to know somebody," Popovich said. "The basketball court is one thing, but I don't think guys really give totally unless they really believe that you care about them. Knowing what he went through with that trade, I wanted him to know that we cared.
"I wanted him to feel like he was joining a family."
Twitter: @DanWoikeSports
---
Get our high school sports newsletter
Prep Rally is devoted to the SoCal high school sports experience, bringing you scores, stories and a behind-the-scenes look at what makes prep sports so popular.
You may occasionally receive promotional content from the Los Angeles Times.