NBA Fastbreak: The Warriors' Durant-Green saga puts a new spin on team's future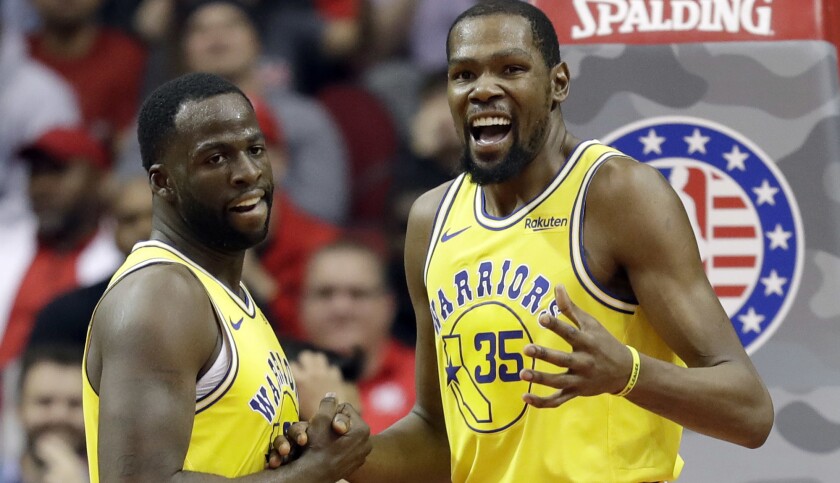 In a conversation with the Los Angeles Times earlier this month, Golden State forward Kevin Durant praised the Warriors' ability to tackle anything head-on, whether it be criticism from the ex of a Black Eyed Peas singer, the burden of chasing a third title in a row, hunting a record or trying to win an end-of-the-season award.
What the Warriors won't do, Durant said, is hassle him about his pending free agency.
"That's business. We don't get into anyone else's business," he said that day. "There's money involved in that stuff. Everything is involved, your life is involved, free agency, a new contract. I don't think guys overstep those boundaries when it comes to that."
Those boundaries were most certainly overstepped on Monday.
Durant had an in-game argument with Draymond Green that escalated to the point which Green reportedly told Durant to "leave" already, in addition to tossing some colorful language his way after a botched late-game possession. The argument spilled into the locker room after an overtime loss to the Clippers.
While in-game arguments and locker-room shouting matches happen, sometimes more passionate than this one, the Durant-Green clash had fascinating fallout.
The Warriors suspended Green for one game without pay — a six-figure deduction — and had to deal with the uncomfortable aftermath in a variety of awkward interviews and news conferences.
Following the suspension, despite everyone trying to put on their best faces, the Warriors got blown out by Houston. After the game, Durant chided a reporter for asking him about his relationship with Green, saying, "Don't ask me that again." Green told reporters he would be offering no apologies and that the team was "moving forward."
When he spoke to The Times earlier this month, Durant said he loved his experience with the Warriors, that the team's culture allowed for everyone to be themselves.
Durant is right to be upset that his future would come up in the middle of a game or even in the locker room. But that's who the Warriors are — from Green, to Stephen Curry's grandstanding, to Klay Thompson's swagger.
"We're not that sensitive of a team," Thompson told The Times.
If Durant isn't fully comfortable in that ecosystem, come July, he might opt out of his contract and play elsewhere.
You say goodbye, they say 'Melo
Houston cut bait with Carmelo Anthony this week, issuing a statement saying the veteran (and future Hall of Famer) would no longer be a part of their team. The Rockets are expected to either trade (good luck) or waive Anthony sooner than later.
His time with the Rockets is further indication that there's not a lot of faith in his ability to transition into a role player — and a reminder that the NBA isn't really keen on aging scorers.
"Anyone can get you 13 points," one NBA executive said, citing the the game's breakneck pace and the boom in three-point attempts.
A lot of NBA folks are guessing where Anthony might land, with three spots coming up the most — the Miami Heat, the Lakers and the Washington Wizards. And no one knows if one or any of those teams are interested.
Inside the NRA, er, NBA
An early favorite for the head-slapping story of the year: According to a report by Miami-based radio host Andy Slater, Heat center Hassan Whiteside bought a $50,000 M-16 rifle, only to leave it in his unlocked Rolls Royce, from which it was stolen. It was later recovered.
Whiteside confirmed the gist of the story in a team-issued statement. "I have a license for the gun that was stolen from me over the summer. I should have secured it better and I'm glad it was recovered. It won't happen again. It is now locked in a safe and I only use it at the gun range."
Tip-ins
The hottest team in the NBA is the Oklahoma City Thunder, who have put together the second-best defense without their top perimeter defender, Andre Roberson, who isn't scheduled to return until December. … Brooklyn got good news when the Nets discovered guard Caris LeVert's gruesome foot injury was merely a dislocation and wouldn't require surgery. LeVert, who could return this season, had looked like one of the most improved players in the NBA this season, averaging 18.4 points a game to lead the Nets. … The Lakers will be without Rajon Rondo for at least four weeks after he broke his hand, while the player who replaced him in New Orleans, Elfrid Payton, fractured a finger in his first game back after missing nine because of an ankle injury.
Twitter: @DanWoikeSports
---
Get our high school sports newsletter
Prep Rally is devoted to the SoCal high school sports experience, bringing you scores, stories and a behind-the-scenes look at what makes prep sports so popular.
You may occasionally receive promotional content from the Los Angeles Times.