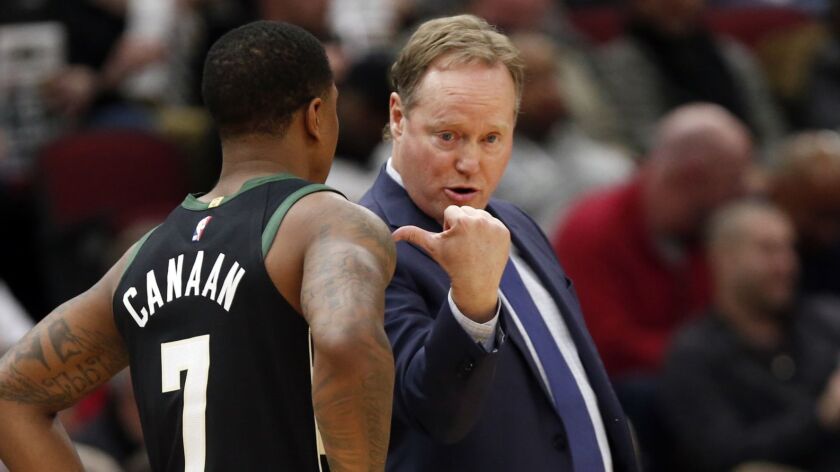 The Milwaukee Bucks had a pretty eventful Friday.
Not only did they beat the Lakers in Los Angeles on national television, give guard Eric Bledsoe a four-year contract extension and become the first team in the NBA to clinch a playoff spot, but they also agreed to sign Pau Gasol to a deal once he passes through waivers after the San Antonio Spurs bought out his contract.
It was the latest round of victories for general manager Jon Horst and the Milwaukee front office that's enjoying a franchise-altering season.
For a team that's done a lot of things right to get to this point — scout, draft and develop Giannis Antetokounmpo, for starters — no decision in the last year has played a bigger role in the Bucks' success than hiring coach Mike Budenholzer.
Watching Milwaukee against the Lakers, it was impossible to ignore just how big of a stylistic change the team has undergone. Under Budenholzer, thanks to some savvy moves in free agency and on the trade market, the Bucks are no longer like Milwaukee teams of old. They're almost unrecognizable.
Milwaukee, once a team averse to taking three-point shots, has transformed into one of the league's top launching pads, second only to Houston in threes attempted per game.
By surrounding Antetokounmpo with four capable three-point shooters, driving lanes are more open than they should be for someone as good as the "Greek Freak." Even on a night when they don't shoot well, like Friday, the threat of three-point shooting can make a difference.
Sign up for our daily sports newsletter »
With the Lakers spread from sideline to sideline, Antetokounmpo, Bledsoe and the underrated Malcolm Brogdon cut through their defense in the fourth quarter, pulling away from an L.A. team that had rallied to take the lead and silencing the home crowd.
Antetokounmpo is the closest thing to LeBron James in terms of a singular offensive force when it comes to drawing attention off the dribble. The Lakers, on the other hand, added playmakers and ball handlers around James in the offseason.
Maybe with different priorities, the Lakers could've been a team threatening defenses with shooters all over the perimeter.
Instead it's the Bucks.
Game of the year
If the best game of the season happens between two lottery teams on a night when top playoff teams battle one another, does it get noticed?
Turns out, it sure does.
For everything that happened during a wild week, the wildest action took place in Atlanta on Friday between the Hawks and the Bulls, with Chicago winning 168-161 in four overtimes.
It was the highest-scoring game since 1982 — and the third highest-scoring NBA game ever — with Atlanta's Trae Young becoming the second player in league history with as many as 49 points and 16 assists in a game.
Young pushed his scoring average to 18.3 points and his assist to 7.8. Only three other players in NBA history have averaged those numbers before turning 22 — Isiah Thomas, Magic Johnson and Stephon Marbury.
And yet Young almost certainly will finish second to the Dallas Mavericks' Luka Doncic for rookie of the year.
The Bulls, who suddenly have started winning games, had three players score more than 30 against the Hawks, including new acquisition Otto Porter Jr.
Turns out letting players and teams grow while competing is a lot more fun than outright tanking.
Tip-ins
Speaking of Doncic, the Clippers did a pretty good job defending him in a win — at least until you saw the stat sheet. Doncic, who turned 20 three days after the game, had his fourth triple-double with 28 points, 10 rebounds and 10 assists. … One interesting idea coming out of the annual MIT Sloan Sports Analytics Conference is commissioner Adam Silver saying that reducing the season from 82 games to 70 could make sense if the league could figure out other ways to generate the revenue teams would forfeit from six fewer home games. No changes are imminent but Silver seems at least open to such ideas. … James Harden's streak of consecutive 30-point games ended at 32, the longest streak for a guard in NBA history. Wilt Chamberlain scored at least 30 in 65 consecutive games.
Twitter: @DanWoikeSports
---