NBA Fastbreak: As the playoffs approach, the Trail Blazers again find a path there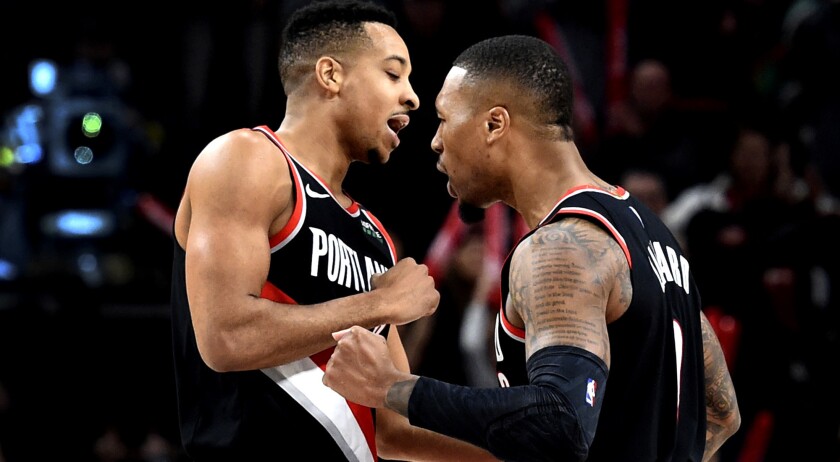 Here they are again, the Portland Trail Blazers, set to enter the NBA playoffs with one of the strongest senses of self in the NBA.
With their backcourt of Damian Lillard and C.J. McCollum, and with coach Terry Stotts, Portland is competing with Houston and Oklahoma City for the third seed in the Western Conference. This would be the Trail Blazers' sixth consecutive playoff appearance, no minor feat considering the strength of the West and their challenging post-All-Star break schedule.
The Trail Blazers were on the road for their first seven games following the break, and Saturday night at San Antonio they completed a stretch in which they played 12 of 15 away from home. They went 9-6.
They know how to win, and every season they manage to do it. They have a shot at reaching 50 wins for the first time since 2014-15, an answer to preseason critics who thought the Trail Blazers were set to fall out of the playoff picture after a bad 2018 postseason and tepid offseason while rivals made big improvements.
Clippers coach Doc Rivers knows what it's like because he's been through it too.
"Last year, the playoffs didn't go the way they wanted it to go, and, obviously, this year, there will be more pressure on them. That's what happens," Rivers said before his team lost to Portland last week. "You feel that. We felt that here with our guys. Every time you don't do something, the following year, everyone is talking about it before it starts. I'm sure the players felt it as well."
Like Rivers' Lob City Clippers, the Trail Blazers have had their share of postseason disappointment, and last season they were swept by New Orleans. But instead of making major changes, they tried to find ways to improve their team on the fringes.
Sign up for our daily sports newsletter »
They acquired Rodney Hood at the trade deadline to add another scoring threat on the perimeter. They signed center Enes Kanter after he was released last month by the New York Knicks to give them a scoring presence in the paint.
But for the most part, they're the same. And that, Stotts said, is OK.
"It starts with the quality of players as people. They're just good guys. We don't have a lot of drama," he said. "We go about our business. It's tough keeping things fresh but also respecting the routine of the NBA season and what you need to do.
"Sometimes, the continuity can be a positive. And yeah, sometimes, you need to change things up. But we've been fortunate that this group has played well together for a few years."
However, McCollum suffered a left knee injury Saturday night; he'll have an MRI on Sunday. If it proves serious, and is the precursor to another disappointing end to Portland's season, that continuity might not mean much.
It didn't to the Clippers, who started to disassemble their roster after repeated playoff failings, including one against Portland.
The Pacers keep, um, pace
When Indiana lost All-Star guard Victor Oladipo in late January, the presumption was that it meant the Pacers' season was essentially over. They were already seen as overachievers, and subtracting their best player would surely be too much to overcome.
It hasn't been. Since the injury, the Pacers are two games over .500 thanks to stellar play from Bojan Bogdanovic, who is averaging more than 21 points since Oladipo went down.
Coach Nate McMillan, who will be in town next week with the Pacers, deserves as much consideration for coach of the year as anyone by helping keep Indiana in prime position in the East.
Tip-ins
Milwaukee guard Malcolm Brogdon has a small tear of the plantar fascia in his right foot. The typical recovery time is six to eight weeks. ... Chicago guard Zach LaVine has been one of the league's top scorers in March, averaging 30 points per game. Whether or not he's a "good numbers on a bad team" guy, which is how most scouts see him, he's been very productive. … What a horrible week for Knicks owner James Dolan, who had his thin-skinned behavior captured on video when he banned a fan who told him to sell the team, and on radio when he doubled down on his wild treatment of the New York Daily News, whose reporters have been excluded from media events because of the tone of their coverage. If the Knicks are selling stability in free agency this summer, they might need to change course. … Julius Randle scored 45 points to go with 11 rebounds and six assists Friday night — the best game of his career. He's just the fourth player this season with at least 45-11-6, joining Blake Griffin, Kevin Durant and Paul George.
Twitter: @DanWoikeSports
---
Get the latest on L.A.'s teams in the daily Sports Report newsletter.
You may occasionally receive promotional content from the Los Angeles Times.