Golden State Warriors have chance to do what the 2001 Lakers almost did — go unbeaten in the playoffs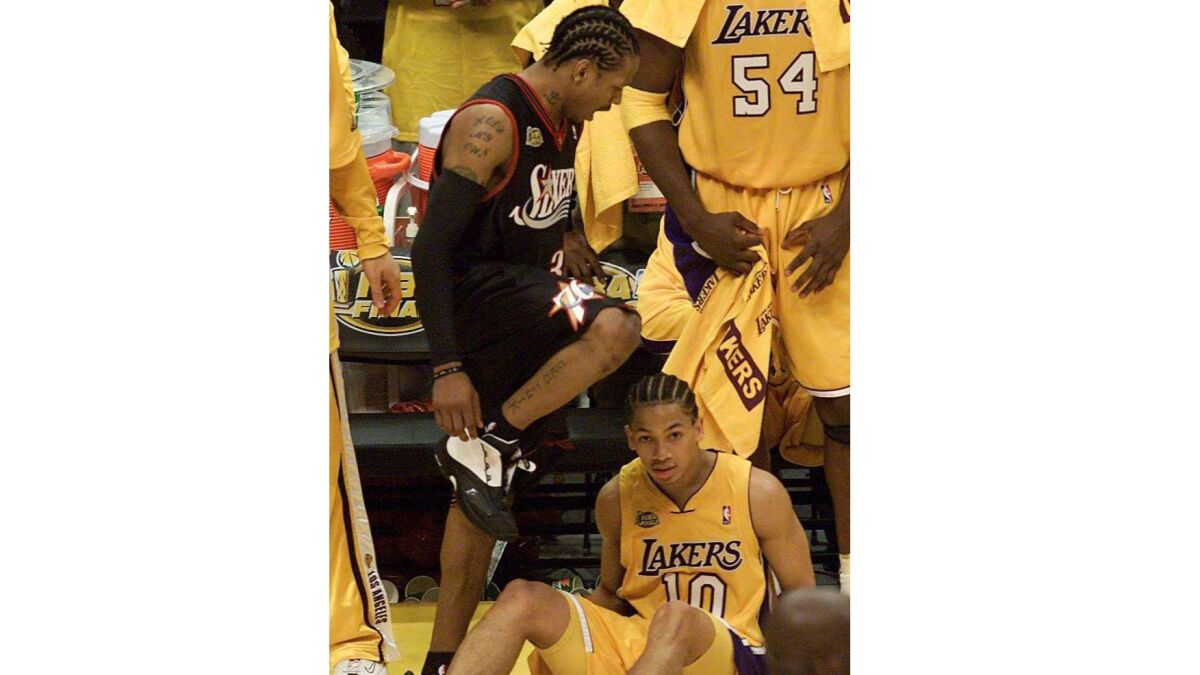 Reporting from Oakland —
The last time a team breezed its way into the NBA Finals with a perfect record in the first three rounds of the playoffs, that team's most memorable game came next.
It came in a loss that jerked them awake.
And the most indelible image of that was Allen Iverson taking a dramatic step over over plucky Lakers guard Tyronn Lue, who had harassed him in the fourth quarter and overtime.
"It wasn't a big deal to me at the time, but if I knew it was going to be a big deal across the media world, I would have picked him up when he stepped over me," Lue said on the eve of the NBA Finals.
He chuckled at the memory.
Sixteen years later Lue coaches the Cleveland Cavaliers, that series having boosted his career. The Cavaliers are 12-1 coming into the Finals, almost as good as his Lakers team, which was 11-0. But the Cavaliers will be facing a team that is 12-0 heading into the series. On Thursday night, the NBA Finals will begin and the Golden State Warriors will have an opportunity to match or even better that Lakers' accomplishment if they become the first team in NBA history to sweep through the playoffs.
Among those watching will be players who know first-hand what this is like.
"Oh they're gonna lose some games," said Horace Grant, a veteran forward on that Lakers team, laughing. "LeBron says they're gonna lose some games. I would love the Warriors to lose a couple games and not go 16-1. I don't even want them to tie us."
The 2000-01 Lakers didn't even enter the playoffs as the top seed in the Western Conference. They went 56-26 and were the second seed to the San Antonio Spurs. But late in the regular season, a switch flipped for the defending NBA champions, as they won their last eight games.
They started the playoffs by beating the Portland Trail Blazers in three games in a best-of-five series.
They beat the Sacramento Kings in four games.
Then they knocked off the Spurs, who had the best record in the regular season, in four games by an average margin of 22.25 points per game.
"We wanted to be boring," said Devean George, a young reserve forward on that team. "We wanted to win every game. We don't care anything about ratings. We don't care if they're bored. If we can win four games straight, we can get some rest."
They came into the Finals feeling unbeatable, and resting for nine days as the Philadelphia 76ers slugged out a seven-game series against the Milwaukee Bucks.
"The unspoken word was about us wanting to sweep everybody," Robert Horry said. "We'd be the first team in history to sweep every series. Nobody would mention it, nobody would say anything but it was something everybody felt and wanted so, so bad."
Then then they ran smack into a tiny dynamo in Iverson.
Iverson scored 38 points by the end of the third quarter at Staples Center before then-Lakers coach Phil Jackson turned to his own tiny, quick player. Lue took on the Herculean task.
"Just coming in, trying to change the dynamics of the game," Lue said. "[Guarding] Iverson, who was probably one of the most feared guys in the league back when I played when he was in the league. … And actually I didn't do the coverages that we were supposed to do. I got in trouble with Phil after the game, but he said, whatever you were doing, continue to do it."
It worked for a while, but in overtime Iverson kept the game just out of reach. Then he hit the jumper that lives in infamy on Lue's career highlight reel after which he stepped over Lue. Iverson finished with 48 points and the 76ers won by six.
"That was kind of a, 'These guys ain't nothing,' " George said.
"You could never talk trash to a team that had Kobe Bryant and Shaquille O'Neal on it," Horry said. "You poked the bear. That was his way of saying y'all can't handle me I'm the MVP, the best player in the league yada yada yada. … He knew he had no chance to beat us. "
Jackson didn't panic after one overtime loss. He was jovial at halftime. After the game, he relished the opportunity to have a captive audience in meetings the next day. Mistakes are easier to teach to a team that isn't on a 19-game winning streak.
"After we got slapped in the face that first game, we woke up as a team," Grant said.
They went to Philadelphia tied 1-1 and facing a hostile fan base. Lue and George went out for a cheesesteak and some shopping before a game with a friend who lived in Philadelphia. When they got back to their car, someone had covered it in toilet paper and spray-painted "traitor."
Several players remember fights in the stands. Horry hit a game-clinching shot in Game 3 and grew distracted in the postgame interview because he noticed a fight breaking out near his father.
When they won the series in Game 5 in Philadelphia, security shuffled them away quickly to celebrate behind closed doors. The Lakers finished the playoffs at 15-1, their .938 winning percentage the best in league history.
That game, that series and the impact, was big for Lue. He was heading into free agency and now could boast his success against Iverson on his resume.
"I looked up to him as far as who he was as a player, his size, being 6 foot, his heart and tenacity," Lue said. "So as a young player, I looked up to him, and having a chance and an opportunity to play against him in the NBA Finals and doing a decent job defensively, it really helped my career out."
The game also remained burned in the memories of Lakers fans.
One was an 11-year-old named Klay Thompson, who watched it happen, horrified.
"As a fan you're so extreme," said Thompson, now the Warriors' starting shooting guard. "You're either so happy or you're so down you think the world is over. That was a great team. Hopefully we can have the type of result that they did."
If the unspoken yearning Horry remembers with the Lakers — the desire to make history — exists among the Warriors, Thompson wouldn't say it. He noted the Warriors won a record 73 games during last year's regular season, then couldn't cap that feat with a championship, losing to the Cavaliers in seven games.
If they look back, the lesson of that Lakers team is simple. Merely winning a championship is an extraordinary feat by which history is made.
Follow Tania Ganguli on Twitter @taniaganguli
Get our high school sports newsletter
Prep Rally is devoted to the SoCal high school sports experience, bringing you scores, stories and a behind-the-scenes look at what makes prep sports so popular.
You may occasionally receive promotional content from the Los Angeles Times.