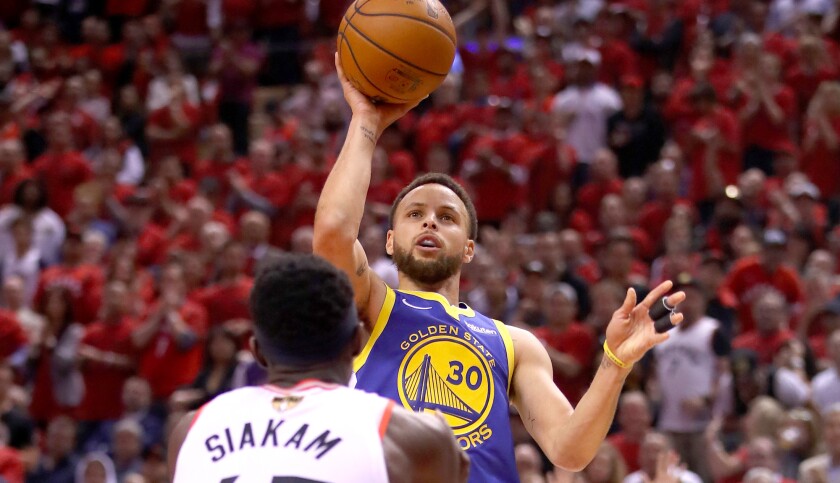 Reporting from Toronto —
The Golden State Warriors held off a late run by the Toronto Raptors to even the best-of-seven NBA Finals series with a 109-104 victory in Game 2 on Sunday night despite losing Klay Thompson to a leg injury during the second half.
Thompson led the Warriors with 25 points, five rebounds and five assists before exiting because of tightness in his left hamstring early in the fourth quarter. Thompson nearly did the splits when he landed on the court awkwardly after attempting a three-point shot.
Draymond Green contributed 17 points, 10 rebounds and nine assists while Stephen Curry had 23 points for Golden State.
Toronto's Kawhi Leonard led all players with 34 points and 14 rebounds.
The Warriors trailed by double digits during the first half and by five points, 59-54, at halftime but scored 18 unanswered points to open the second half to take control of the game.
The Raptors closed the deficit to two points with less than a minute to play but Andre Iguodala clinched the Warriors' win by making a three-point shot with eight seconds left. Iguodala, starting in place of injured Kevin Durant, finished with eight points, eight rebounds and six assists.
Golden State made 38 of 82 shots '(46.3%) from the field, including 13 of 34 (38.2%) from three-point range. They had 34 assists.
Toronto only made 35 of 94 shots ()37.2%) from the field, including 11 of 38 (28.9%) from long range.
Game 3 is set for 6 p.m. Wednesday in Oakland.
---