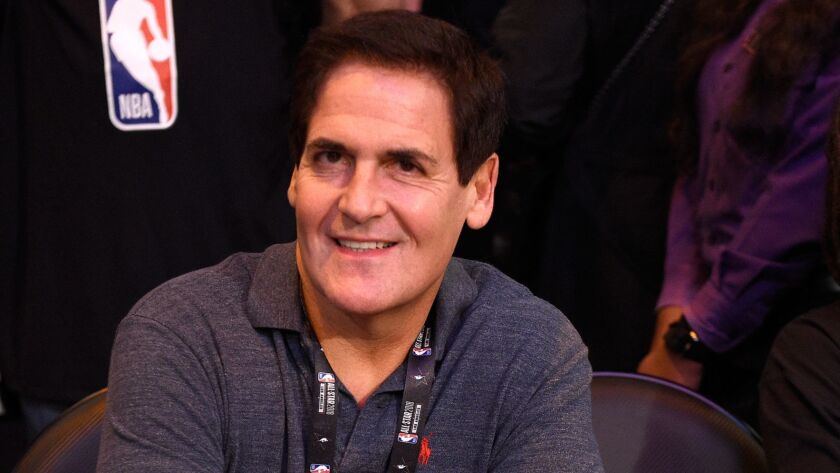 Dallas Mavericks owner Mark Cuban has agreed to contribute $10 million to women's causes and domestic violence awareness as part of the NBA's investigation into workplace conditions with his franchise.
The league also announced Wednesday that it would require staffing, reporting and policy changes for the Mavericks seven months after a Sports Illustrated report detailed years of examples of a hostile workplace for women on the business side of the operation.
There were also allegations of sexual misconduct against former team President Terdemy Ussery. He worked for Cuban for 15 years and was investigated by the Mavericks over similar allegations in 1998, two years before Cuban bought the team. The league investigation determined Cuban wasn't aware of Ussery's actions.
Cuban hired two former prosecutors to investigate the complaints and the franchise's workplace practices.
Soon after the SI report, Cuban hired former AT&T executive Cynthia Marshall as CEO. The NBA made note of that and other staffing changes the Mavericks had already implemented.
"The findings of the independent investigation are disturbing and heartbreaking and no employee in the NBA, or any workplace for that matter, should be subject to the type of working environment described in the report," Commissioner Adam Silver said. "While nothing will undo the harm caused by a select few former employees of the Mavericks, the workplace reforms and the $10 million that Mark has agreed to contribute are important steps toward rectifying this past behavior and shining a light on a pervasive societal failing — the inability of too many organizations to provide a safe and welcoming workplace for women."
Ussery had left Nike to join the Mavericks and had previously served as commissioner of the old Continental Basketball Association. He was praised by former NBA Commissioner David Stern and served as the Mavericks' alternate governor with the league.
Sports Illustrated reported Ussery made sexually suggestive remarks to several women, accusations he called "outright false." He spent 18 years with the team before going to the sports apparel company Under Armour in 2015, a job he left after less than six months.
The SI report also said team website reporter Earl Sneed was twice involved in domestic assault cases while working for the Mavericks, including a guilty plea in a case that was dismissed when he met the conditions of the agreement. Sneed and former human resources director Buddy Pittman were fired in the wake of the report, which included allegations that executives weren't responsive when women complained of workplace violations.
The NBA said it reviewed its policies and procedures related to respect in the workplace, and required all NBA teams to do the same. The league also established a confidential hotline for team and league employees to report workplace misconduct.
Etc.
Elton Brand is the Philadelphia 76ers new general manager. A person familiar with the situation but not authorized to speak publicly says the two-time NBA All-Star center with the Clippers is replacing Bryan Colangelo, who resigned in June as the 76ers' president of basketball operations after what an investigation concluded was "careless and in some instances reckless" sharing of sensitive team information on Twitter. Brand is expected to be introduced at a news conference on Thursday. Brand had worked for the Sixers as vice president of operations and also served as the general manager of the Delaware Blue Coats, the 76ers' G League affiliate. Brand, the No. 1 pick of the 1999 draft by the Chicago Bulls, was rookie of the year in 2000 and played two stints with the 76ers. …
Michael Jordan, who grew up playing high school basketball in Wilmington, N.C., has donated $1 million each to the American Red Cross and the Foundation For The Carolinas' Hurricane Florence Response Fund. "It just hits home," Jordan said. "I know all of those places: Wilmington, Fayetteville, Myrtle Beach, New Bern, and Wallace, which is where my father is from. So quite naturally it hits home, and I felt like I had to act in a sense that this is my home." … Kawhi Leonard has yet to address the media in Toronto since his trade to the Raptors, but team president Masai Ujiri said that his star acquisition is happy and healthy. "He is determined and seems in the right frame of mind," Ujiri said. "You will be hearing from him shortly. I think there is a fire inside of him and we are all excited about that."
---