NBA notes: Grizzlies point guard Mike Conley is finally free of pain and quick of step
Mike Conley has limped out of so many arenas that the Grizzlies point guard had resigned himself to dealing with the nagging pain from his left heel for the rest of his life.
No more.
After the pain limited him to only 12 games, Conley chose season-ending surgery to smooth out the bone aggravating his Achilles tendon. He used the talk of him being injury-prone as even more motivation during his rehab following the surgery.
"It is motivational for me to come back and show the world," said Conley, who entering his 12th NBA season is the Grizzlies most experienced player. "You just wake them up again and just understand that I'm not that guy from last year that was hobbling around, and I'm feeling great and just excited for another year to help this team do we try to do and achieve the goals that we have."
The Grizzlies started last season 5-1 and atop the Western Conference. Conley averaged 17.1 points a game until the pain sidelined him. Then in late January, the Grizzlies finally announced that Conley would have season-ending surgery.
Without Conley and with a host of other injuries, Memphis finished 22-60. It was a miserable year for center Marc Gasol, who has played 716 games for the Grizzlies and trails Conley by two.
"Nobody is happier besides him than me to see Mike healthy and see him moving the way he's moving and see him smile," Gasol said. "Nobody's happier than me. Trust me. Maybe his wife, a little bit."
When Conley played his last game on Nov. 13 in a 110-103 loss in Milwaukee, David Fizdale was the Grizzlies coach. Memphis fired Fizdale in late November , and his replacement, J.B. Bickerstaff, was given the job on his own in May. Bickerstaff says Conley looks as quick and shifty as he's ever been.
"You'd be hard pressed to find a bigger free agent signing than us bringing Mike Conley back healthy," Bickerstaff said. "So I think there's a huge impact for us from that standpoint you know when you've got a guy that has not only a skill set but a mentality in a leadership like he does. I mean it takes a ton of pressure off of everybody."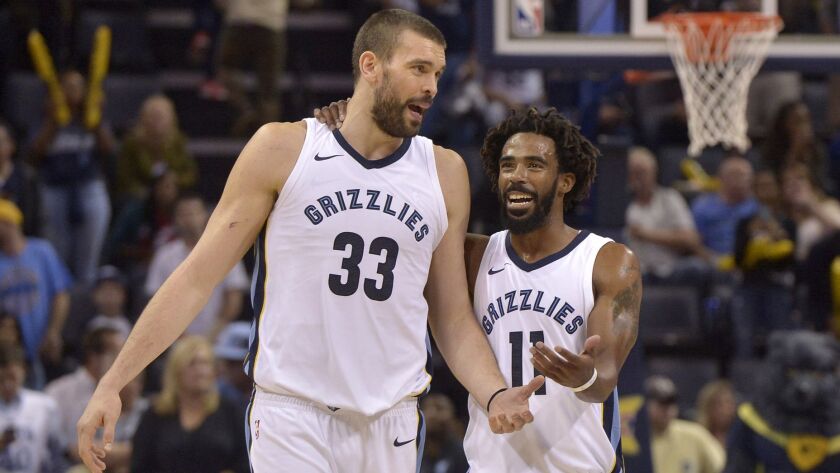 As part of his recovery, Conley worked on strengthening his legs, particularly his calf muscles. With the pain in his left heel, Conley's left calf was much smaller than his right. Not anymore.
"Hopefully all those things together will lead to like how I feel now," Conley said. "I feel great and continue to feel great regardless of back to back or however many games we're playing."
Diversity program
The NBA has told teams that it will have several events in the coming months designed to help improve workplace cultures, as well as find more ways to have women in leadership roles around the league.
The NBA's memo, sent Wednesday and obtained by the Associated Press, revealed plans to hold workshops in Atlanta and Los Angeles in mid-November on diversity and inclusion efforts. An event is also planned in Charlotte, North Carolina over the All-Star break to expand "the pipeline of female talent in basketball operations roles."
In a separate memo last week, NBA Commissioner Adam Silver told teams that he wants to see more women hired around the league — particularly leadership and supervisory positions. And earlier this week, the league hosted its inaugural Women's Leadership Forum.
---
Get the latest on L.A.'s teams in the daily Sports Report newsletter.
You may occasionally receive promotional content from the Los Angeles Times.