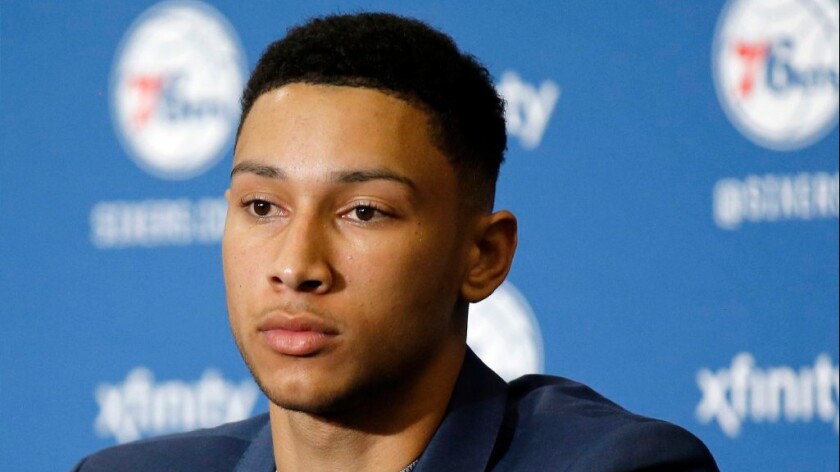 Ben Simmons has a broken bone in his right foot and its unknown how long the No. 1 overall pick will be sidelined for the Philadelphia 76ers.
Simmons was injured Friday during the final training camp scrimmage at Stockton University in New Jersey. The 76ers said Simmons rolled an ankle, and X-rays and an MRI revealed a fractured fifth metatarsal bone.
The Australian forward played at LSU last season. He missed time early during his stay with the Tigers while waiting for an ankle injury to heal, and also left an NBA Summer League contest in July after suffering cramps in both legs.
Simmons' injury is the latest blow to a franchise that has been beset in recent years by injuries to their players. Joel Embiid, the No. 3 overall pick in 2014, has yet to play because of surgeries on his right foot. Nerlens Noel missed his rookie year in 2013 with a torn ACL. Jahlil Okafor had his rookie season cut short with season-ending knee surgery on his right knee. He sat out practices this week because he still experienced soreness in the knee.
It's become a bit of a theme in Philly the last few seasons, ending with last season's 10-72 mark that earned them the No. 1 pick.
Simmons became an instant fan favorite before he ever played a game and expectations were high that he was the cornerstone player that could eventually help turn the Sixers into playoff contenders.
"It means a lot, just to see people wearing my jersey around Philly, it's kind of weird," the 6-foot-10 forward said this week. "I'm just looking forward to hopefully giving back to Philly."
Bosh's run in Miami likely is over
The relationship between Chris Bosh and the Miami Heat continued disintegrating, with the All-Star forward saying that the team did not tell him before going public with their belief that he will not play for them again.
The Heat denied that assertion, with a team spokesman saying that calls, texts and emails to Bosh in the days before team President Pat Riley made that announcement earlier this week were not acknowledged.
Riley offered similar sentiments Monday when revealing that ongoing concerns about Bosh's health will keep him from being in the team plan going forward.
"I didn't see my career in Miami ending like this," Bosh said.
Bosh released another installment of his video series as well as a blog post Friday, with neither offering any specifics about his health. Bosh's last two seasons ended at the All-Star break because of the discovery of blood clots. He failed a preseason physical and was not cleared by the team to resume basketball activities.
"I guess my career in Miami is done," Bosh said in the video, another one released through LeBron James' digital platform called Uninterrupted. "My career's not done. But I did not expect that, at all."
---