NBA: Philadelphia 76ers trade Jahlil Okafor to Brooklyn Nets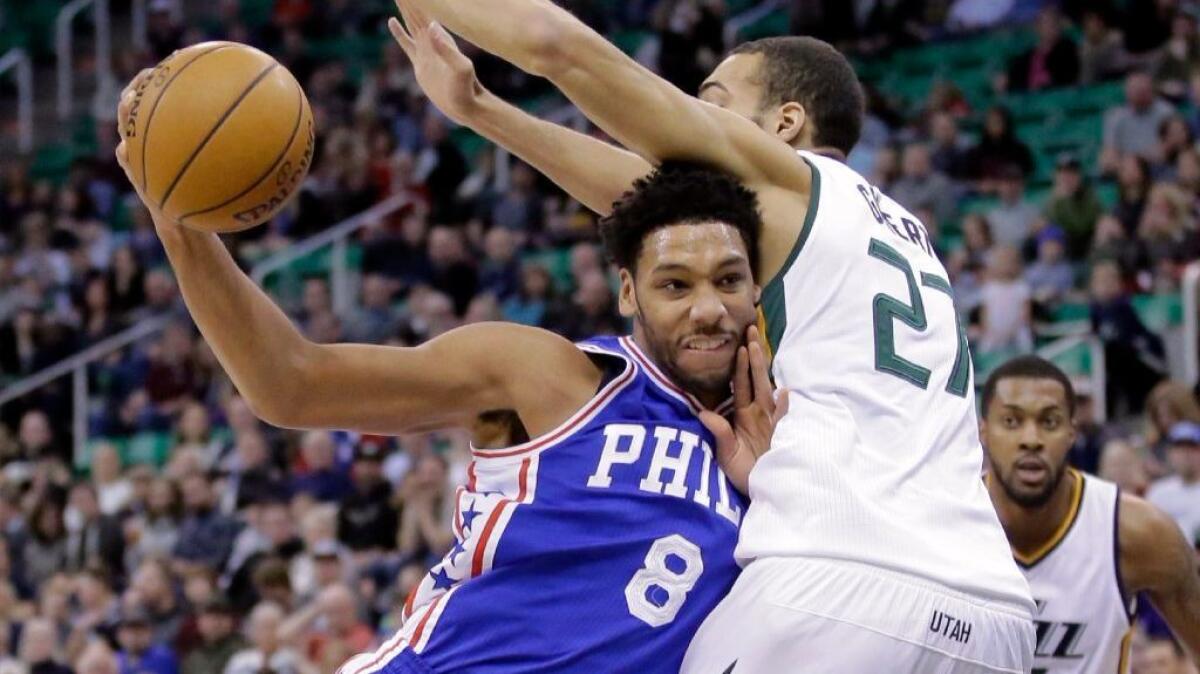 Buried on the bench in Philly, Jahlil Okafor has a chance to prove in Brooklyn he's not a bust.
Okafor got his wish when the Philadelphia 76ers finally traded the No. 3 overall pick of the 2015 draft to the Brooklyn Nets. The deal ends the stalemate that had kept Okafor on the bench for all but two games this season.
Once a prized piece of The Process, Okafor rapidly fell out of favor with the rise of star center Joel Embiid.
"Love you. New beginnings," Embiid said he texted Okafor. "Good luck. And I made sure to let him know I was going to kick his (rear)."
Team president Bryan Colangelo said he reached a deal with a team he declined to name to trade Okafor last season until it fell apart at the last minute. That led to an awkward situation where Okafor didn't even travel with the team during the trade deadline. Okafor led the Sixers in scoring as a rookie with Embiid out with injuries. Okafor played 55 games last season and never really meshed with the franchise center. Okafor started piling up DNP-CDs and those stretched into this season, where the Sixers will chase a playoff berth without him.
"He can go play basketball again," coach Brett Brown said.
The Sixers also sent seldom-used guard Nik Stauskas, the No. 8 overall pick in the 2014 draft, and a 2019 second-round pick to the Nets for forward Trevor Booker. Booker, the 23rd overall pick of the 2010 draft by Washington, averaged 10.1 points with the Nets.
"There is a level of toughness and versatility that interests me," Brown said. "He's shown that he can play, handle not play and be good people and handle himself like a pro."
Okafor gave the Sixers plenty of headaches in his rookie season out of Duke with his off-court conduct, which included his role in Boston street fight that earned him TMZ scrutiny and a two-game suspension.
He was widely mocked last year for a lackadaisical defensive effort where he stood still and failed to contest shots in a game against Miami.
Under former general manager Sam Hinkie, the Sixers orchestrated a plan to strip the roster of talent to gobble draft picks that could turn into future rotation players. Accused of tanking, the Sixers went 18-64 in 2014-15 and earned the No. 3 pick. They landed a flop instead of a future star. Okafor not only dropped behind Embiid on the depth chart, but this year was demoted behind Richaun Holmes and Amir Johnson.
Colangelo had no ties to Okafor and there was no secret of his desire to move him. Okafor played in 105 games (81 starts) with the Sixers and averaged 14.6 points, 5.9 rebounds, 1.2 assists and 26.2 minutes while shooting 51.0 percent from the field
"I wouldn't say there's regrets. I'd say there's human disappointment," Brown said. "We went through a lot together while he was here."
The Nets also requested waivers on guard Sean Kilpatrick.
"This trade provides us with a good opportunity to bring in two young players who were high picks in recent drafts and give them a chance to succeed in our system," Nets general manager Sean Marks said.
Booker was ready for a fresh start in Philly.
"It's been real Brooklyn . Will always have nothing but love for you. Loved my time in New York!!!" Booker tweeted Thursday night. "Philly what it do ?"
The Sixers played the Los Angeles Lakers, and the Nets were in Mexico for a game against Oklahoma City later Thursday night.
Get our high school sports newsletter
Prep Rally is devoted to the SoCal high school sports experience, bringing you scores, stories and a behind-the-scenes look at what makes prep sports so popular.
You may occasionally receive promotional content from the Los Angeles Times.